As SPMH is a volunteer-driven organization, we appreciate the time and effort put forth by our multi-talented volunteers. They are the warm and smiling "face" of SPMH, greeting everyone who comes to Music Hall for tours or just stops by to say "hello!"
It's fun to party with them, to celebrate a fantastic, successful year!
The Event
Music Hall is located in the Over-the-Rhine neighborhood. Ramona Toussaint, Tour Director, feted volunteers at The Skeleton Root, an urban winery and event space on West McMicken. Several board members attended the event, along with CAA's Music Hall team. They are our great partners, helping SPMH volunteers show off the gorgeous building to visitors.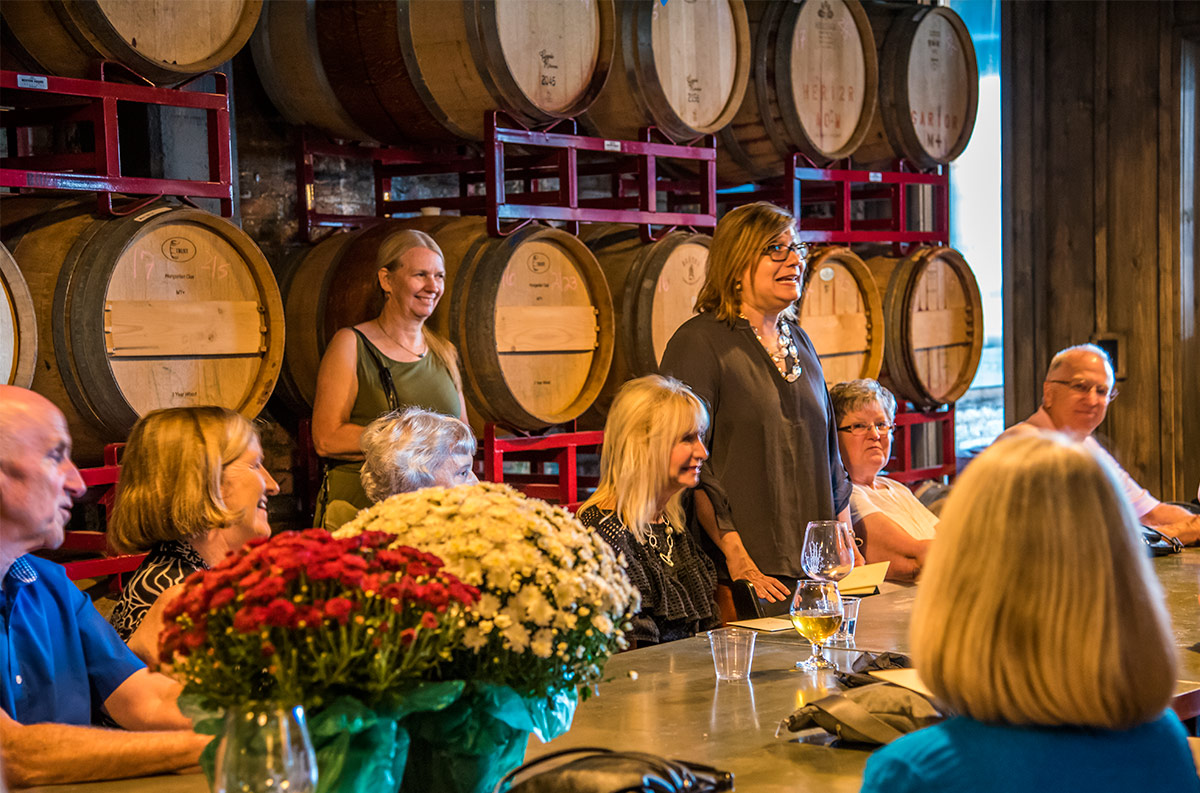 There were catered tasty lite bites…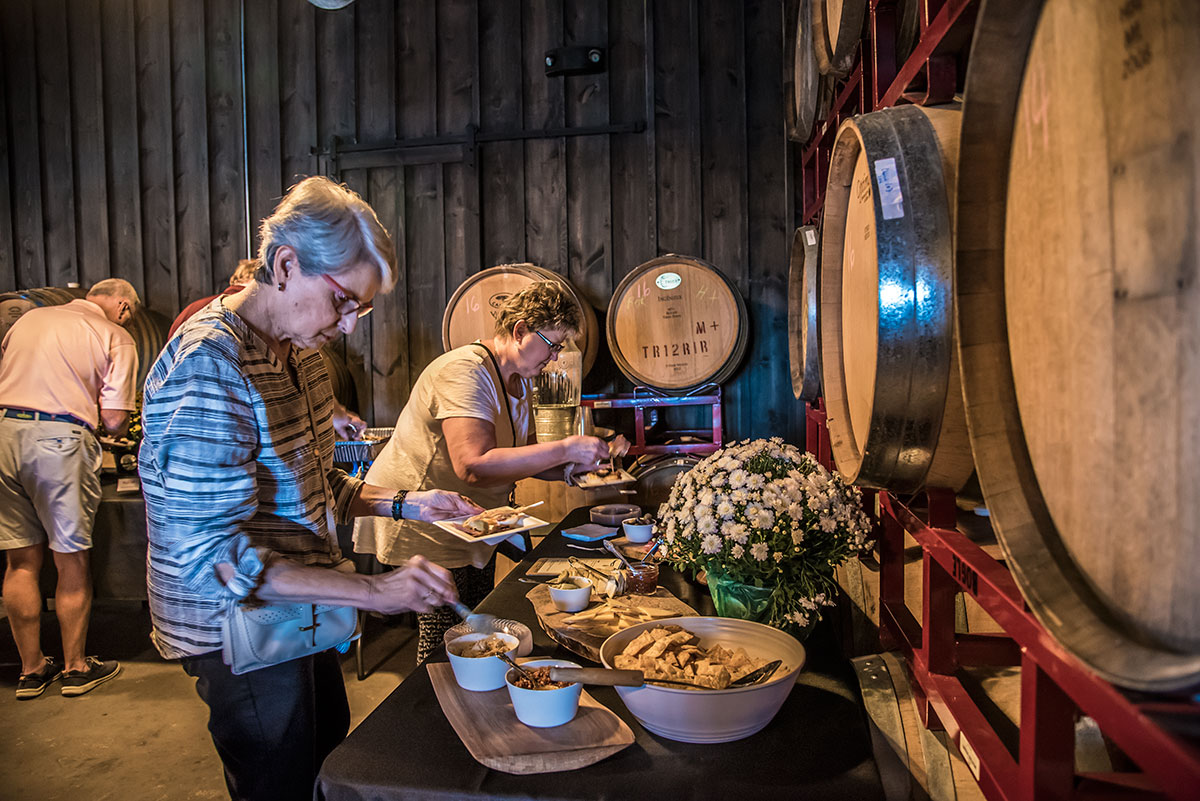 … and a wine bar, featuring – of course – the wines of The Skeleton Root. John Russell, the husband of SPMH board member, preservationist and historian Thea Tjepkema, checked out the wine list.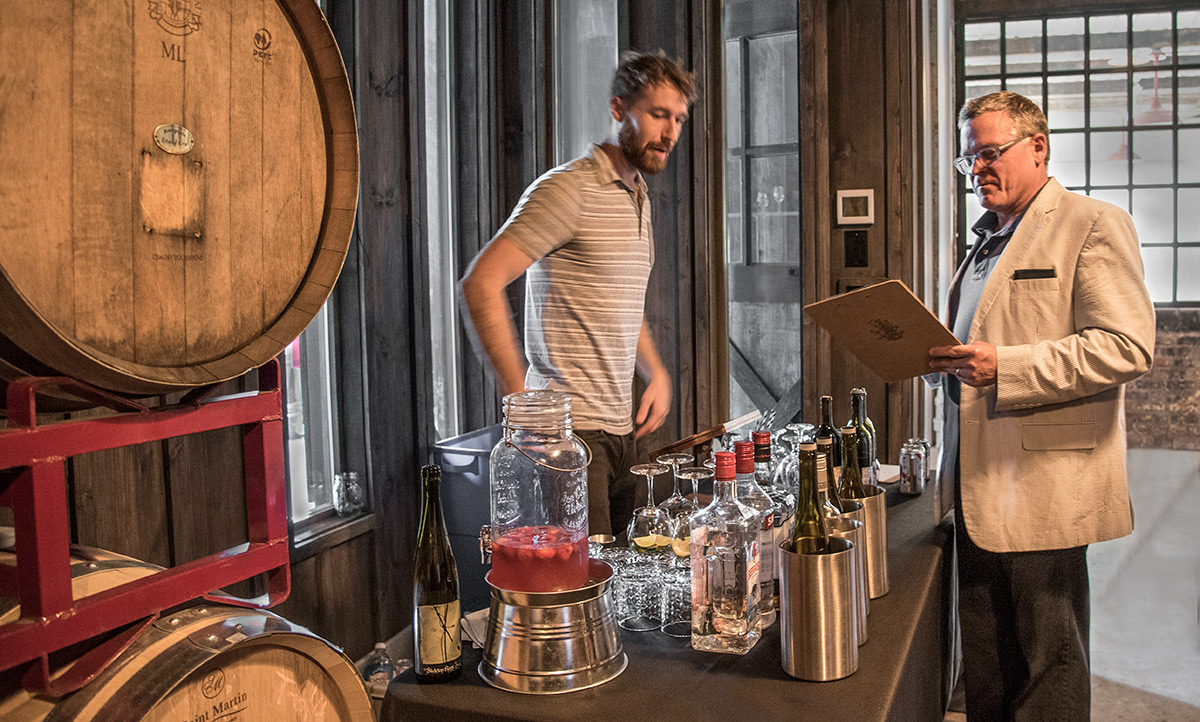 The event provided an opportunity for everyone to connect and enjoy each other's company.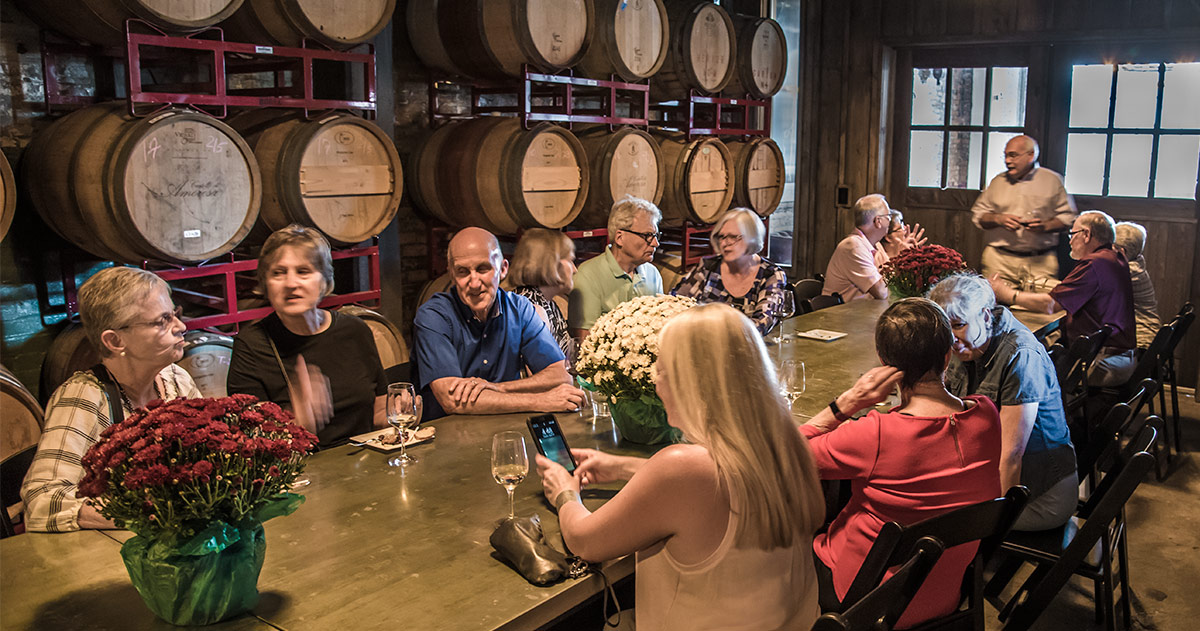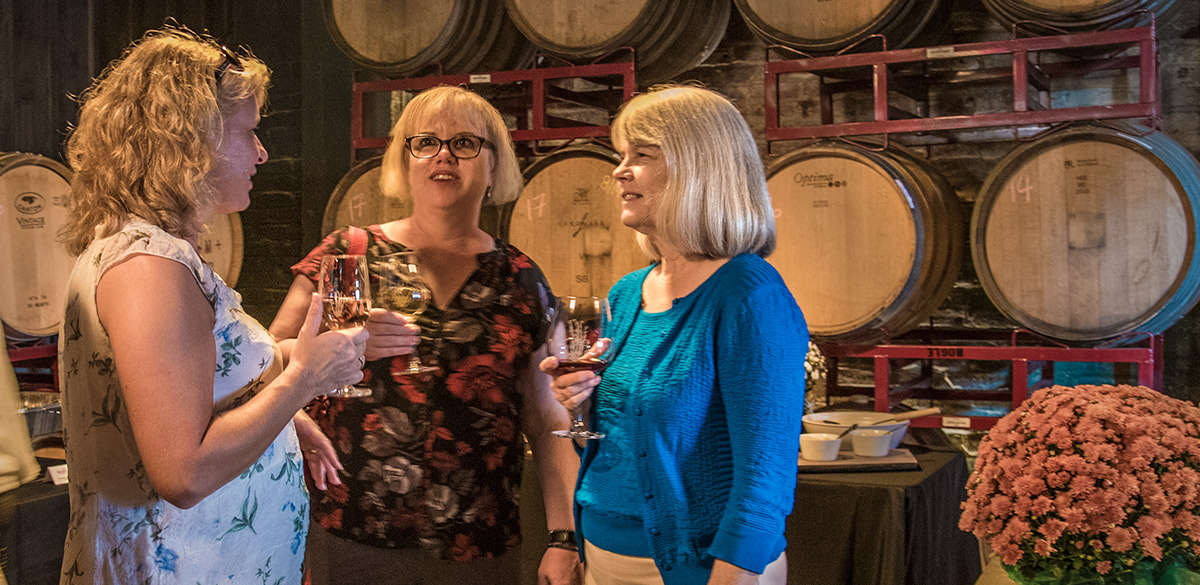 Honoring Scott Santangelo
The event was also an opportunity for the volunteers to wish "bon voyage" to Scott Santangelo, former Music Hall Director of Operations.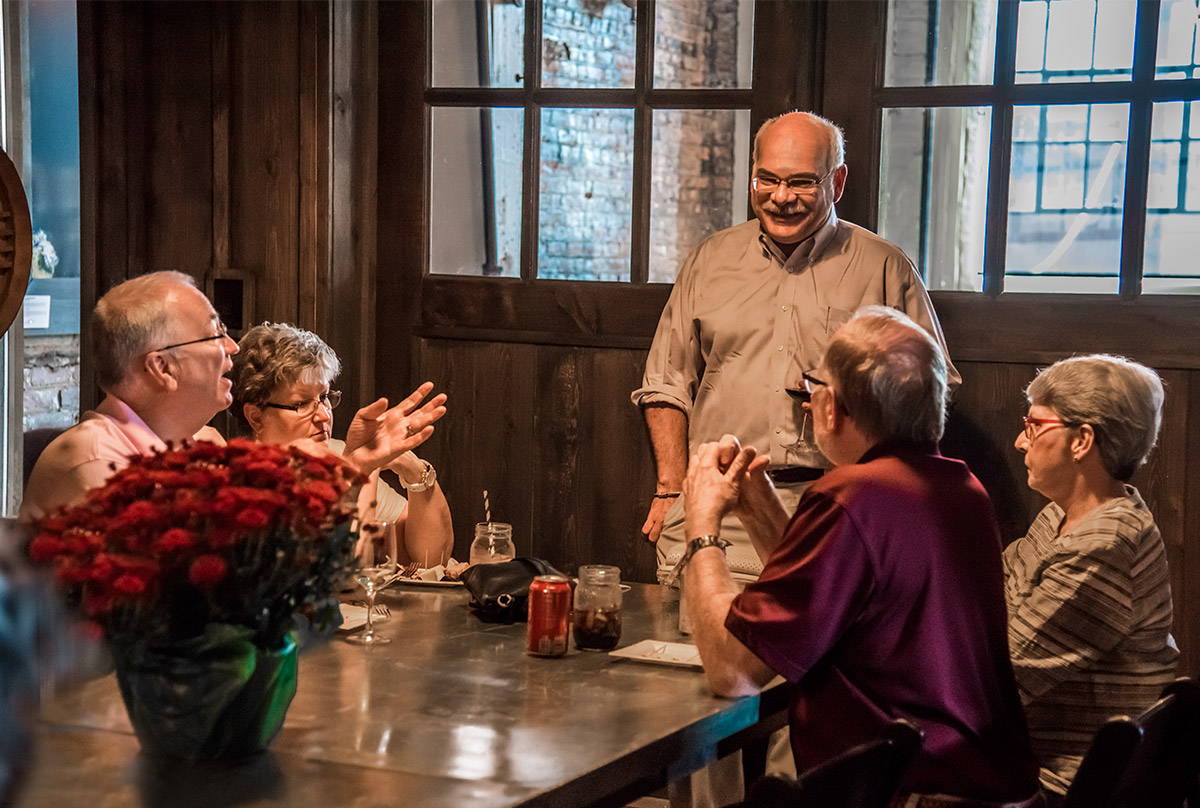 Volunteers surprised Scott with a beautiful, hand-carved bowl and plate.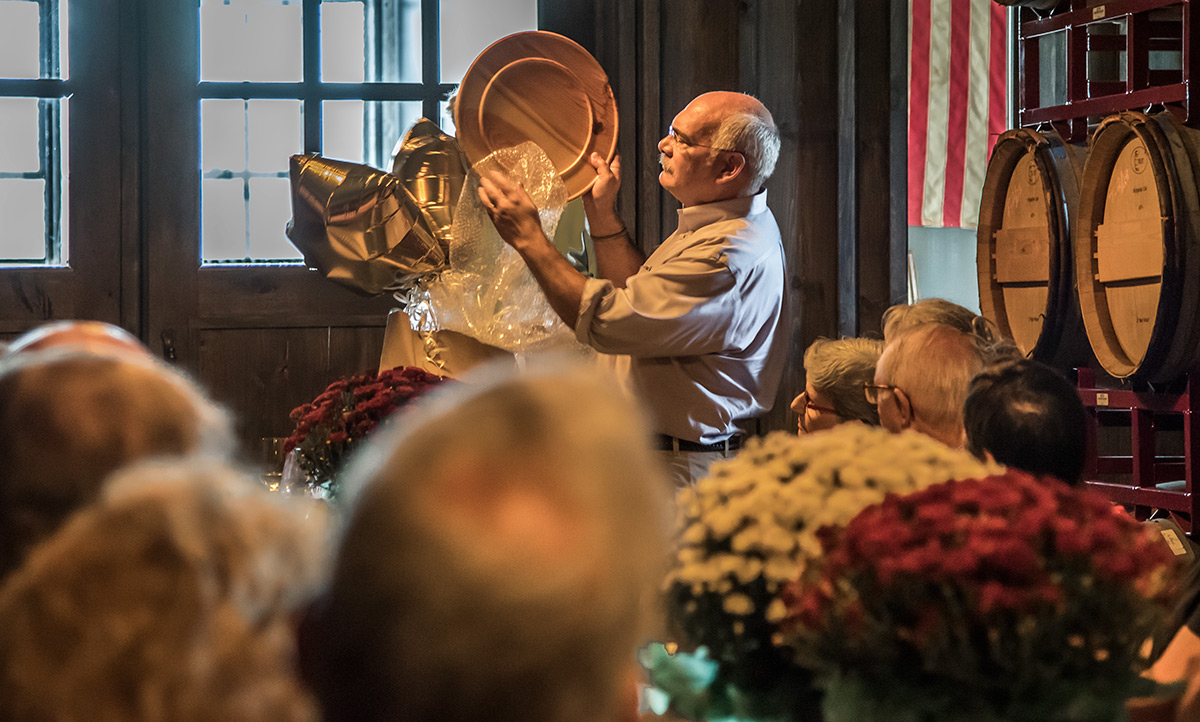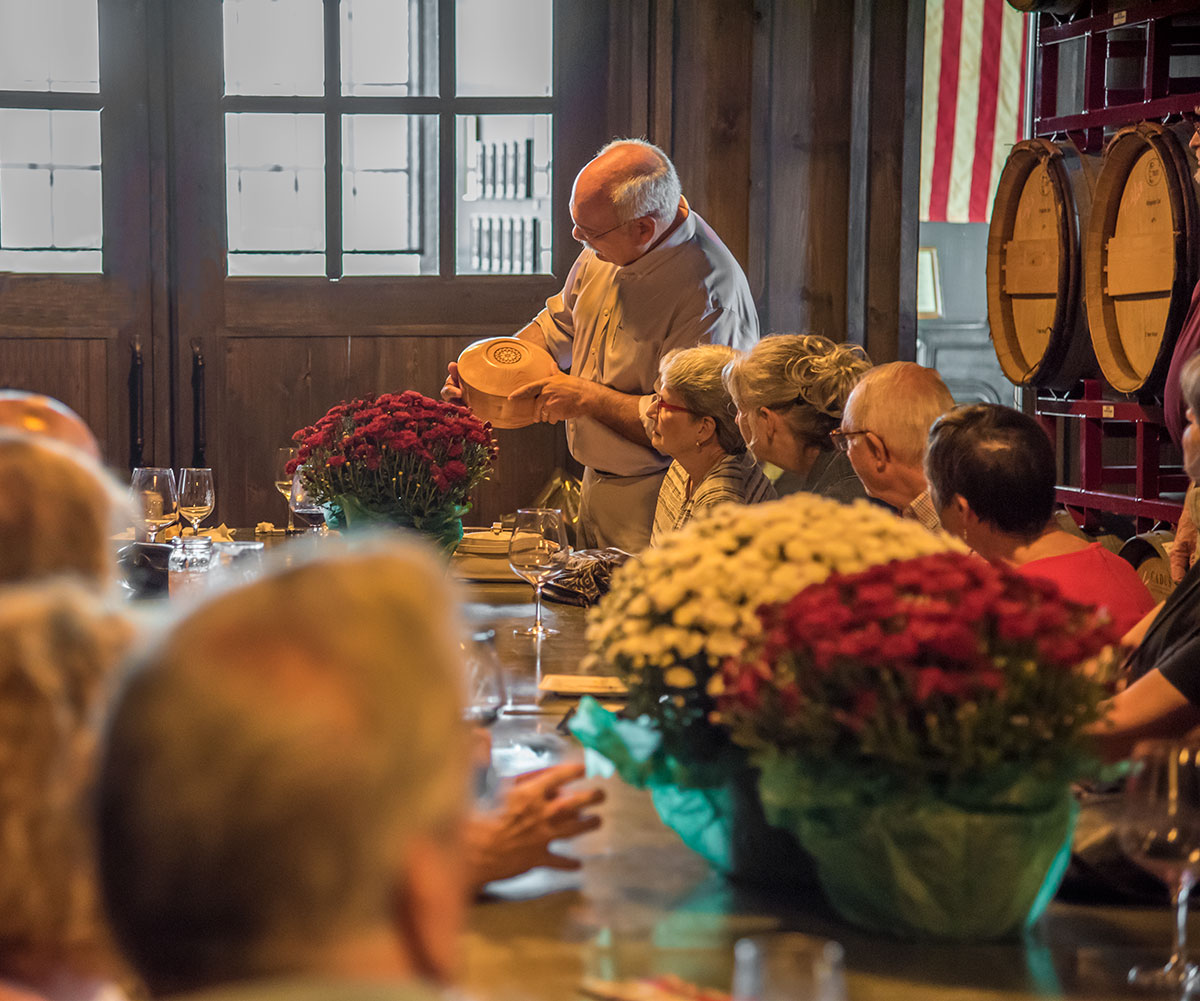 Lest Scott forget about his tenure at Music Hall and working with the volunteers, the rose window, long a symbol of Music Hall, was etched into the underside of the plate. The design was burned into the bottom of the bowl so as not to damage the delicate finish.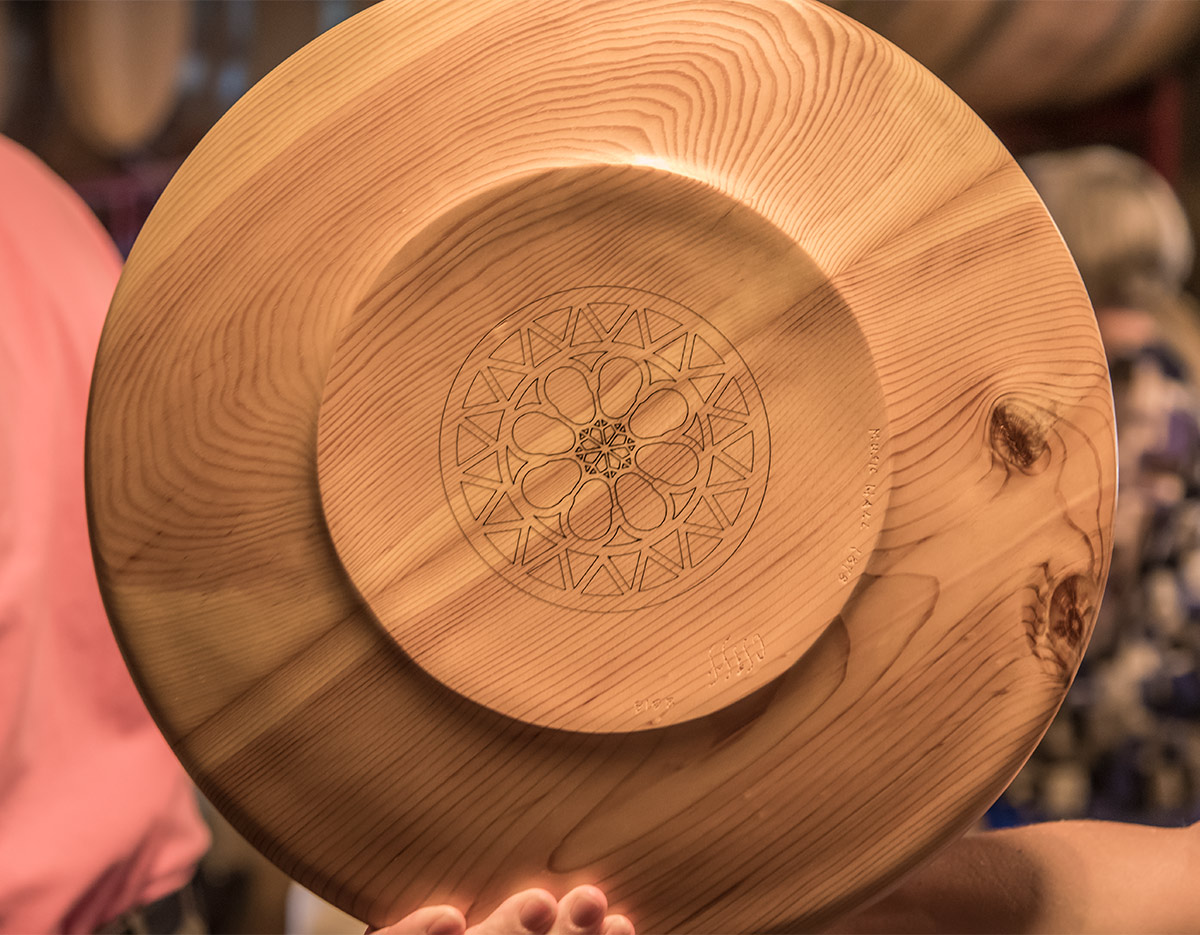 These stunning pieces were specially created – designed and carved – by SPMH Program Guide Cliff Goosmann, seen below, standing at the far right of the photo.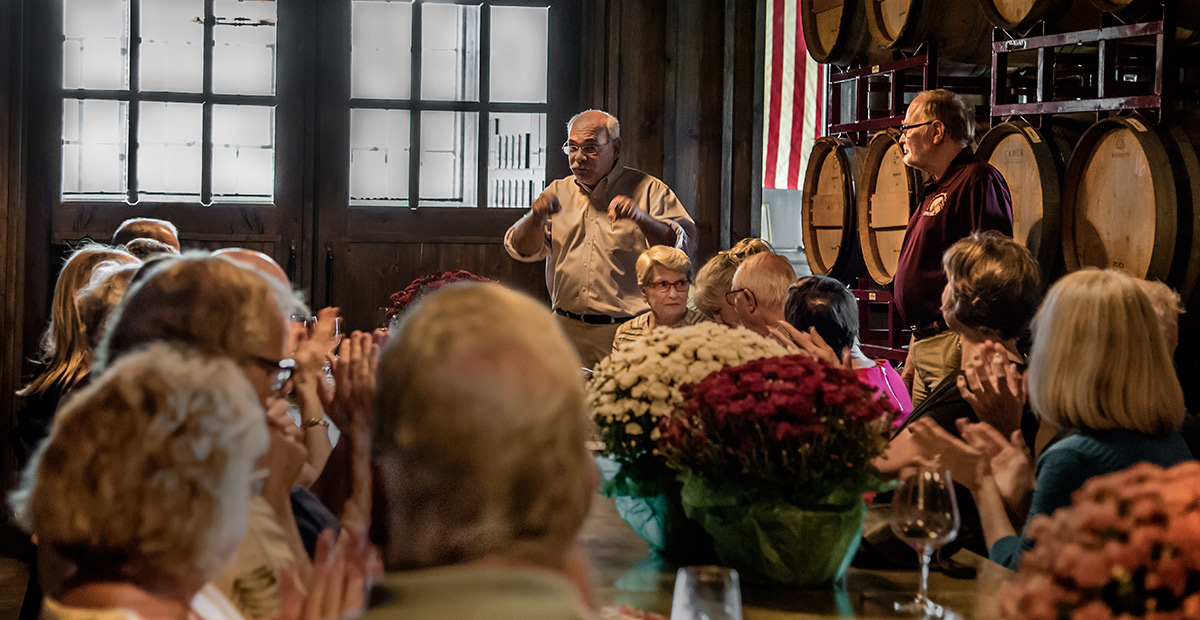 The wood for these beautiful pieces was recovered during the Music Hall renovation in 2017. The wood, from a joist in the upper level, is old growth and at least 140 years old!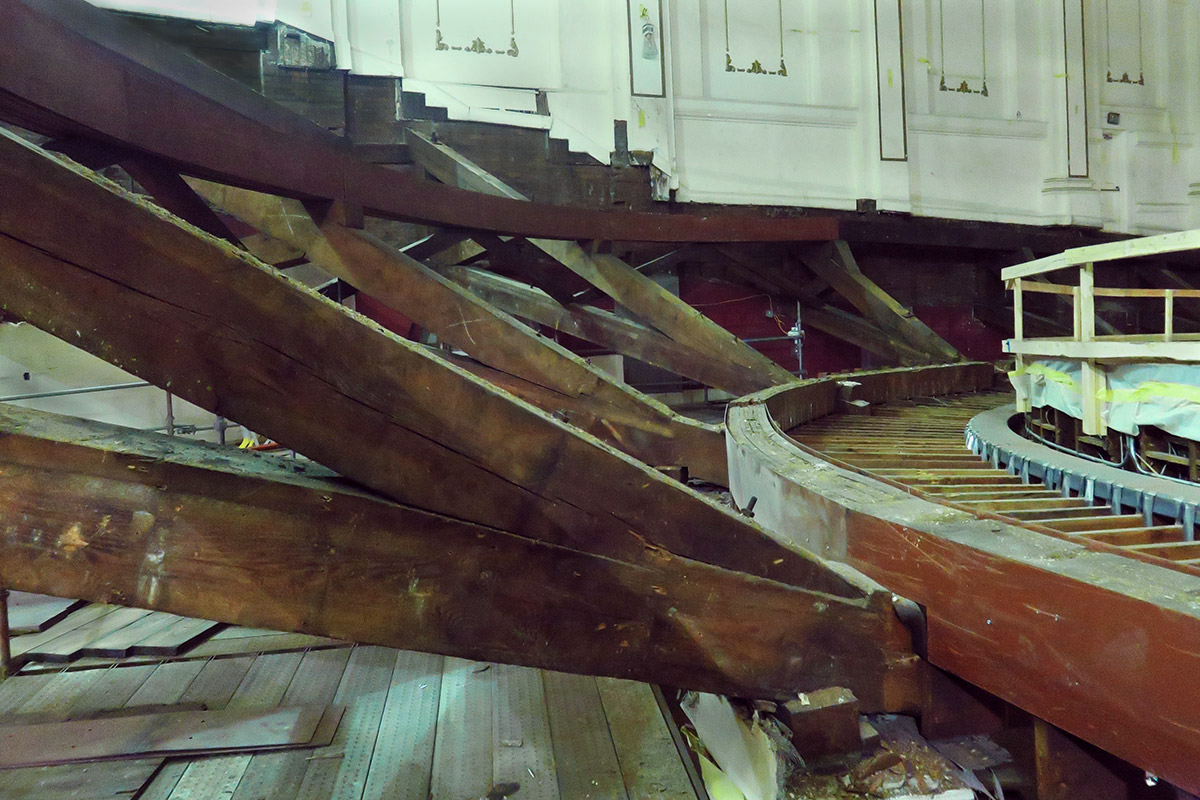 It was Scott who "jumped into the dumpster" to rescue this wood for us.
Where and How the Wine Is Made
Another highlight of the event – Kate MacDonald, The Skeleton Root owner and winemaker, told us about her history and how the winery came about.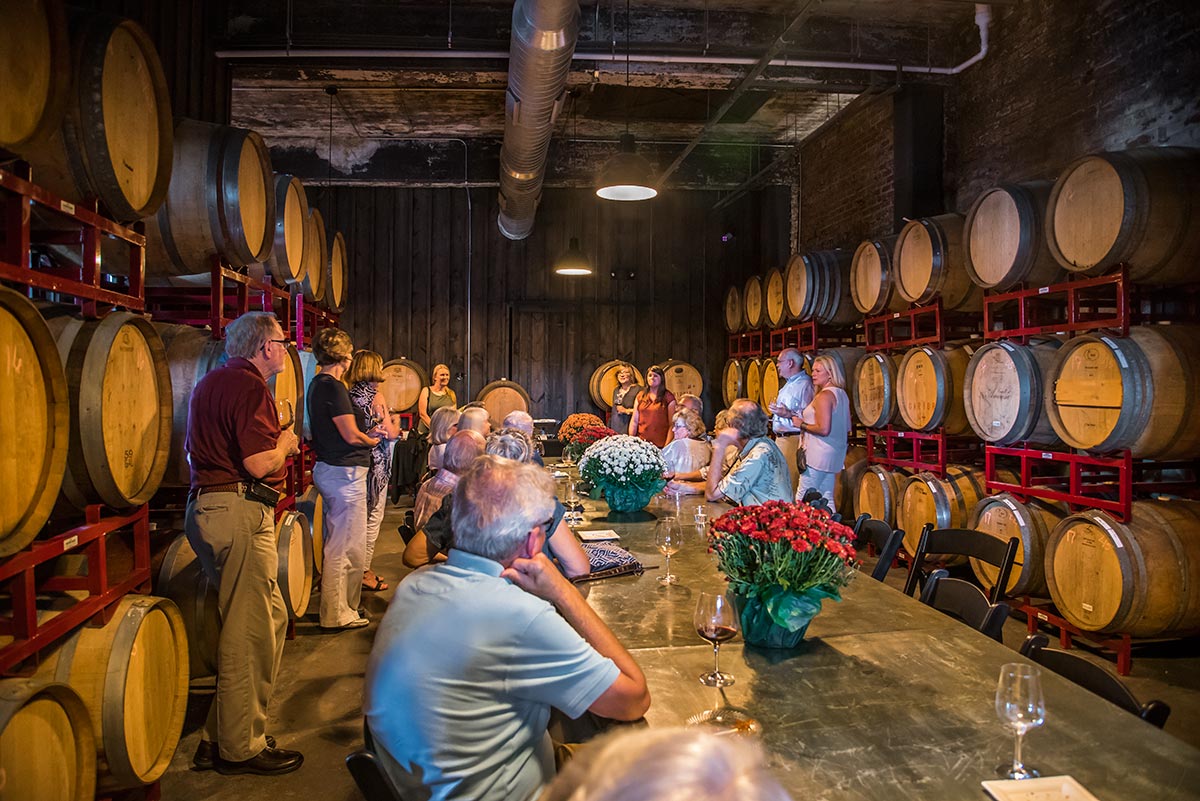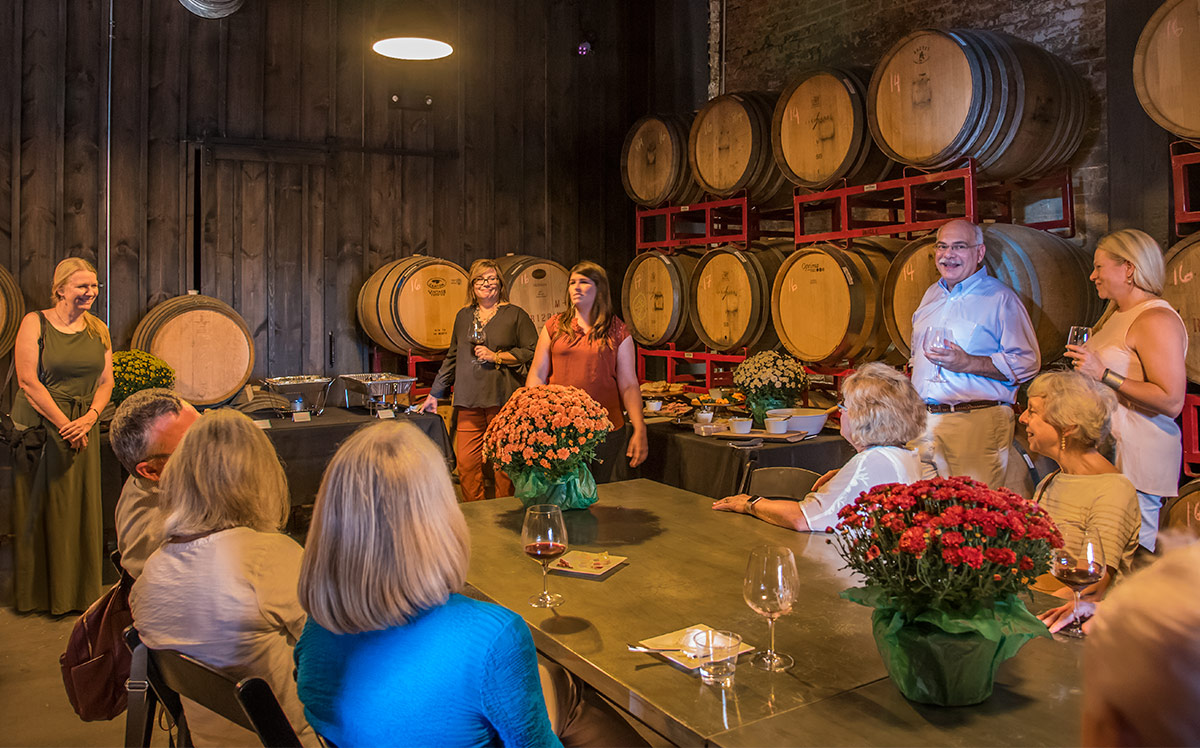 Kate, a native Cincinnatian, also explained this city's history and importance in winemaking, and answered questions from our interested group of tasters.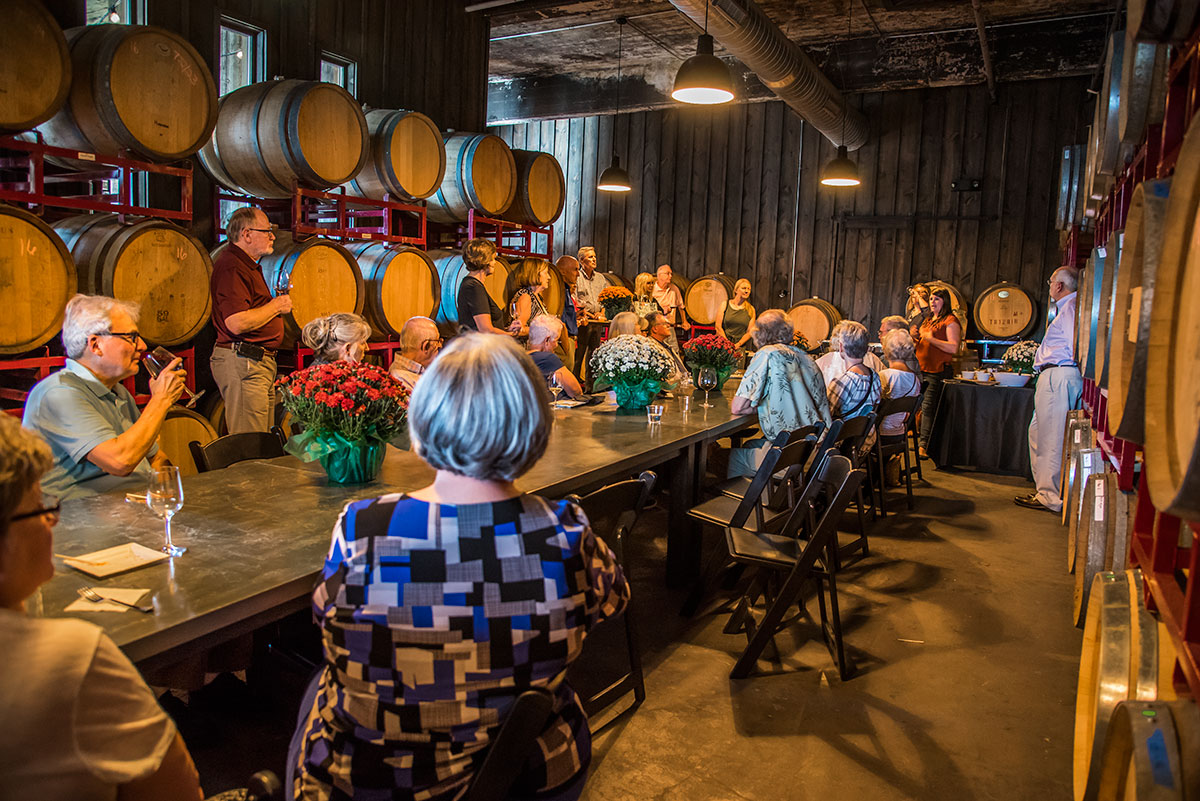 Much to everyone's delight, Kate took us on a tour. The main room features a huge reproduction of Nicholas Longworth and his vineyards, which started in what is now Mt. Adams.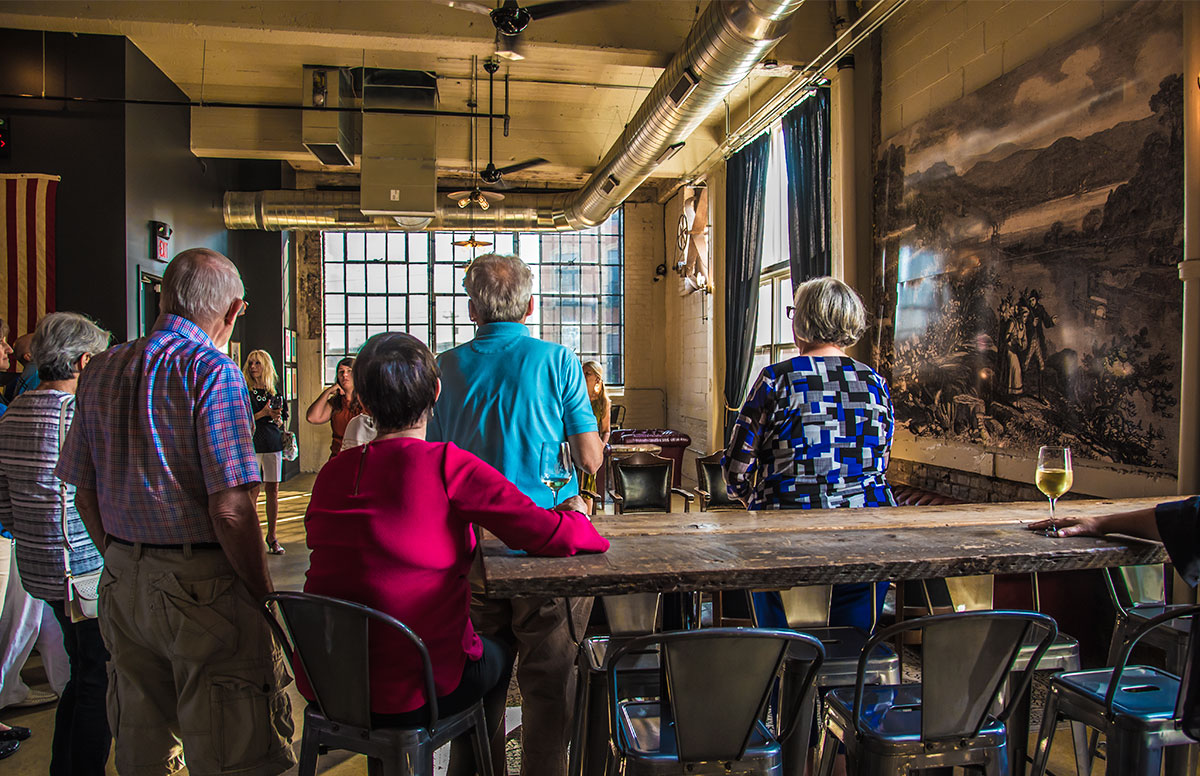 Several years ago, Kate MacDonald accessed Longworth's notes and got to work. Now – in August 2018 – her micro-winery will present Catawba wine reminiscent of Longworth's vintage.
Kate's tour ended in the wine production room.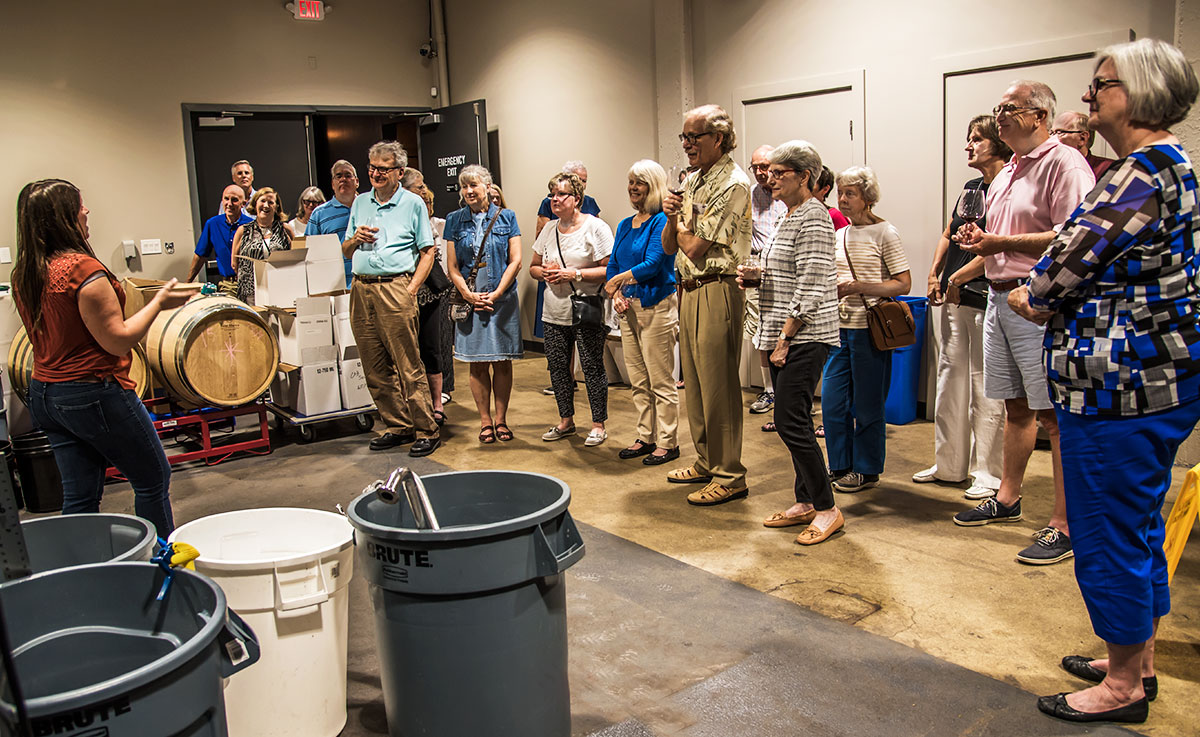 Not all of the SPMH volunteers could attend, and we all missed our colleagues and toasted them and Music Hall.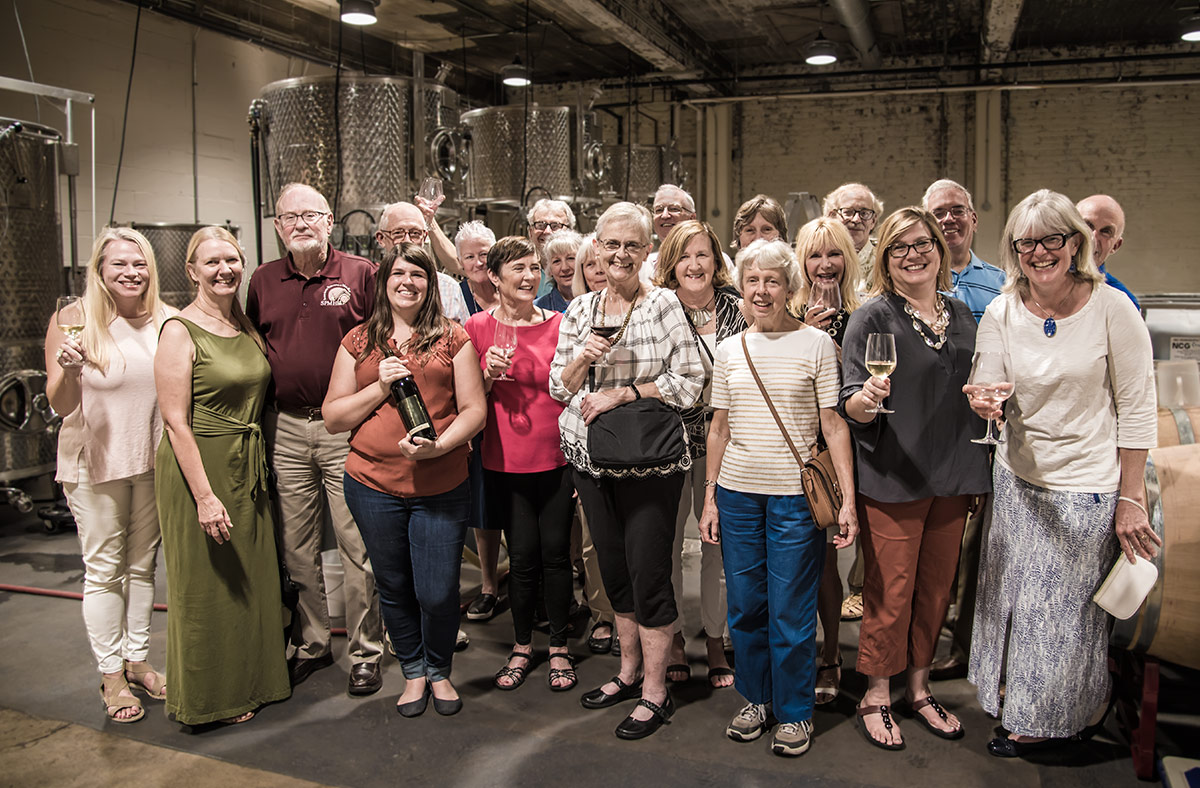 Front row, left to right: SPMH board member Holly Brians Ragusa, Linda Kiefer, Cliff Goosmann, winery owner Kate MacDonald (holding the bottle of wine), Sandra Geiser, Sue Monteith, Judith Martin, SPMH Tour Director Ramona Toussaint and Thea Tjepkema.
Middle row: Al Geiser, Denise McLinden, Patti Cruse, Lynne Reckman, Mary Bunker, Rebecca Moeggenberg, Jay Issler and Alan Bunker.
Back row: David Hatfield, David Lane, Susan Westrick, and Frederick Warren.
Volunteers unable to attend: Ekkehard Bohme, Barbara Gomes, Gayley Hautzenroeder, Ron Hoffman, Carol Kruse, Kathleen Noble, Dale Pepper, Dennis Pratte, Addie Renne, Ed Rider and Serena Tsuang.
This is but one event honoring our volunteers. Want to join the fun? Love Music Hall and have time to offer? Sign up today and get details.