From the moment he sat down at the console, organist Ron Rhode had the rapt attention of the sell-out crowd in Music Hall's Ballroom!
The date: Saturday, November 28, 2009
The occasion: The Dedication Concert of the Albee Mighty Wurlitzer Organ in its new home in Music Hall
Organist Ron Rhode
While a classically-trained organist, his repertoire of old favorites from the 1920s, 30s, and 40s—with a few ''newer'' selections, including an Elvis Presley hit and a number from the Broadway hit Wicked—showed off the organ's range and depth.
Other crowd favorites included the Latin beat of ''See You in C-U-B-A,'' ''Mystics of the Noble Shrine,'' the playful tune ''The Jack in the Box,'' and ''Caprice Viennois,'' Fritz Kriesler's old WLW ''Moon River'' theme.
"It was an honor to be here," he said, adding that this concert was one of the highlights of his 36-year career.
A Great Celebration
Steve Loftin, Executive Director of the Cincinnati Arts Association which manages Music Hall, read a proclamation from Mayor Mark Mallory declaring November 28 as ''Mighty Wurlitzer Organ Day'' in Cincinnati.
The performance was a sellout. Not only were all the original concert tickets sold, but Friends of Music Hall (formerly Society for the Preservation of Music Hall) decided to add another 100 seats to the ballroom. Those tickets were sold within a day! Despite the sunny weather and other holiday attractions, not only was every seat was filled, but people were standing.
Set List for the Dedication
Santa Claus Rides Again
Nobles of the Mystics Shrine (Sousa)
I'm Confessin'
Are You Lonesome Tonight
When My Cutie's Due at Two-to-Two
Medley:

Deep Purple
Lilacs in the Rain

Vera Lynn Medley:

We'll Meet Again
White Cliffs of Dover
Cinderella, Stay in My Arms
Be Like the Kettle and Sing
You Don't Know Me
See You in C-U-B-A
Young At Heart
Fanfare - Lemmens
Pietro's Return
Cosi Cosa
I Don't Know Why
Hello, Baby
Caprice Viennois
The Jack in the Box
For Good (from "Wicked")
Silver Sleigh Bells (E.T. Paull)
March and Procession of Bacchus from the ballet "Sylvia"
Encore: Whispering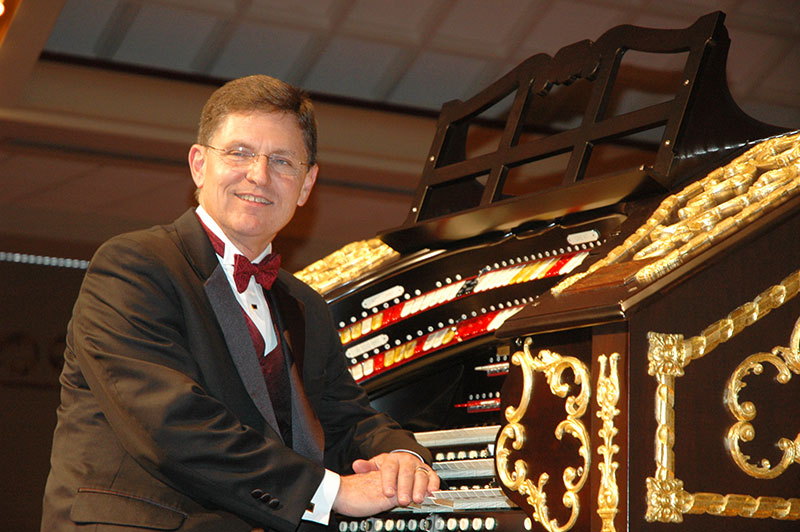 Organist Ron Rhode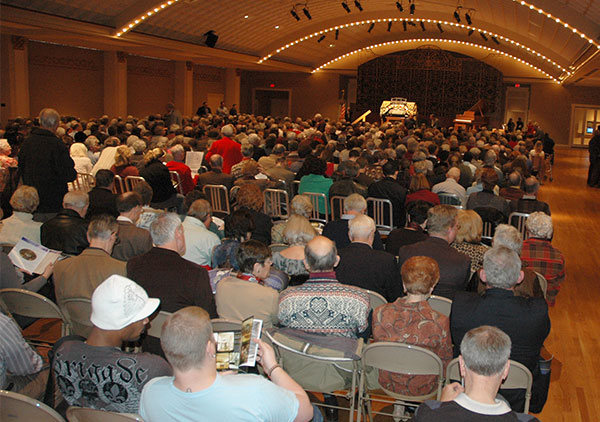 A sell-out crowd in Music Hall's Ballroom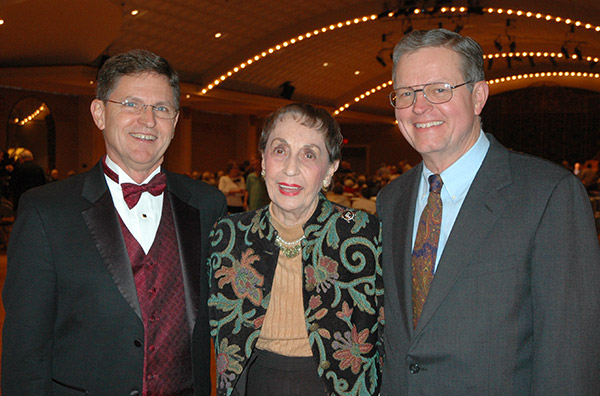 Organist Ron Rhode, organzation president Norma Petersen, and Ron Wehmeier, expert who restored the Wurlitzer