Let Friends of Music Hall Program Guides take you on a fascinating trip through history with a Music Hall tour!
There are several ways you can take a tour of Cincinnati Music Hall. Choose from:
Indoor Tours, offered weekly
Outdoor Tours, by appointment only, please email musichalltour@friendsofmusichall.org
Speaker Series, where we bring the tour to you, with photos and stories about this National Historic Landmark
See Cincinnati Music Hall as you've never seen it before. Take a Music Hall Tour!
Indoor Tours of Music Hall Outdoor Tours
Volunteer at Music Hall
We're looking for personable individuals to attend the Information Desk in the Ticket Office area of Music Hall. Volunteers in that position greet the public, give directions, and provide mini-tours. Complimentary parking is provided as a benefit. Available shifts are: Mon-Fri, 10:30am to 12:30pm, and 12:30 pm to 2:30pm. Get more information or sign up online right now!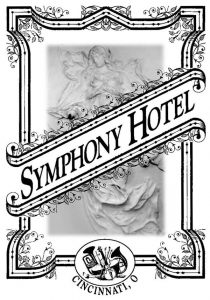 SPECIAL THANKS to the Symphony Hotel and Restaurant for the generous donation for a voice amplification system for Friends of Music Hall Tours!
Visit the Symphony Hotel website for dining information.