by Thea Tjepkema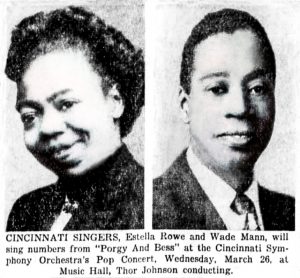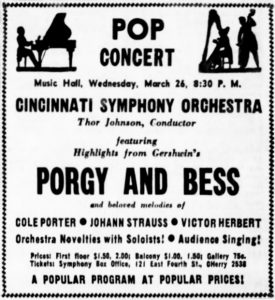 Although Music Hall hosted numerous African American artists in her early days, it was not until 1952 that Black hometown singers had the opportunity to share their gifts on the Springer Auditorium stage with the Cincinnati Symphony Orchestra. That year on March 26, Cincinnatians Estella Rowe, soprano, and Wade Mann, bass, sang selections from Gershwin's Porgy and Bess with the CSO in the second half of a Pops concert conducted by Thor Johnson. Rowe and Mann were the first local Black soloists to appear in a CSO subscription concert.

Both were accomplished singers and students of Louis John Johnen, who had a voice studio in Clifton. Johnen was an accomplished baritone, a graduate of the University of Cincinnati, choral conductor of UC's Oratorio Society, and sang in Cincinnati Zoo operas in the 1920s.
Prior to performing with the CSO, Mann and Rowe sang in many of Johnen's student recitals in the late 1940s and early 1950s. His voice students were classically trained in art songs and operatic arias in their original languages. Rowe studied Wagner, Mahler, Verdi, Schubert, and Mozart. Her longtime friend Donald Hurd inherited her music library, which he said, "includes copies of Isolde's 'Liebestod,' 'Magda's Aria' from Menotti's The Consul, and many of Mozart's ladies." He declared, "She must have had a very good voice!"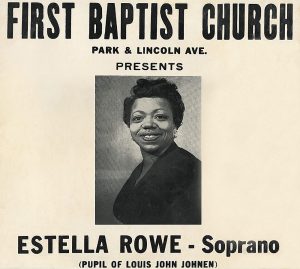 Rowe and Mann were both active singers in local choirs and gave numerous recitals in area churches. Wade Mann was a member of Bethel Baptist Church, the YMCA Choral Group, and a cappella octet "The Cavaliers."
He served four years in the Army during WWII. Rowe was a member of the First Baptist Church in Walnut Hills, often featured as a prominent soloist in the church choir. She served as the church secretary for 48 years, chaired musical programs, and taught Sunday school.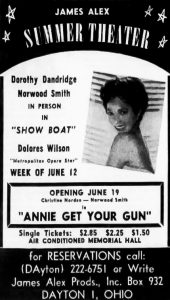 Rowe also was an actress with the Cincinnati Music Drama Guild, performing in Finian's Rainbow and Thais. In 1962 Rowe performed with Dorothy Dandridge and MET opera star Dolores Wilson in a summer stock theater production of Show Boat at Dayton's Memorial Hall.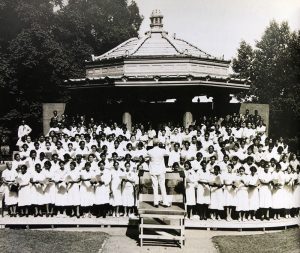 During the late 40s and early 50s, Rowe gained recognition as a frequent soloist in Cincinnati's June Festivals, an annual African American choral festival founded in 1938 that provided opportunities for prominent Black, classically trained, soloists, to appear in concerts with a mass choir. Black singers were banned from performing in the May Festival chorus until 1956. Until then, June Festival concerts were held outdoors, mostly at the Zoo auditorium and the Eden Park bandstand, where 100-300 singers from area community choirs, choral clubs, and gospel choirs would perform for huge crowds of up to seven thousand.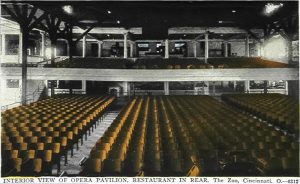 In 1942, for several hundred people in Eden Park, Rowe was a soloist at the June Festival, but what she sang was not mentioned in the newspapers. Her real debut was when she won a city-wide talent competition for her solo appearance on June 5, 1949, at the June Festival, at the Zoo, singing Puccini's "O Mio Babbino Caro" from Gianni Schicchi and "Cry Aloud, Spare Not" from Willard Patten's Isaiah. She was again a soloist in the 1951 June Festival, at the Zoo, and sang Mendelssohn's "Psalm 95, O Come Let Us Sing" in the soprano duet with Ruth Watts. Clinton Gibbs was a vocal instructor, accompanist, and chorus master for June Festivals. Rowe performed in a public recital by Johnen's students on May 13, 1951, at the Taft Museum featuring selections from Carmen and Rigoletto.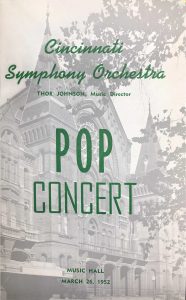 Rowe's and Mann's talents were praised in reviews the day after their 1952 performance on the Music Hall stage. The Cincinnati Post said her warm, textured tones were just right for Bess's lullaby "Summertime" which she sang with feeling. The review described Mann's performance of "I Got Plenty o' Nuttin" with high spirits, displaying a voice that was expressive and smooth. Together they sang "Bess, You Is My Woman Now" to close the concert, a highlight of the evening. The Post critic congratulated Thor Johnson for bringing these artists to the stage, "a great service to the city and to the cause of music." The Cincinnati Enquirer reporter wrote that Mann's voice was a fine one with resonance, beauty, and projection, who sang without strain in a style suited to Porgy.
Another reviewer was their vocal teacher, Louis John Johnen, who also served as a music critic for the Cincinnati Times-Star. He might have been a bit biased, but he proclaimed Rowe and Mann as the hit of that night's Pops concert. He pointed out it was the first time local Black singers had been engaged by the CSO, and that the audience completely filled the balcony and most of the other seats in Music Hall. Johnen described the singers' clear tones as gratifying and mentioned how the applause drowned out the instrumental finale.
Sadly, however, Johnen reported at the end of the concert while a reception was being held for the soloists, "militant handbills" were distributed outside of Music Hall's doors. Johnen called the effort "misguided, ill-advised, and totally unnecessary." In an interview with Janelle Gelfand for the Enquirer, Rowe recalled the concert as wonderful, and a thrill to perform for a full house. She was also proud to have sung without stage fright.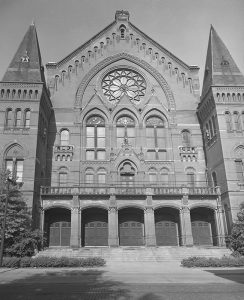 Although local African American public-school choirs with soloists had sung on the stage of Music Hall for early expositions and at the 1928 Golden Jubilee, this Cincinnati Symphony Orchestra concert featuring Estella Rowe and Wade Mann was the first to engage and celebrate local Black professional artists and welcome them to the stage of Music Hall. The famous contralto Marian Anderson performed a solo recital in Music Hall in 1944, but first appeared as a soloist with the CSO only a few months prior to this 1952 Pops concert. It would be another four years until the May Festival presented its first Black artists: Leontyne Price and William Warfield singing "The Ordering of Moses" by Black composer Nathaniel Dett in 1956. It can be said that Rowe and Mann opened the doors of Music Hall for Black performers and audience members as well as the hearts and minds of white patrons who could finally experience the full breadth of musical expression within their community.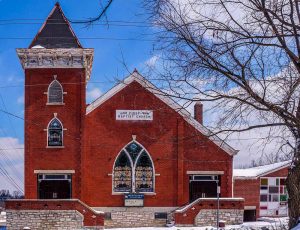 Donald Hurd became a lifelong friend of Estella Rowe's after meeting her in the 1980s when he was a CCM student and took the job as an organist and choir director for the First Baptist Church. Rowe gave him his first tour of the church. Passing pictures of famous Black historical figures on the walls, Hurd told her of his deep interest in history. She replied, "I'm a part of history too, but no one is interested in my story." He later discovered her remarkable story and has ensured that it continues to be told, especially in Cincinnati Music Hall.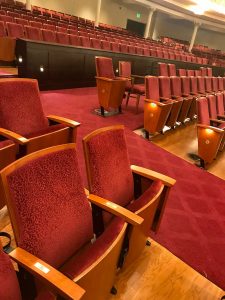 Hurd recently contacted the Friends of Music Hall to inquire if the plaque he purchased in her honor was still on the seat from her favorite spot in the gallery. He remembered her arrival, coming down the steep uneven stairs in high heels and a mink coat.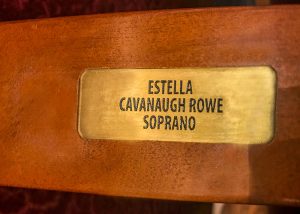 With Music Hall's new seats, Estella Cavanaugh Rowe's seat has moved downstairs; her name now is placed on the arm of a chair in orchestra right, row N, seat 302.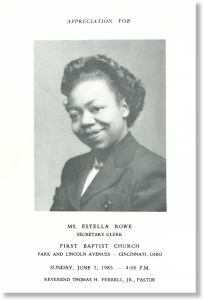 Hurd loaned a program for a concert in "Appreciation of Estella Rowe," which was digitally scanned for the Friends of Music Hall archives. The performance was held at the First Baptist Church on June 2, 1985, where Mayor Charles Luken read Rowe's many accomplishments and proclaimed "Estella Rowe Day" before she spoke. Hurd also provided a poster advertising one of her concerts at the First Baptist Church, now also scanned and preserved for posterity.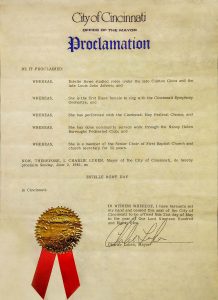 Rowe is buried at the United American Cemetery; Hurd purchased her headstone. At the end of her Enquirer obituary was a request for memorial donations to the Cincinnati Symphony Orchestra. She would be proud of how far we have come in encouraging the continued presentation of diverse, beautiful voices to sing on stages throughout our city, especially at Cincinnati Music Hall.
Estella Cavanaugh Rowe (November 26, 1914-May 31, 2000)
Wade Eugene Mann (August 2, 1913-June 20, 1993)
Thea Tjepkema is a member of the Friends of Music Hall Board of Directors as historic preservationist, content curator, and archivist.

Tjepkema has created two new Speakers Series presentations:
Under One Roof: The African American Experience in Music Hall
and
Muses: The Women of Music Hall.
Contact us by email or by calling (513) 744-3293 to schedule a presentation for your group or organization.
Thank you Donald Hurd for sharing the legacy of Estella Rowe with the Friends of Music Hall.
Thank you to editor, Rick Pender, Friends of Music Hall board.
Doolin, Craig, et al. "A City That Sings: Cincinnati's Choral Tradition 1800-2012." Chapter 4, Cincinnati's African American Choral Tradition 1824-2012, by Catherine Roma, Cincinnati Musical Festival Association, Orange Frazer Press, 2012, pp. 176-185.
Janelle Gelfand, "Obituary: Estella Rowe, 85, was singer, stage performer: Noted soprano enthralled fans," The Cincinnati Enquirer, June 2, 2000, p. 6.