by Becky Moeggenberg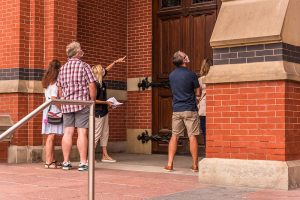 When I interviewed to become a tour guide for the Friends of Music Hall, I was asked why I wanted to become one. Good question! I suppose it was a combination of wanting to do something engaging and fun with like-minded folks, but also because Music Hall has always been a part of our family. My Grandfather, John J. Behle, was the manager of Music Hall from July 1, 1927 to June 30, 1936.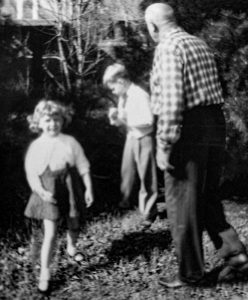 I never really talked to him about that time in his life. The entire time I was growing up he was the Chief Deputy Sheriff of Hamilton County. He served under three Sheriffs: Fred Sperder, C. Taylor Handman and Dan Tehan.
So it was interesting for me to delve back into his life with the help of Sandra DeVise, librarian at the Cincinnati History Library & Archives, Cincinnati Museum Center.
Behle's National Reputation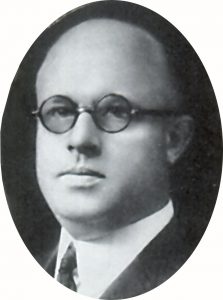 His first official day as Manager of Music Hall – July 1, 1927 – might have been anticlimactic. Now 41, Grandfather had been managing trade shows and expositions in Music Hall and other venues for years. Newspapers referred to him as "one of the best-known exposition managers in the United States."
He took over management of the annual Automotive Accessory and Radio Exposition 1921 and grew the show substantially. By the following year, all three buildings of Music Hall were needed for the displays. Visitors could see passenger cars, trucks and tractors in the north wing, auto accessories and radio gear in the south wing, and entertainment, from radio and choral concerts to style shows, in the auditorium. DeVise found an article from 1922 where Grandfather, as general manager of the show, had planned a Gaiety Program to close the Exposition.
The "Million Dollar" Home Show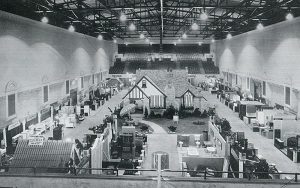 From its inception in 1925, Grandfather managed the Women's World/Home Beautiful Exposition at Music Hall, which ran annually for over a decade. The big draw each year: a fully-furnished and landscaped home was built inside Music Hall's north hall. Once the show ended, the house was dismantled, and then re-constructed in Greater Cincinnati.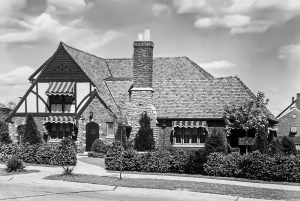 For several years, these houses were built on lots in Bond Hill, on Reading Road, just north of what today is SR 562/Norwood Lateral. This group included the 1929 Model home, constructed at 4700 Reading Road in Bond Hill. It's noteworthy because it was purchased by my grandparents. They moved into their new home in October 1929.
Each year the Home Beautiful Expo increased in popularity. Under Grandfather's supervision and with his marketing expertise, the Expo had become Greater Cincinnati's "Million-Dollar Show." Exposition managers from across the country often attended the shows, eager to duplicate this success for their cities.
Manager of Music Hall
When he undertook the position as Manager of Music Hall, Grandfather made several pledges:
We shall promote many things in Music Hall that Cincinnati never heard of before. We shall originate new ideas and bring many of the leading shows of the country to Cincinnati. New expositions which we expect to stage will include a sports and sporting goods show, featuring all the latest ideas in fishing, golf, basketball and other sports. A mammoth health show also is planned.
In addition to those he named, Grandfather also initiated other exhibitions: the previously-mentioned Radio Exposition, the Cincinnati Aircraft Show and the Midwest Furniture Mart.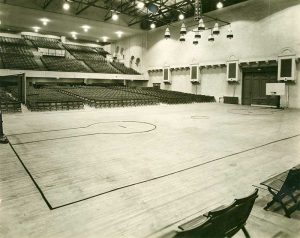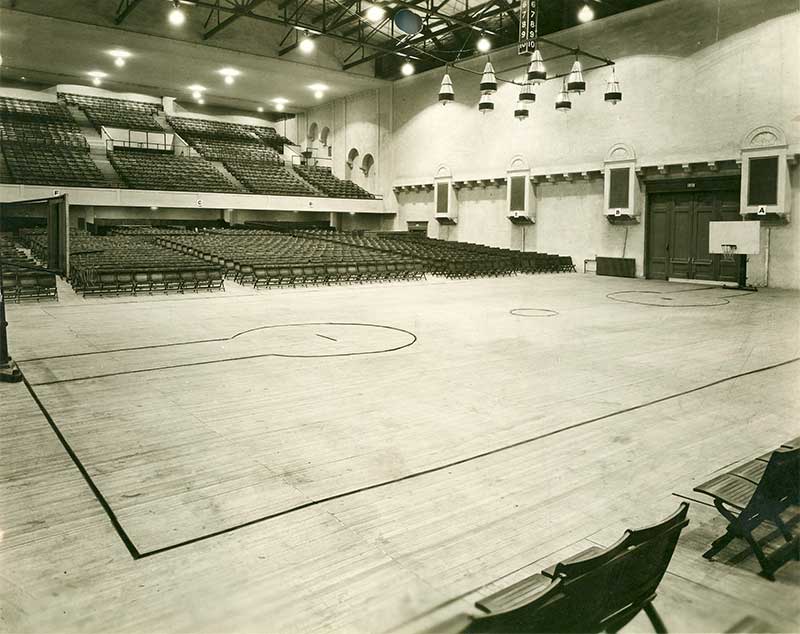 As manager of Music Hall, Grandfather directed a number of major events:
• The renovation of Music Hall in 1927, which was focused on the north and south wings. In the north wing, a huge sports arena was added, complete with air conditioning and modern-day amenities for athletes and patrons alike. The south wing's glass roof was removed and a second floor ballroom was added.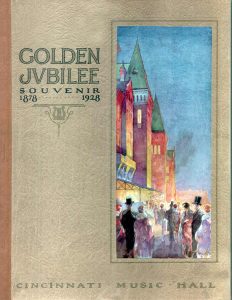 • The 1928 Golden Jubilee and Greater Cincinnati Industrial Exposition celebrated the 50th anniversary of Music Hall. This included the dedication of the "new" Music Hall on October 3, as no ceremonies were held when the arena and ballroom re-opened in January of that year. The secondary goal of this event was to raise funds for improving the auditorium.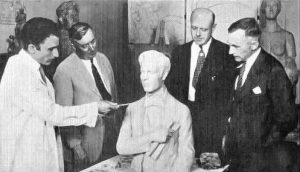 Also during the Jubilee/Exposition, ceremonies were held for the unveiling of the bronze bust of songwriter
Stephen Collins Foster
. Foster lived and worked in Cincinnati for three years. While his passion was writing, Foster worked as a bookkeeper for his brother's business. While here, he wrote some of his most popular songs, establishing his reputation as a composer.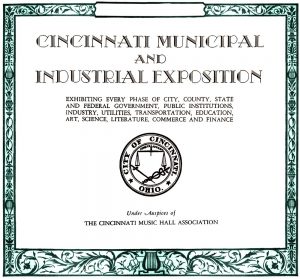 • The Cincinnati Municipal Exposition and Spring Festival, May 27-June 9, 1935, which featured "1,000 exhibits, education and entertainment."
• The Ohio Valley National Home Show in 1936, the success of which led to the creation of a National Home Show Committee to act as a clearinghouse for these types of shows across the country.
John J. Behle's Challenges
Grandfather's success in initiating and growing expositions came despite some nearly-insurmountable challenges.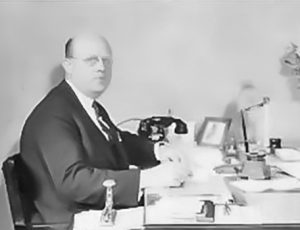 These were the years that the Cincinnati Symphony Orchestra was performing at the Emery Theater, so Music Hall's income depended largely on expositions. And, in the midst of his tenure at Music Hall came the worst of the Great Depression, which began after the stock market crash in 1929.
And Now His Granddaughter Walks the Same Halls
I'm sure running Music Hall during this time was not an easy task for Grandfather.
My brother John remembers talking to him about those years. Despite the challenges he had faced, John said Grandfather was very proud of his work at Music Hall and enjoyed it immensely. As do I!
Becky Moeggenberg has been a volunteer with Friends of Music Hall since 2017, as a program tour guide and as a content provider. Additionally, she volunteers at Cincinnati Children's Hospital in the Therapy Dog Visitation program.
Volunteers are welcome at Music Hall! If you are interested, check out what's involved on our volunteer page and the signup page.