Features of Music Hall's High Victorian Gothic Style
Designed by the firm of Hannaford and Procter, Cincinnati Music Hall is considered one of the best examples of High Victorian Gothic style.
In the lithograph on the right, you can see a number of characteristics of High Victorian Gothic (mid-late 19th c.)
Polychrome (multi-colored) – red & black bricks, tan sandstone, red & gray slate
Stripes – tan sandstone & black brick horizontal banding
Spikes – ornamental metal cresting (fence-like) on roof ridges & symbolic metal pinnacles on roof peaks (Music Hall-lyres, Machinery Hall-gear & hammer, Horticultural Hall-seed germ)
Decorative black brick patterns or diaper work (Greek "dia"– diamond/diagonal)
Corbelling – stepped brickwork
Gothic Details:

Rose window & 3 tracery windows
Finials or fleuron
Pointed arches
Pointed gables
Cathedral spire-like towers
We're often asked: what happened to the angel and children on top of the center of Music Hall?
In early lithographs - including this circa 1881 Library of Congress photograph of a model of Music Hall - an angel referenced as "Genius of Music" graced the flat area on top. Research has never found reference to this statue and it's believed the statue was never added to the structure. The reason: in his letter initiating the project, businessman Reuben Springer wrote "The building should be plain but very substantial, and care should be observed not to lavish money on mere ornamentation." As Mr. Springer was donating a sizable portion of the funding for the building, his admonition was honored.
Check out Music Hall
It's one thing to read about it, but more interesting and fun to experience in person! The story of Music Hall's design and construction, what life was like in Cincinnati and Over-the-Rhine in the late 1870s, structural details not only of Music Hall but also the buildings in the immediate vicinity, the people involved - all these stories come alive for you when you take an Outdoor Building Tour. Outdoor tours are scheduled May through October. Check out Tour dates and times.
Find out more about the outdoor and other tours.
Friends of Music Hall can also bring a "virtual" tour to your group, complete with historic images and a Program Guide to tell the stories! Call 513.744.3293 for details.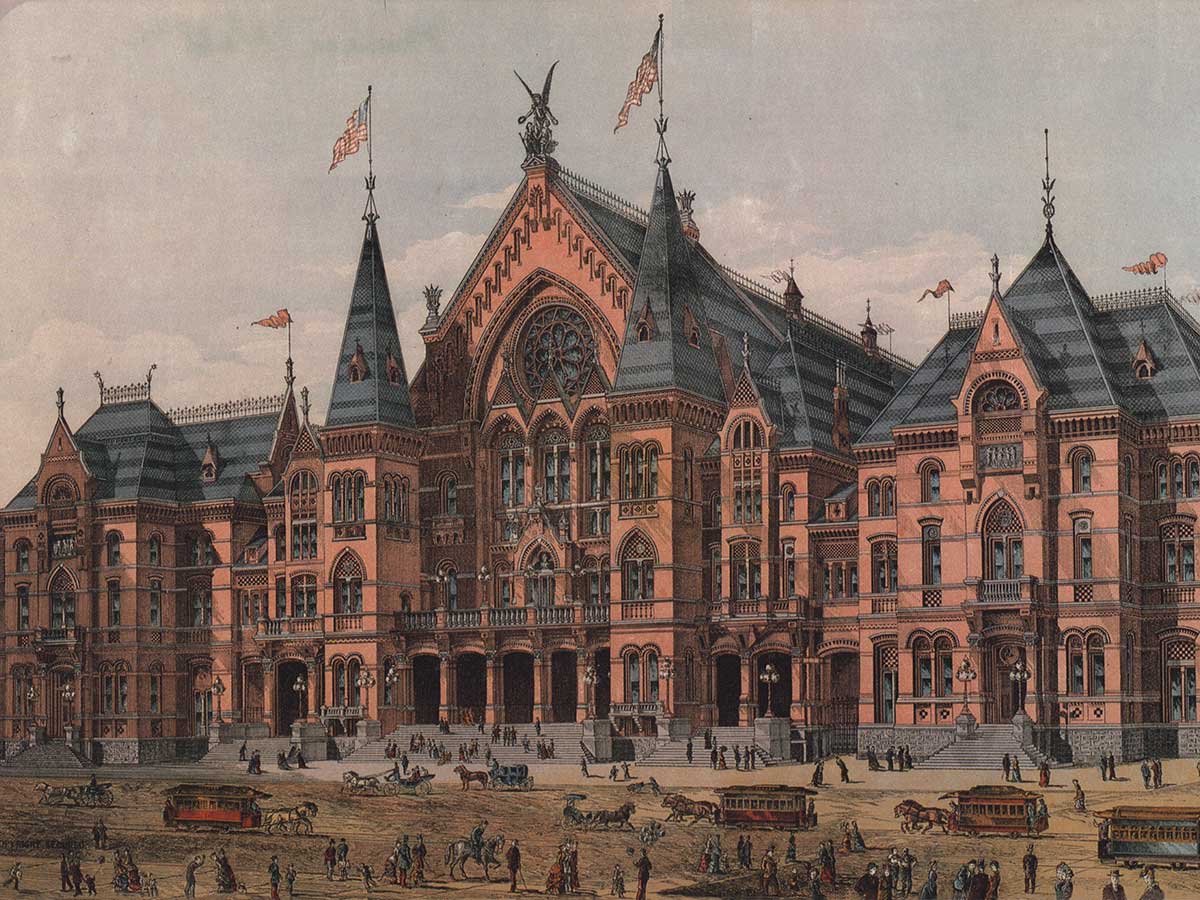 Music Hall 1879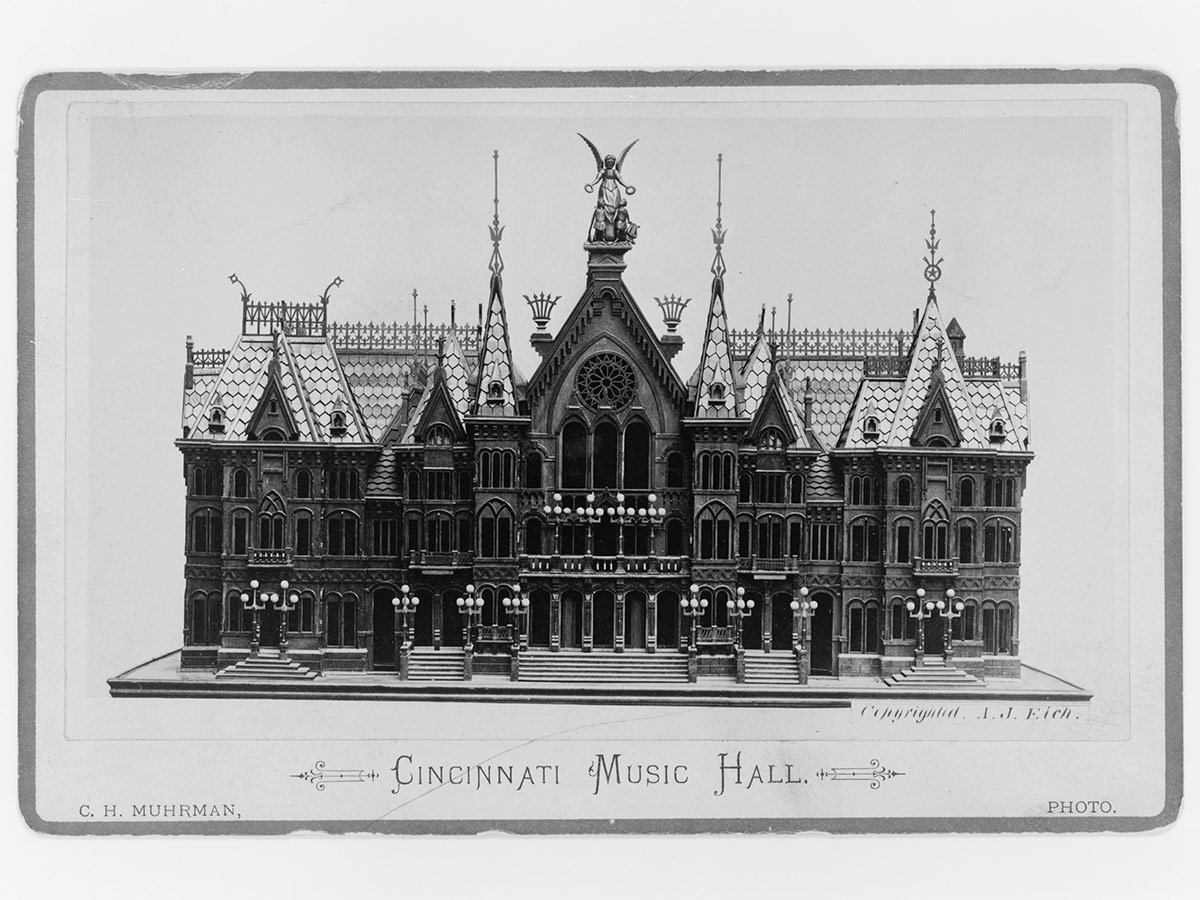 Photograph of a model of Cincinnati Music Hall
The Library of Congress c. 1881
As part of our mission, Friends of Music Hall funded the restoration of the sandstone ornamentation on the exterior of Music Hall. This included ten finials atop gables, and a sandstone lyre. Read the story of The Finial Restoration Project.

Board member and historic preservationist Thea Tjepkema's enthusiasm for Music Hall led her to spearhead this and other restoration projects. Her dedication and work is detailed in the Cincinnati Magazine article "Thea Tjepkema is Music Hall's Guardian Angel," available to read online.