Stories of ghosts in Music Hall are legendary and once Music Hall re-opens, we will bring back Guided Ghost Tours.
Groups that specialize in the paranormal often visit Music Hall to try to determine the presences of "other-worldly" figures.
Whether you believe in ghosts or not, the experiences are real.
Individuals who are not prone to making things up, either to get attention or to deliberately mislead, share their first-hand, spectral accounts.
But... who?
Throughout its history, excavations in and around Music Hall have yielded human bones; in fact, a map from 1830 shows that the south part of the structure was built over a Potter's Field.
It is believed the ''souls and spirits'' that wander Music Hall, upon occasion make their presence known.
Longtime employees of organizations based in Music Hall testify to being in the presence of ghosts. The late Cincinnati Pops Music Director Erich Kunzel, who spent many nights at Music Hall working on programs and arrangements, believed that they were basically quite friendly.
They are definitely in this building, some sort of spirits. If anybody thinks I'm nuts, come here at 3:00 in the morning, 4:00 in the morning.
Cincinnati Opera CEO and General Director Patricia Beggs spent many nights at Music Hall during opera season and says she too felt their presence. She related an experience a fellow opera employee had in the 1990s.
One of our employees came down here one day during our season when we were dark and he brought his little three-year old son Charlie with him. They went out on stage and Charlie was enjoying pretending like he was performing and all of a sudden he looked over and said ''Daddy, who's that man in the box?'' That was (then Cincinnati Symphony Orchestra Music Director) Jesus Lopez-Cobos' box, which is box 9, and his father Tom said, ''There's nobody in the box, Charlie.'' ''Yes there is. He's waving at me right now.'' And so with that, they packed up and left very quickly.
Terri Kidney has worked at Music Hall for over 20 years. Because the ghostly experiences she's heard about have been happy, she thinks the spirits that inhabit Music Hall are perhaps people who had at one time attended events here and had a good time.
One of our box office people was working at the window and there was a ''ding'' outside (the bell indicating someone at the window) and there was nobody there. The buzzer kept going off, so he finally left the box office and went outside and didn't see anybody. He went back in, (it) kept ''dinging'' so he went back out again. At one point he was back in the box office, and he felt a tug on his shirt sleeve. He looked down and there was a little boy in period dress -- had knickers on, a little cap -- was tugging on him.
Just One of His Many Experiences
John Engst, who was a night watchman at Music Hall for quite a few years, had a lot of stories about ghosts and happenings during the evenings and late nights when he worked. Engst wrote an account of his most harrowing experience, which occurred one night after everyone had left the building. He was making his usual rounds when he heard music... and couldn't find the source.
I re-entered the elevator and closed the doors. The music was still there and I'm starting to tingle now. I opened the rear of the elevator, entered the adjoining hall, no sound. Returning to the elevator to proceed to Corbett Tower and closed it up, the music was as beautiful as ever. For nearly two weeks I could not approach (the) elevator shaft on the first floor late at night without my whole body tingling.
If you'd like to experience Music Hall's paranormal side, we're working to bring them back! Information will be available on this page as soon as that happens.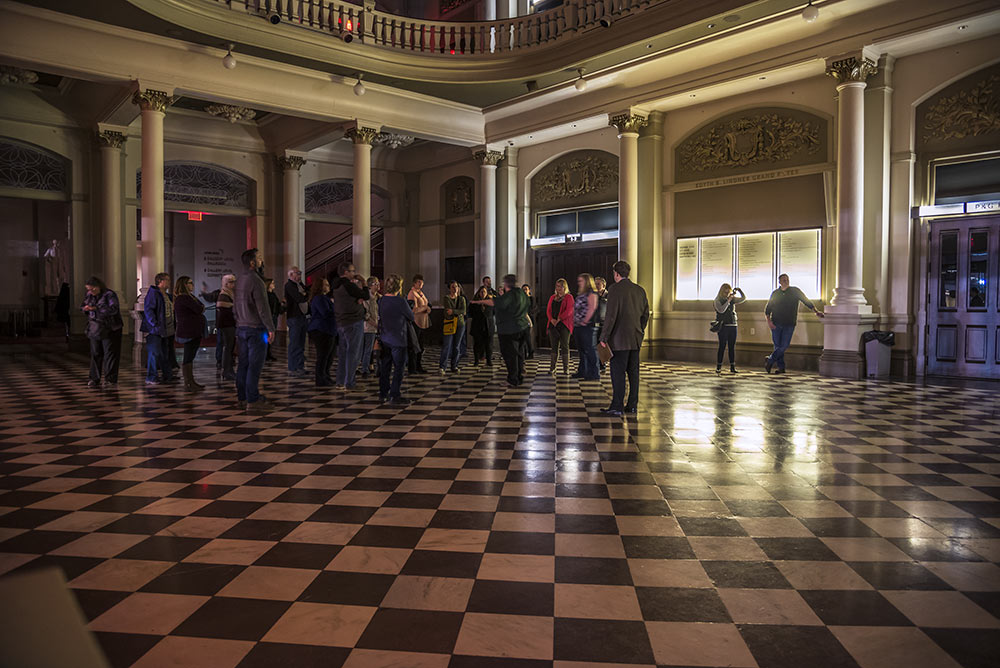 Ghost tour participants gather in the foyer, which is lighted only by the signage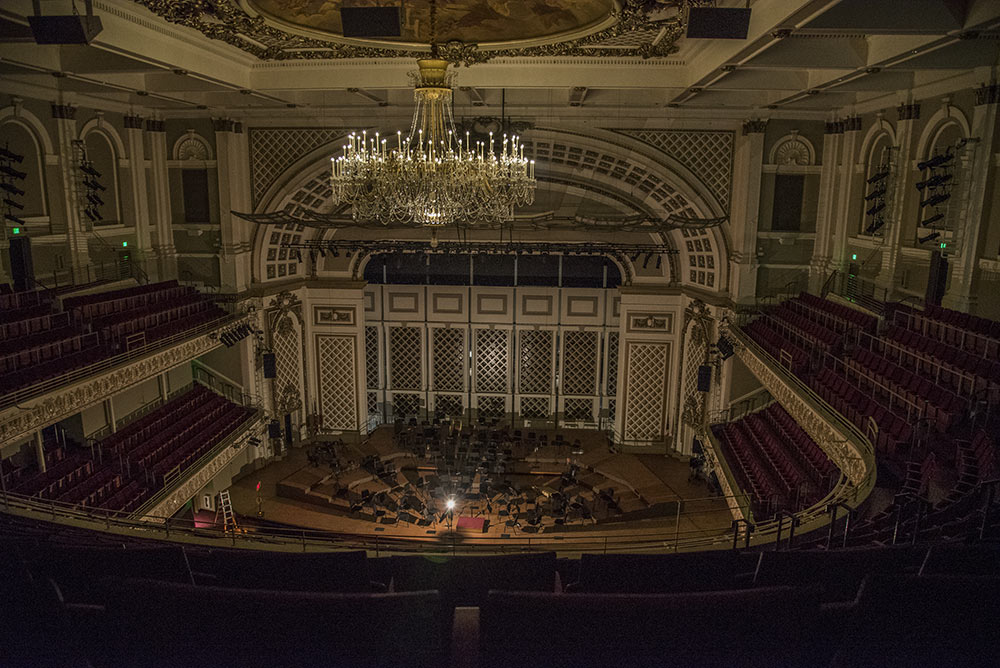 The auditorium is empty except for the ghost light on the stage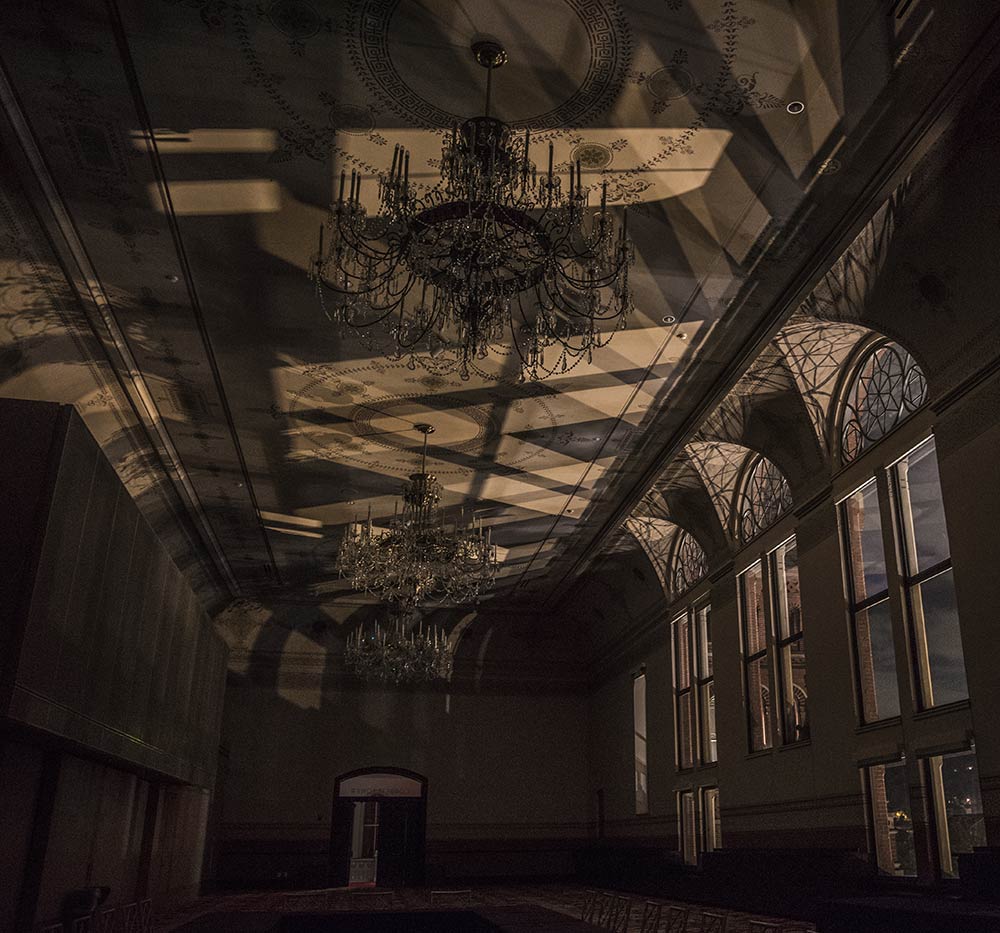 Corbett Tower during a 2019 Ghost Tour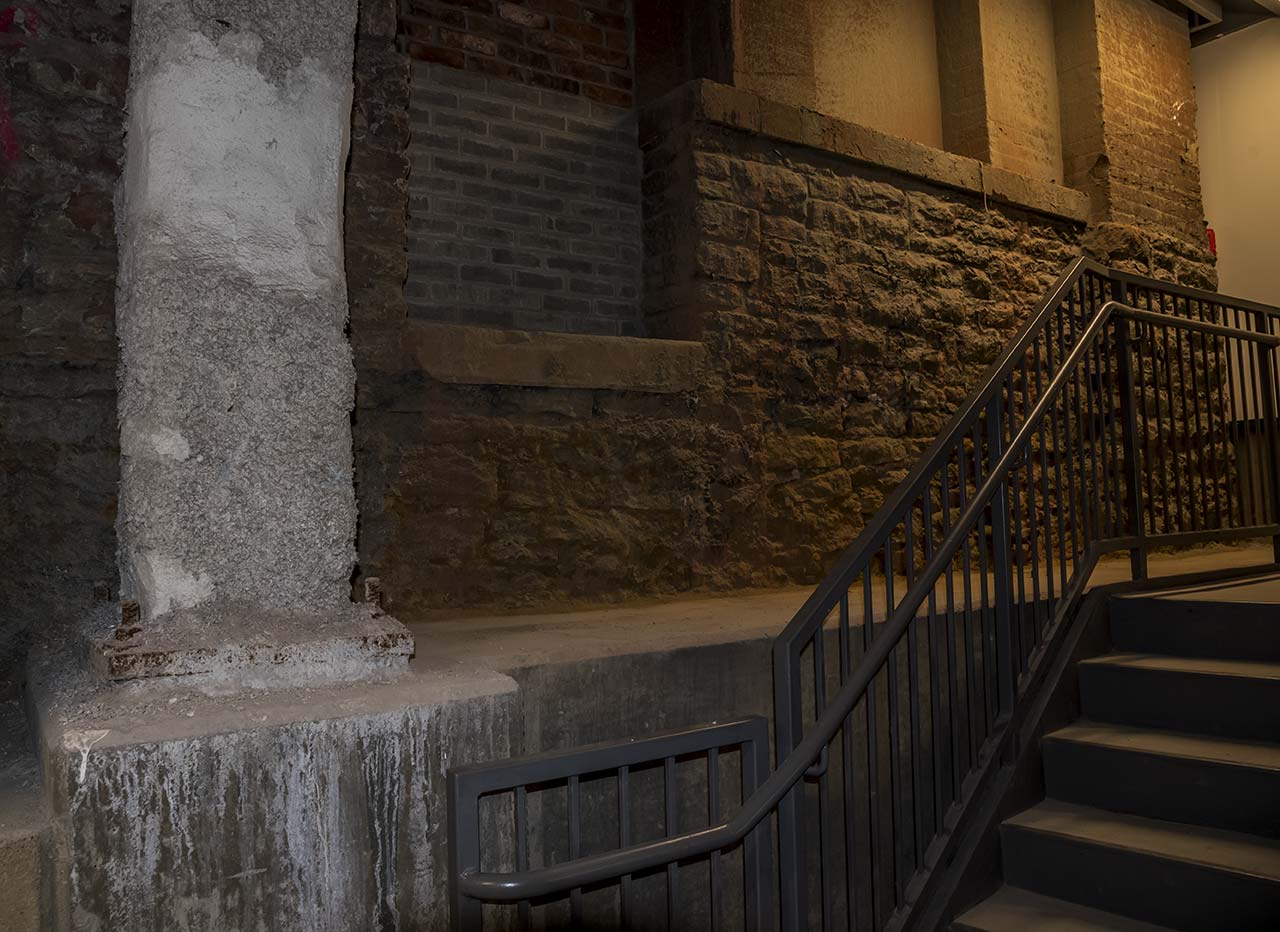 Lights are low, even in the basement. The land under Music Hall was once a graveyard.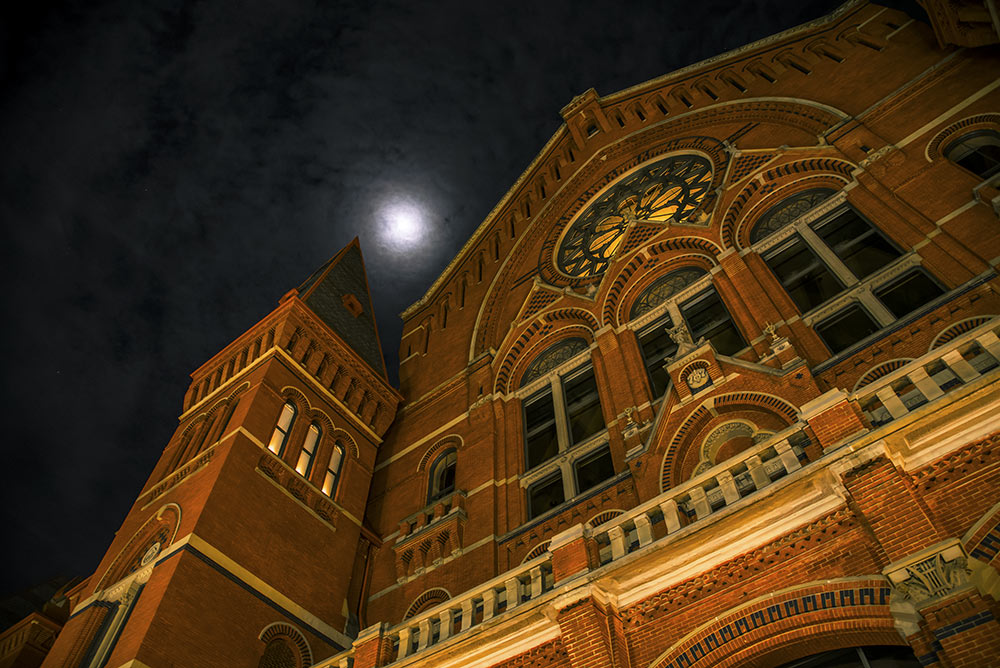 As we leave at the end of the ghost tour, we notice the full moon over Music Hall