By Rick Pender
Cincinnati Music Hall surely holds the city's record for the most visits by presidents of the United States. Three meaningful facts made this possible. First, the grand building opened to the public in 1878. After 142 years it's still standing, and the list of presidential visits is still growing.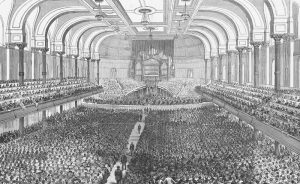 Second: Springer Auditorium's vast capacity made it the city's best choice for large events, with room for 4,470 seated attendees, and often thousands more standing. Even after it was reduced by remodeling in 1895, it could still accommodate more than 4,000; the 1972 changes funded by Patricia and Ralph Corbett reduced it to 3,400. (Today, following the 2018 renovation, the maximum number is 2,524.) Regardless of the number, it has always been the city's best choice for events expecting large audiences. Additionally, Music Hall's Ballroom can seat as many as 1,000, and it has served as a venue for some of our nation's most recent presidents.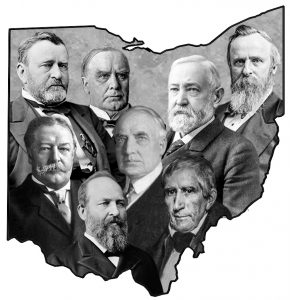 The third fact: Ohio was the 19th-century birthplace of so many U.S. presidents, that it was often referred to as the "Mother of Presidents." Six of the seven presidents from Ohio—Ulysses Grant, Rutherford Hayes, Benjamin Harrison, William McKinley, William Howard Taft, and Warren G. Harding—visited Music Hall. (Only James Garfield, whose term was cut short by assassination, did not appear there.) Two presidents with Ohio birthplaces were raised not far from Music Hall: Grant started life in 1822 in Point Pleasant and Georgetown, Ohio, east of the city; Taft, was born in the Cincinnati neighborhood of Mt. Auburn in 1857. Other Ohioans who achieved national leadership visited, campaigned, and came to speak in the late 19th century. During the 20th and 21st centuries, Cincinnati was an important stop in a swing state for campaigners as well as presidents with promises to put forth and fulfill.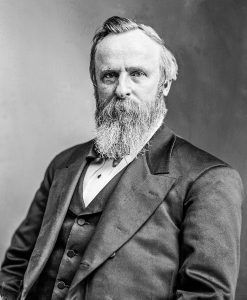 Rutherford B. Hayes
Rutherford B. Hayes, from Delaware, Ohio, was nominated as the Republican candidate for the presidency in 1876 at the national convention held at Cincinnati's Saengerhalle, Music Hall's predecessor on Elm Street. Hayes had twice served as Ohio's governor (1868-1872, and 1876-1877). Music Hall was constructed during his presidential term (1877-1881). In September 1879, he returned for the grand opening of the North and South Halls of Music Hall at the Seventh Cincinnati Industrial Exposition.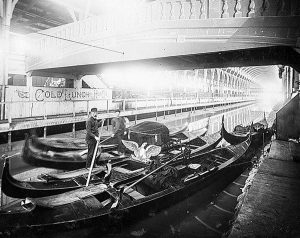 As a past president then living in Fremont, Ohio, Hayes attended the Centennial Exposition of the Ohio Valley and Central States at Music Hall for Veteran Army and Navy Day in September 1888. Seventy prominent Grand Army men and their wives were escorted onto the stage of Music Hall. Hayes rode in a gondola, one of six, on the Miami and Erie Canal behind Music Hall. He was back in October 1888 to preside over the Exposition's "Ohio Days."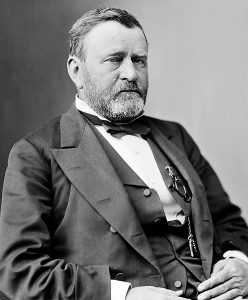 Ulysses S. Grant
Music Hall's construction predated the presidency of Ulysses S. Grant (1869-1877), but his family's roots in Ohio and Kentucky meant he occasionally returned to Cincinnati. In December 1879, two years after he finished his term of office, Grant was greeted by a crowd of nearly 10,000 enthusiastic citizens in and around Music Hall. The program celebrating this much admired military and political leader included a performance by the Theodore Thomas Orchestra; Thomas was first director of the Cincinnati May Festival. According to the Cincinnati Enquirer, "Music Hall never saw within its walls a greater assemblage in point of size or more orderly and respectful."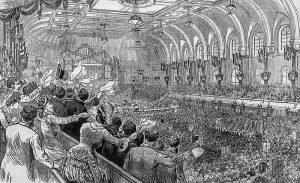 The Democratic Party held its national convention at Music Hall in June 1880, nominating Major General Winfield Scott Hancock, a Civil War hero at Gettysburg, as its presidential candidate. Hancock was narrowly defeated by the Republican candidate, Ohioan James Garfield, in the national election.. At the same convention, Susan B. Anthony spoke in support of Women's Suffrage.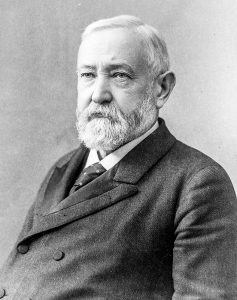 Benjamin Harrison
Benjamin Harrison, born in North Bend, Ohio, just west of Cincinnati, was the 23rd U.S. president (1889-1893). As a former President he returned to Cincinnati in 1896 for the May Festival when he and his wife were guests of the Maria Longworth Storer and her husband Bellamy Storer, a former U.S. Congressman (1891-95). The granddaughter of Cincinnati's first millionaire, Nicholas Longworth, Maria and her first husband George Ward Nichols were the founders of the May Festival.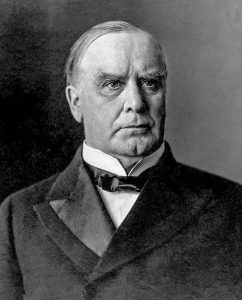 William McKinley
William McKinley, from Niles, Ohio, was the nation's 25th president (1897-1901). Major McKinley came to campaign for Governor of Ohio in 1891 and came back as Governor McKinley to campaign for re-election for Governor of Ohio in 1893, which he also won. Governor McKinley returned in 1894 to give a speech at a Decorations Day (today called Memorial Day) celebration on May 30. There was a parade through the city, ceremony at Spring Grove, and he spoke to 5,000 in Music Hall.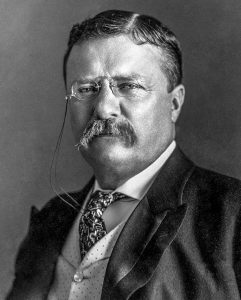 Theodore Roosevelt
In September 1902, President Theodore Roosevelt (1901-1909) attended the President's Day at the Cincinnati Fall Festival. He spoke to an audience of 6,000, calling Cincinnati "a great and beautiful city." A fire at the hall that evening was downplayed and did not dampen the crowd's enthusiasm for his appearance. Following his two terms of service, he returned for an exposition in 1910 and again in 1912 for a rally in his unsuccessful bid for a third term on the Progressive Party ticket.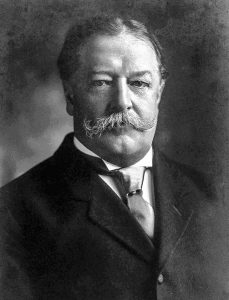 William Howard Taft
William Howard Taft, who became the 27th president of the United States, was born and raised in Cincinnati. Long before his term as president (1909-1913), as a respected attorney, Hamilton County prosecutor, a justice of the Ohio Supreme Court, and dean of the University of Cincinnati's College of Law, he was engaged in the city's life and surely was a regular attendee of concerts at Music Hall. His wife, Helen "Nellie" Herron Taft, a member of the "Ladies Musical Club" became the President of an all-woman board that founded the Cincinnati Symphony Orchestra in 1895. During his term in Washington, Taft returned to his hometown frequently. He attended the 1910 May Festival at Music Hall, where he unveiled and dedicated Clement Barnhorn's statue of conductor Theodore Thomas. (It's still on view in the Fath Family North Hall.)
Those Who Visited Before or After Their Term in Office

Campaigns for the presidency brought several subsequent presidents to Music Hall. Prior to his election in 1920, Senator Warren G. Harding, yet another Ohioan and the nation's 29th president (1921-1923), attended a Republican Club meeting at Music Hall. President Woodrow Wilson, 28th President (1913-1921), spoke on Oct. 26, 1916, to a packed house about his willingness to enter WWI, which the U.S. entered in 1917. President Harry S. Truman (1945-1953) came to Music Hall near the end of his term in 1952 to support the presidential candidacy of Adlai Stevenson, the Democratic nominee. Stevenson's successful opponent, Republican Dwight D. Eisenhower, made a campaign stop at Music Hall late in 1952, just before being elected to his first term in office. Eisenhower served two terms in Washington (1953-1961) and was the guest of honor at a June 1961 Republican Testimonial Dinner at Music Hall after his presidency.
President Bill Clinton (1993-2001) made a September 1996 stop in Music Hall to campaign for his second term in office. President Barack Obama (2009-2017) held the first town hall meeting of his second-term campaign in the Music Hall Ballroom in July 2012 to a crowd of nearly 2,700.
Music Hall was and continues to be the go-to venue for great music, but it has also served as an important platform for some of America's greatest leaders.
Extensive research for this feature was provided by:
Friends of Music Hall board member and historian/preservationist Thea Tjepkema

Friends of Music Hall board member and historian Scott Santangelo
Friends of Music Hall board member and communications co-chair Joanne Grueter
Feature Image, Gondola/Exposition image and 1878 engraving of Music Hall: courtesy of the Friends of Music Hall Archive
Images of the U. S. Presidents: courtesy of Library of Congress