The mural at the base of the grand chandelier in Springer Auditorium was painted by New York artist Conrad Arthur Thomas (1858-1932). It is believed that he was commissioned to do the work in 1905 by William F. Behrens, an interior decorator well known throughout the east and someone who had worked with Samuel Hannaford.
Up at the Ceiling of Springer Auditorium
Thomas worked on scaffolding 73 feet high to reach the dome. He completed the work in seven months.
The painting, named "Allegory of the Arts," is a richly-colored, Neo-Baroque oil painting that includes figures that represent Music, Literature, Science and History.
Over the years, the mural became coated with dirt and smoke from heating devices, smoking tobacco and the light fixtures used to illuminate the room. It was "rediscovered" in 1941 when the ceiling of Springer Auditorium was cleaned.
Look closely and you can see Thomas's signature—big enough to find but in colors that blend with the rest of the mural.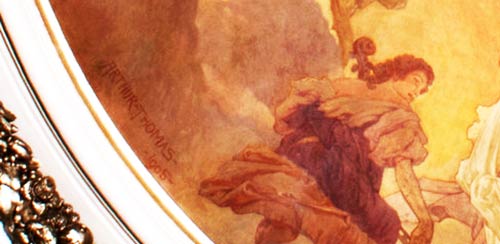 Thomas's signature and date are barely visible near the left edge
Other Murals by Thomas are on Display in the U.S.

Thomas was primarily known as a painter of Native American art. The Music Hall mural is one of several of Thomas's work that remain. His work remains on display in several cities:
in Louisville, where he painted murals in the lobby of the Seelbach Hilton Hotel (again using the Baroque style),
in the chamber of the Board of Aldermen in City Hall, St. Louis, Missouri, and,
in the DeKalb County, Indiana, Courthouse.
The Courthouse actually features two murals by Thomas: allegories of Justice and Liberty are in the Circuit Courtroom, and the murals in the east stairwell are of the Spirit of Progress and the Spirit of Industry.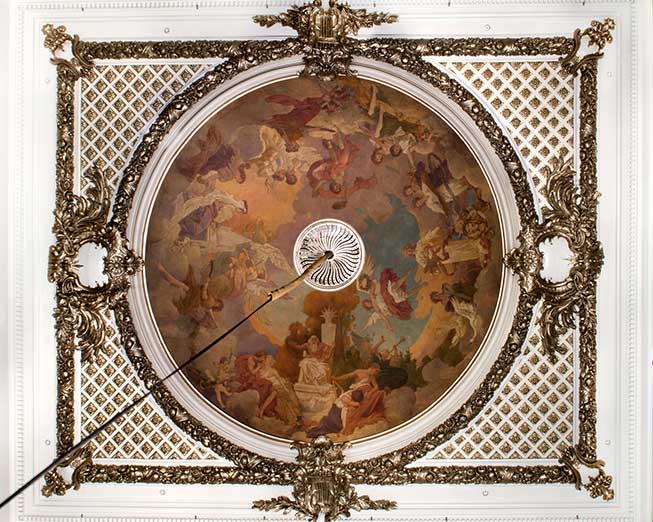 Allegory of the Arts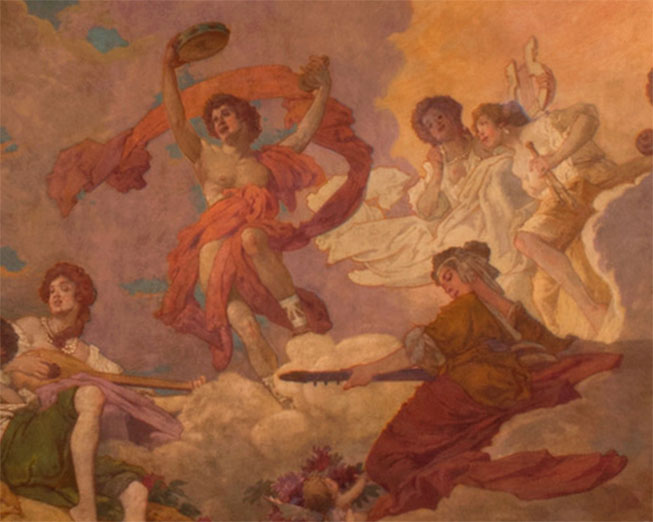 Depicting Music in the Allegory of the Arts mural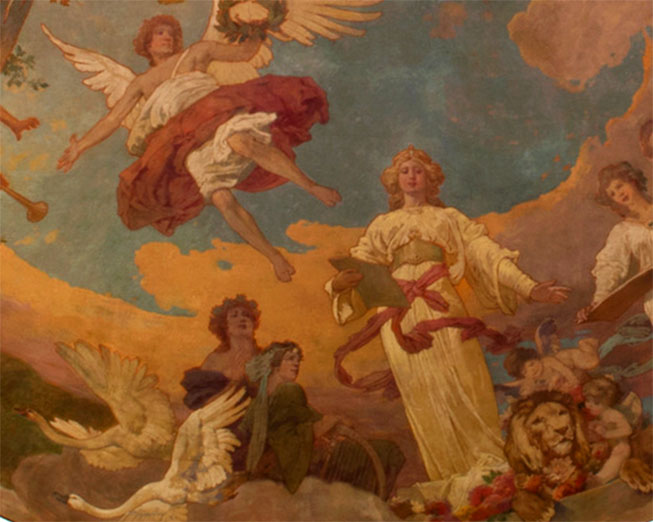 Scene in the Allegory of the Arts mural