Events presented by Friends of Music Hall provide everyone with an entertaining opportunity to experience this beautiful, historic structure. These events align with the our mission to promote and provide education about Cincinnati Music Hall.
"Under One Roof" Presentation
On Saturday, February 29, at the Public Library of Cincinnati and Hamilton County Main Library downtown, Thea Tjepkema, an historian and Friends of Music Hall board member, will present "Under One Roof: African American History in Music Hall. From the structure's inception, African Americans have made their mark in Cincinnati Music Hall. Experience the history of these individuals - from artists and politicians to tradesmen and sports figures - whose determination and talent helped forge the ethos of our city. The talk is free and will be held in the Genealogy Department on the second floor, starting at 2pm.
OTR Arts Day at Music Hall
Join us on Saturday, March 14, from 10am to 4pm for arts-filled fun at this Music Hall Open House, presented by ArtsWave. All events are free and include performances from the Cincinnati Opera, Cincinnati May Festival, the Bacchanal Steel Band, Baby Grands from the School for Creative and Performing Arts, and much much more! There will also be behind-the-scenes tours of this historic icon.
In 2008-2009, Friends of Music Hall restored the Albee Mighty Wurlitzer Theatre Organ. It is now housed in Music Hall's Ballroom and concerts are held throughout the year. Plan now to attend! Each date features two concerts: one at 10:30am and the other at 7pm.
Enjoy a silent film double feature!

On Wednesday, April 8, Silent Movies Made Musical with the Mighty Wurlitzer features master organist Clark Wilson, who takes us back to a time when the bells and whistles of the organ provided the soundtrack to film entertainment.

Mabel Norman directed and starred in the 1914 comedy short Mabel at the Wheel. Newcomer Charlie Chaplin plays the villain. He locks Mabel's boyfriend in a shed and Mabel has to take his place in an auto race.
In Girl Shy (1924), Harold Lloyd is a shy, stuttering bachelor who works in a tailor shop - yet he's writing a guide book for bashful young men! He meets and falls in love with a rich young woman who is engaged and about to wed an already-married man! He has to become her hero and prevent the wedding - but how?
Tickets for Silent Movies Made Musical are on sale now! Wurlitzer concert tickets are also available by calling (513) 621-2787 [ARTS], and in person at the Music Hall and Aronoff Center box offices.
Open the Lobby!
Saturday, June 20, from 12noon til 4pm: after you peruse the excellent selection of quality local goods at The City Flea at Washington Park, take a break and join us in the lobby of Cincinnati Music Hall. You'll find a cool place to relax, bars at which you can purchase your favorite libation, and the opportunity to discover interesting tidbits about Music Hall and its history, and see areas of this historic icon. Friends of Music Hall Program Guides will be on hand to show you around and answer any questions you may have about Music Hall.
Our Halloween concert provides a magical - and mischievous - good time!
Make Spooky Movies part of your ghoulishly delightful Halloween season! This year, on Friday, October 9, at 10:30am and 7pm, get a free bag of popcorn and settle in for a special treat: Nosferatu, the silent film based on the novel "Dracula."
And you are invited to join us for the annual, and hugely popular:
Happy Holidays with the Mighty Wurlitzer Organ, which returns on Thursday, December 10. Mark Herman returns to the Mighty Wurlitzer keyboard to perform your favorite holiday tunes.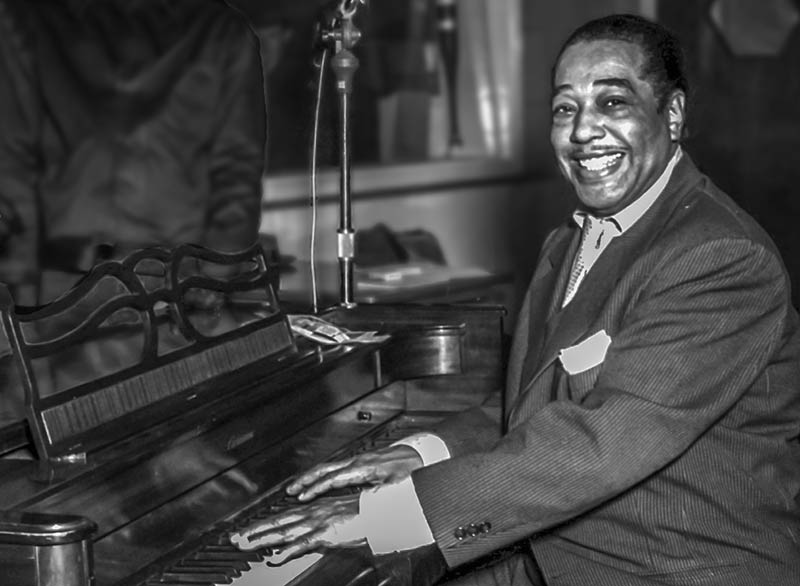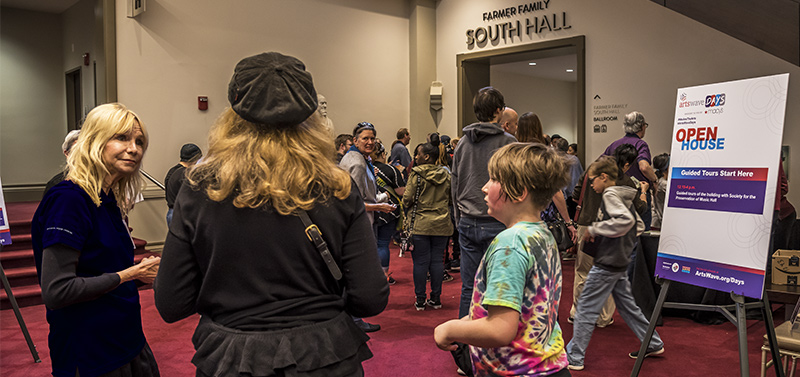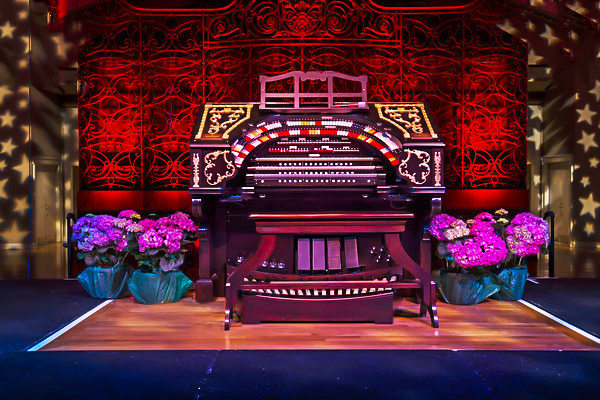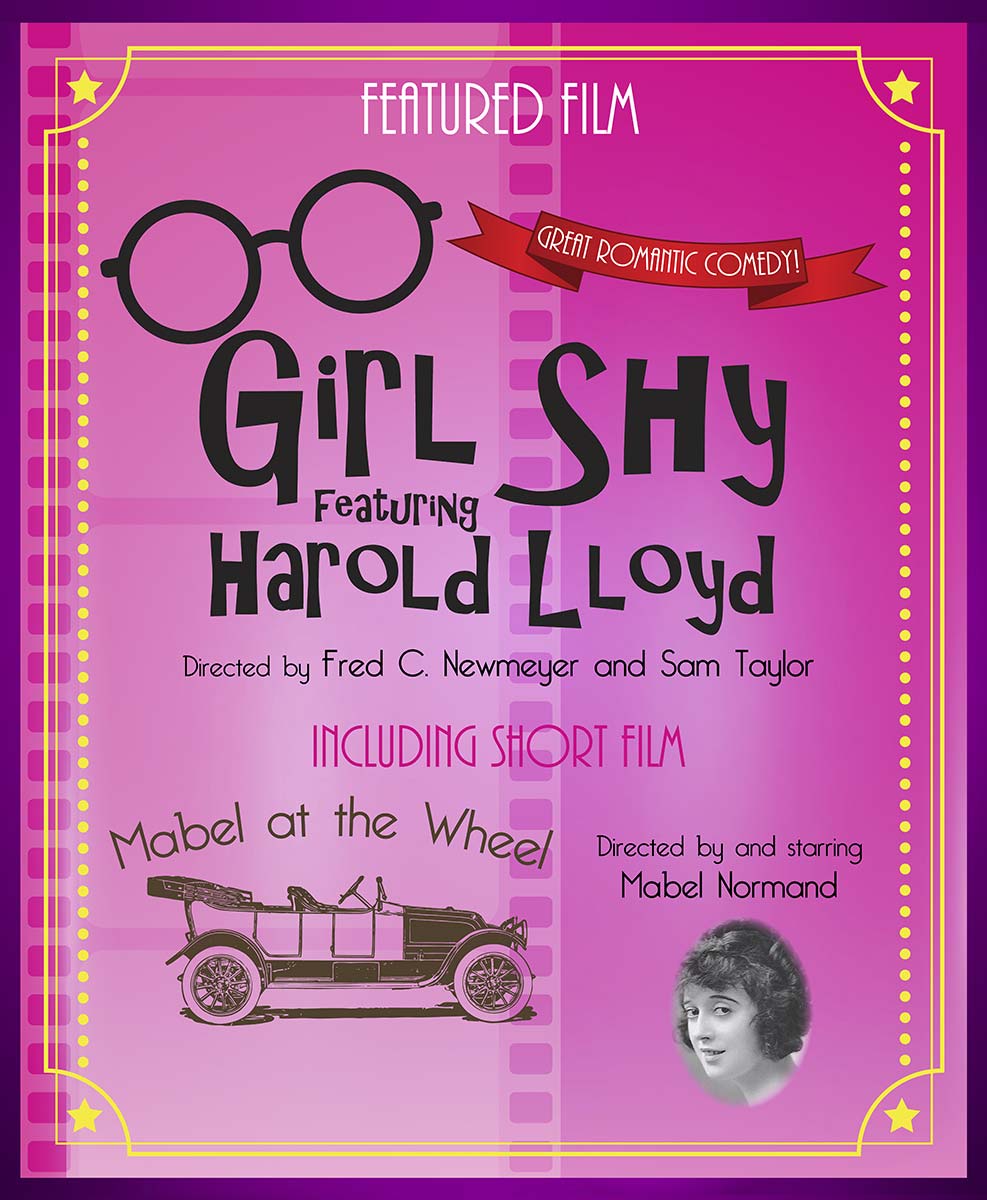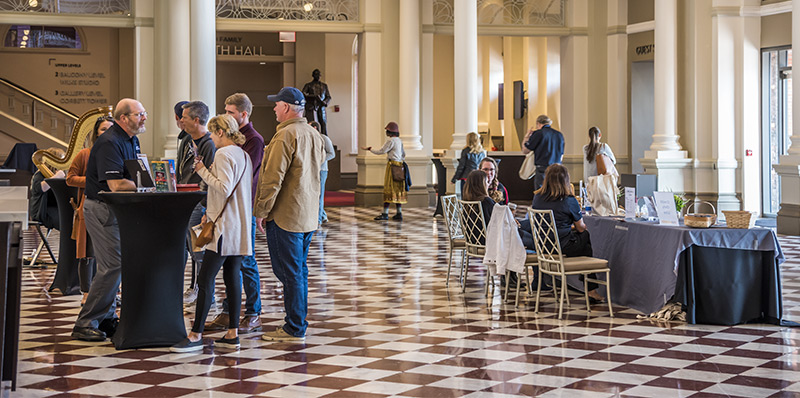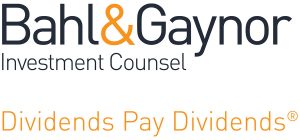 Bahl & Gaynor is proud to be a Season Sponsor of the Mighty Wurlitzer Concert Series, presented by the Friends of Music Hall.
Past Events
This favorite family tradition entertained young and old on Tuesday, December 3, 2019, in the Music Hall Ballroom. The amazingly talented singer/actress Michele Ragusa wowed the crowd and Santa brought his favorite elf!
The Mighty Wurlitzer Organ came back in fall 2019 - just in time for Halloween! On Wednesday, October 30, family, friends and favorite ghouls gathered in Music Hall Ballroom.
Our members and good friends were the first to learn of our name change (from Society for the Preservation of Music Hall), a renewed commitment to our mission, and plans for the future!
Charlie Chaplin was the guest of honor for the double film feature honoring him on the 130th anniversary of his birth.
On Wednesday, December 12, 2018, talent organist Mark Herman returned to the keyboard of the Mighty Wurlitzer Organ in Music Hall's elegant ballroom for our Happy Holidays concert.
On October 31, it was the party of the season! Theatre organist Trent Sims returned for a lively party that included special drinks, special haunted tours and, of course, the Mighty Wurlitzer Organ!
was held October 30, and featured Theatre organist Trent Sims at the keyboard, playing songs that thrilled and chilled the audience!
was held Monday, October 1, and featured:
So great to be back in Music Hall, and so great to enjoy this concert tradition with you!
was held Wednesday, October 11, and revealed the newly restored Corbett Tower. Friends of Music Hall used this occasion to welcome members and supporters back to Music Hall after the grand re-opening. Overall, Friends of Music Hall (formerly known as Society for the Preservation of Music Hall-SPMH) contributed more than $5 million to the Music Hall Renovation Project, which included underwriting the restoration of Corbett Tower.