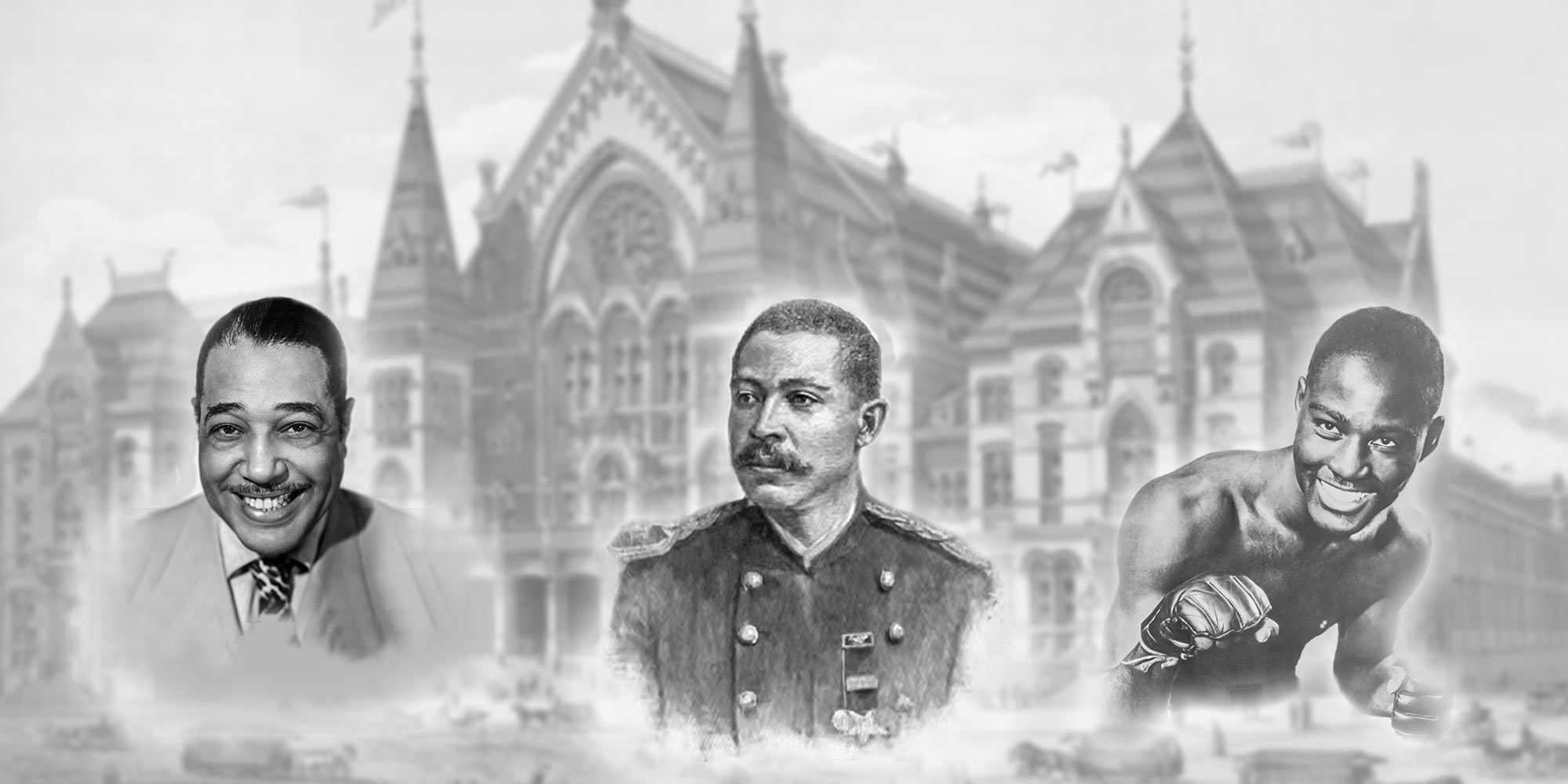 African-Americans made their mark in Music Hall from its inception: builders, athletes, politicians and performing artists of all kinds. Jazz greats, from Duke Ellington to Billie Holiday, as well as the earliest R&B and rock musicians, immortalized on King Records, performed here making Music Hall one of the Midwest's premier venues for jazz, R&B, and rock 'n' roll.
As the city's first sporting arena, World Heavyweight Champion Ezzard Charles fought some of his most important bouts. And in Springer Auditorium 19th-century stage shows and 20th-century operatic divas helped break the color barrier.
Experience the history of African-Americans whose determination and artistry helped forge the ethos of our city and laid the foundation of American music.
The individuals in the image above all have connections to Cincinnati Music Hall. Shown above, left to right:
Duke Ellington
Edward Kennedy "Duke" Ellington, one of the originators of big band jazz, was a creative force in American Music History - the greatest jazz composer, pianist, arranger and bandleader of his time. In a career spanning more than six decades, his compositions also impacted popular and classical music.
George Washington Williams
An ordained Baptist Minister, George Washington Williams moved to Cincinnati, where he studied law. He served in the Ohio General Assembly, the first African American elected to the Ohio legislature. Williams was also an active author.
Ezzard Charles
Ezzard Mack Charles, nicknamed "The Cincinnati Cobra," was a professional boxer and World Heavyweight Champion known for his extraordinary skill in the ring. At the height of his career, he lived on what is now called Ezzard Charles Drive, not far from Cincinnati Music Hall.
Organizations throughout Greater Cincinnati can request this presentation, and others about Cincinnati Music Hall, through the Friends of Music Hall Speakers Series. To inquire about availability and cost, call the Friends office at (513) 744-3293 or email us.