By Thea Tjepkema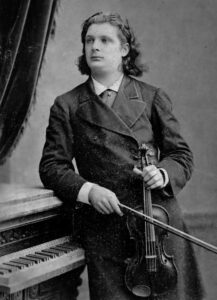 Eugène Ysaÿe (ee-za-EE), born in Liège, Belgium on July 16, 1858, was a legendary violin virtuoso, composer, teacher, and conductor who shared his talents and humanity with the people of Cincinnati and Northern Kentucky for nearly three decades during one of the most fruitful periods of his career. A violin prodigy, he studied at the Royal Conservatory of Liège and with Henryk Wieniawski and Henry Vieuxtemps. Renowned for his flamboyant style and uniquely expressive vibrato, musical contemporaries like Saint-Saëns, Debussy, Franck, d'Indy, Fauré, and Chausson all wrote works for Ysaÿe. A self-taught composer, Ysaÿe's virtuosic works remain cornerstones of the violin repertoire. At the age of 21 he became concertmaster of the Brasserie Bilse Orchestra, precursor of the Berlin Philharmonic, and two years later pursued his solo career. A devoted pedagogue, he taught at the Brussels Conservatory (1886-1897), as well as private lessons, and organized symphonic and chamber music concerts, founding the Ysaÿe Quartet, the Concerts Ysaÿe Orchestra with his students, and Society of the Concerts Ysaÿe.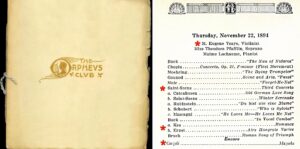 Nicknamed "The King of the Violin" in the U.S., Ysaÿe Performs in Cincinnati
On Ysaÿe's first U.S. tour in 1894, "The King of the Violin" debuted in Cincinnati with the all-male choral society the Orpheus Club at Pike Opera House on November 22. His performance of Saint-Saëns's Third Concerto and an encore of Carzyki's Mazurka was a grand success. Aware of Ysaÿe's popularity, the founding all-woman board of the Cincinnati Orchestra Association incorporated on April 11, 1894, and promptly signed Ysaÿe to perform with the Cincinnati Symphony Orchestra (CSO). He returned to perform during the orchestra's inaugural season, in 1895; he was enthusiastically received performing works by Mendelssohn and Wieniawski on February 21 and Bruch and Saint-Saëns on February 22. Before the First World War, Ysaÿe performed in Cincinnati 10 times – six times as a soloist with the CSO and in four recitals.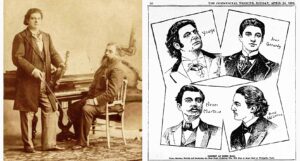 In Exile – Ft. Thomas and Cincinnati become Home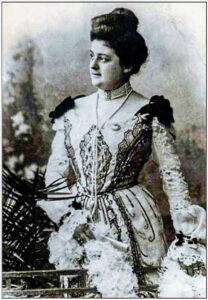 In 1914, Ysaÿe fled Belgium during the German invasion and moved to London, where compatriot artist and sculptor Victor Rousseau created his bust (a bronze still displayed in Cincinnati Music Hall – see below). In April of 1918, Ysaÿe conducted the CSO for the first time in rehearsals after being named the fourth music director of the May Festival. He and his wife Louise, a singer, lived in a house in Fort Thomas, Kentucky (21 Carolina Ave.), and she became active in the Ft. Thomas Woman's Club (Louise moved into the home in September 1919).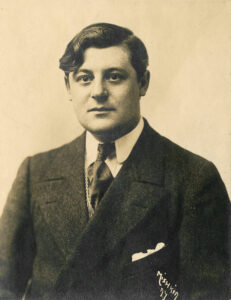 Their son, Gabriel, also a violinist, and Gabriel's daughter "Kelly" (Carry) lived with them as well. Ysaÿe was engaged to conduct the CSO in their final concerts of the season to replace the recently deported Austrian Music Director Ernst Kunwald. Ysaÿe's CSO concerts on April 5 and 6, 1918, memorialized the one-year anniversary of the U.S. entering the war against the Central Powers. Ysaÿe spoke from the stage of Emery Auditorium about his gratitude for Americans fighting for world liberty, and especially for his country's independence.
Cincinnati, long enamored by his virtuosity, now embraced his patriotism. The program highlight was Ysaÿe's performance with concertmaster Emil Heermann – Bach's Violin Concerto for Two Violins. The success of this concert and the prodigious admiration of the audiences and musicians – especially throughout rehearsals for the May Festival – prompted the CSO Board to immediately sign Ysaÿe as the fourth music director of the CSO. In May, he opened the 23rd biennial May Festival and premiered his symphonic poem for string orchestra Exil (Exile). He subsequently performed this work 11 times with the CSO, including in New York City's Carnegie Hall on tour in 1919.
Music Hall's Popular Concerts and May Festivals Featured American Composers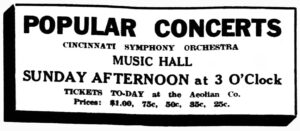 Ysaÿe conducted more than 500 works on hundreds of concerts with the CSO in programs that most numerously included French composers and many Belgian and American compositions. Although the CSO primarily performed in the Emery Auditorium between 1912 and 1936, Ysaÿe would continue to lead the CSO in Music Hall for a dozen May Festival concerts (six each in the 1918 and 1920 seasons) and 37 of the 40 Sunday Popular Concerts.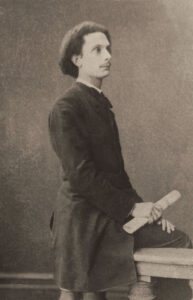 Ysaÿe's "Pop" concerts often featured American composers, including Amy Beach, Victor Herbert, Edward MacDowell, and Percy Grainger. Notable CSO performances under his baton in Music Hall included Samuel Coleridge Taylor's famous aria, Onaway! Awake, Beloved from Hiawatha's Wedding Feast – a CSO premiere; Walloon Fantasie by Ysaÿe's deceased brother Théophile; and his son Gabriel's CSO solo debut performing his father's Extase. Ysaÿe gave two U.S. premieres by Belgian composers, including his brother Théo's Symphony in F Major and seven world premieres, including his own compositions Exil, Paraphrase sur un thème de Mendelssohn, and Ouverture sur des thèmes d'Atala (a new work based on his brother Théo's cantata Atala). The other four world premieres were by American composers Ewald Haun's Suite for Orchestra; Paul T. White's Lyric Overture; Edward Frampton Kurtz's Victory March; Edgar Stillman Kelley's Pilgrim's Progress, which included a Cincinnati public school chorus prepared by Walter Aiken.
Benefit Concerts with Famous Soloists in Music Hall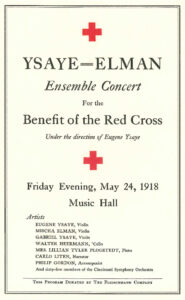 Ysaÿe often led the CSO in patriotic programs at Music Hall beginning and ending with allied anthems, including concerts for war relief charities. On May 24, 1918, a benefit concert collected "epoch-making" box office receipts of $40,000 for the Red Cross. Sixty-five CSO musicians, already off for the summer, donated their services and performed Elgar's Carillon, as accompaniment to Belgian actor, Carlo Liten's recitation of the patriotic poem "Chantons, Belges, chantons" by Émile Cammaerts.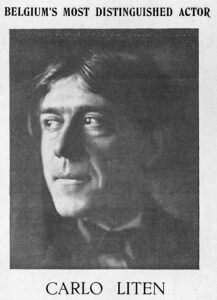 The concert featured Ukrainian-born violinist Mischa Elman, first violin; Gabriel Ysaÿe, second violin; Eugène Ysaÿe, viola; Walter Heermann, cello; and Lillian Tyler Plogstedt, piano, playing Schumann's Quintet. Eugène Ysaÿe gave heroic solo performances of his own Extase and Rêve d'enfant, and with his son performed Six Duets by Godard. The concert concluded with Vivaldi's Triple Concerto with Eugène, Mischa, and Gabriel.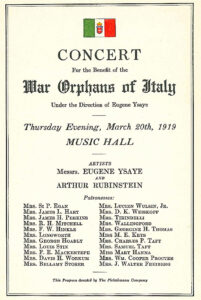 In a benefit CSO concert on March 20, 1919, for the War Orphans of Italy, renowned pianist Arthur Rubinstein performed Chopin and Liszt; Ysaÿe performed Vieuxtemps's Fantasia Appassionata and as an encore his own work Rêve d'enfant, which the Enquirer reported he played with beautiful sentiment and sustained tenderness.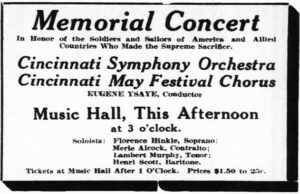 Three weeks later, he organized a Memorial Concert in Music Hall for Cincinnati's fallen heroes. The somber concert featured a quartet of singers from the Metropolitan Opera, including the celebrated U.S. soprano Florence Hinkle. The CSO performed Beethoven's Eroica symphony followed by Verdi's Requiem with May Festival Chorus and Met soloists, including Hinkle's moving rendition of the final prayer "Libera me" ("Deliver me").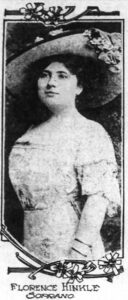 Hinkle was no stranger to Cincinnati. She was a soloist in multiple May Festival concerts (1914, 1916, 1918, 1920), ten with Ysaÿe. Known as Mrs. Herbert Witherspoon in social circles, Florence Hinkle, had already retired from singing in 1928, when she and her husband, a former bass soloist with Theodore Thomas's touring orchestra and lead at the Met, moved to Cincinnati when he was appointed the director of music at the Cincinnati Conservatory in 1932. He served at the Cincinnati Conservatory only one season, departing after the untimely death of Florence in 1933. She is buried in Spring Grove Cemetery.
King Albert I and Queen Elisabeth of Belgium Visit Cincinnati and Music Hall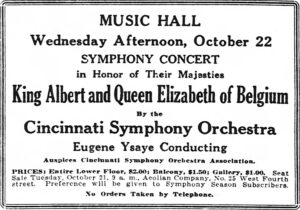 When King Albert I and Queen Elisabeth of Belgium toured Cincinnati on an eight-hour whirlwind visit, October 22, 1919, their day ended with their dear friend Ysaÿe conducting the CSO in a gala concert in their honor at Music Hall. The royal couple were visiting cities in the U.S. from September 23-November 13, along with their 17-year-old son Prince Leopold. In Cincinnati a general reception committee greeted them at 9 a.m. at Central Union Railway Station, including Ohio Governor James Cox and Belgian Consul George A. Aerts (living in Fort Thomas, Kentucky). The king and queen entered separate leading cars with a motorcade following each. The queen rode with Mrs. (Anna Sinton) Charles P. Taft. The king and Governor Cox in another car, and the prince with Mayor Galvin in one more were followed by a string of cars going in a different direction. The royal guests were greeted along their routes by cheering citizens, especially children who were released from school early.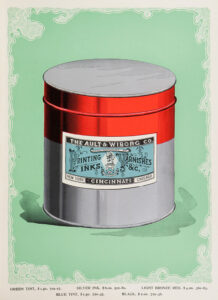 Mr. Levi Addison Ault gave the king and his party a tour of Ault and Wiborg Company in Norwood, which were major suppliers of varnish for metal products and dyes for printing during the war. At Mr. Levi and Mrs. (Ida May) Ault's home, "Milles-Roches," the king bestowed Mr. Ault with the medal of the Order of Leopold II for his company's service and for leading the Belgian Relief Campaign along with a woman's auxiliary that had raised generous donations from Cincinnati during the war.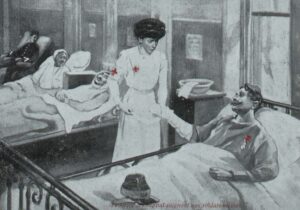 Queen Elisabeth went from the train station to tour the Good Samaritan Hospital, General Hospital, and Rookwood Pottery. The queen visited patients and surgery wards in Cincinnati as she had for Red Cross hospitals during the war, which she established from her modest villa at La Panne, Belgium. At Rookwood she chose a vase to be made for herself and sent to Belgium. After their separate tours, the royal couple met for a delightful hour, viewing the art collection at the Pike Street home of Mrs. (Anna Sinton) and Mr. Charles P. Taft (now the Taft Museum of  Art). Many Cincinnatians greeted them there. The queen was presented a "purse of gold" from the Cincinnati Kindergarten Association for the Queen's Charity Fund.

The parties had two luncheons, one at Milles-Roches, where the king thanked the Ohio 37th Infantry, 148th Regiment, "Buckeye Division" for sending soldiers to Belgium on the Western Front to end WWI. In attendance was Brand Whitlock, ambassador to Belgium, and his cousin, Captain Coleman B. Ross, of Urbana, Ohio, whom the king pinned with the Order of Leopold II and the Croix de Guerre for bravery.
The other luncheon for the Belgian party and society leaders was at Mrs. (Clara) and Mr. Lawrence Maxwell's home "Maxwelton." Guests included Maestro and Madame Ysaÿe, Mr. Levi and Mrs. (Ida May) Ault, Mrs. (Jane) William Cooper Procter, Mrs. (Lillian) Charles J. Livingood, Mrs. (Martha) Robert A. Taft Sr., Mrs. (Jane Taft) Albert Ingalls, Mrs. (Anna Louise Taft) and Mr. William Tunstall Semple and Charles Taft Semple. The lunch was in the same Gothic music room where the Maxwells had hosted musicales for the Allied Relief Funds during the war.

Music Hall Bedecked for the CSO Concert Honoring the King and Queen
Their visit culminated in a grand finale concert at Cincinnati Music Hall; the royal party arrived at 3 p.m., and the Queen was presented a bouquet of flowers in the foyer from Ysaÿe's seven-year-old grand-daughter Kelly – promptly kissed on both cheeks. Façades of the balconies were decorated with Belgian colors, laurel wreaths for victory, and gilded palm branches. A box on the south side of Springer Auditorium, was set with half a dozen crimson and gilt chairs for the royal party – where Kelly again presented a large basket of white chrysanthemums to the distinguished group. The hall was packed, with a sold-out audience of nearly 4,000. All proceeds from the concert went to the Queen's Charity Fund.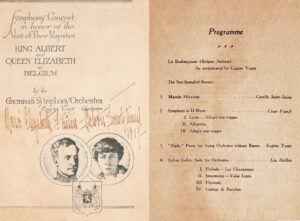 The concert program "Honoring Their Majesties" included Ysaÿe's Exil – performed at the 1918 May Festival for the first time. Ysaÿe had been Queen Elisabeth's violin teacher, and she adored his music. For the queen, Ysaÿe departed from the printed program to play celebrated Belgian composer Vieuxtemp's Polonaise; the orchestra concluded the program with the last movement of Delibes' Sylvia. The concert opened and closed with an arrangement by Ysaÿe for the occasion of the Belgian national anthem, La Brabançonne, an honored tradition.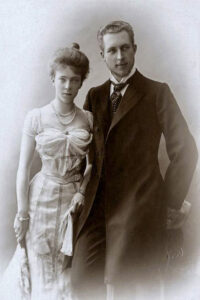 Afterward a long line formed in the south corridor (where Ysaÿe's bust is now displayed), and the royal pair greeted everyone, from the "humblest to the highest who had served Belgium in her hour of sad distress." When an infant in arms, adopted from Belgium, was presented to the king he placed his hand upon its head and his eyes brimmed with tears.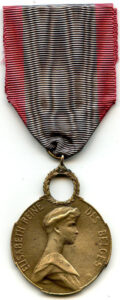 The queen presented her Queen Elisabeth Medal in an informal ceremony in Music Hall. This bronze medal with her in profile, recognizing exceptional service to Belgium in the relief and suffering of its citizens during WWI, was pinned on Mrs. (Clara Barry) Lawrence Maxwell Jr., Mrs. (Anna Sinton) Charles P. Taft, Mrs. (Rebecca Wurtz) Buckner A. Wallingford, Mrs. (Helen Nelson) Robert C. Barnard, and Miss Ruth Harrison (who led raising $45,000 from Cincinnatians for "Belgian Baby Day"). The king asked Ysaÿe to sign his concert program and thanked him for bringing them to Cincinnati – and before their departure to Pittsburgh at 5:18 p.m., declared, "I will never forget our visit."

Ysaÿe, always dedicated to his homeland, lovingly called Cincinnati home while bringing music to the world. Under his leadership, the CSO took numerous domestic tours and, on November 1, 1921, performed the world's first live orchestral radio broadcast from the University of Wisconsin. Ysaÿe recorded 18 works with the CSO on Columbia Records*, including Offenbach's Overture to Orpheus in the Underworld and Rimsky-Korsakov's Scheherazade. Ysaÿe returned to Brussels in 1922, where he continued performing, teaching, and composing. He influenced generations of violinists, including his many students in Cincinnati. He gave Cincinnati audiences the compassionate and empathetic music they needed during a troubled time in our history.
LISTEN HERE:
Rimsky-Korsakov Scheherazade, First and Third Movements
CSO conducted by Ysaÿe, recorded 1919, released Feb. 1921, Columbia Records.
Ysaÿe's Legacy Continues
Ysaÿe's wife Louise died in 1924, and on July 9, 1927, he married Jeannette Dincin, a gifted violinist from Brooklyn, who auditioned for Ysaÿe and the CSO in Cincinnati and became his student. Their marriage was brief because of his declining health due to diabetes. His right foot amputated in 1929, Ysaÿe conducted his final performance in Brussels on November 13, 1930, with his own Concerts Ysaÿe Orchestra and soloist friend, cellist Pablo Casals, at Palais des Beaux-Arts in Brussels. On February 2, 1928, in a recital in Brussels with pianist Arthur Rubinstein, Ysaÿe gave his final performance on the violin. A live radio broadcast from Liège on March 4, 1931, premiered his final work, an opera, Peter the Miner, written in the distinctive Belgian dialect, Walloon. Although very ill, he attended its performance on April 25, 1931, at the Royal Opera House and Queen Elisabeth of Belgium wished him well at his box. Seventeen days later, after a long battle with diabetes, he died on May 12, 1931. Belgian Queen Elisabeth attended his funeral – his compositions were performed while his violin rested above his head in state – 50,000 paid their respects. The wish of the late pre-eminent composer, violinist, and music director of the Cincinnati Symphony Orchestra was to create an international violin competition; in 1937, begun by Queen Elisabeth (first named the Eugène Ysaÿe Competition), today the international competition is for violinists, cellists, pianists, and singers, and called the Queen Elisabeth Competition.
A Bust of Eugène Ysaÿe in Music Hall by Victor Rousseau, Belgian Sculptor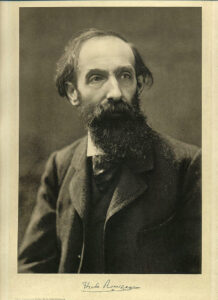 Victor Rousseau was born in Feluy, Belgium, the son of a stonemason. He began carving stone as a child and studied formally at the Académie Royale des Beaux-Arts (1888-1890) in Brussels with Charles van der Stappen. His work was in numerous Belgian and international exhibitions, including the Triennial Salons and La Libre Esthétique. He succeeded v/d Stappen as professor of sculpture from 1901-1919 and was appointed department director 1919 to 1922, and again from 1931 to 1935. During WWI, he fled to England during the German occupation of Belgium with many other artists, including Ysaÿe, and later sculpted a Belgian Memorial to England located on London's ­­Victoria Embankment. His oeuvre of approximately 600 works of art includes sculptures, drawings, watercolors, and pastels. His art nouveau sculptures are fluent forms with wavy movements, elegant, sensitive, tranquil, intimate, pure, and have musical excitement, such as his work Ecstasy, inspired when hearing Ysaÿe perform Franck's Violin Sonata in A. (César Franck gave the manuscript score to the Ysaÿes as a wedding gift.)
A Portrait of Ysaÿe's Kindness and Lion-Like Mane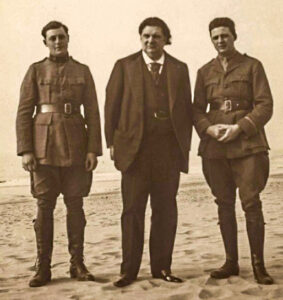 The portrait bust of Eugène Ysaÿe in Music Hall was carved by his friend, Rousseau, after meeting Ysaÿe in La Panne, Belgium, on the coast, visiting the king and queen of Belgium at their Royal Villa in June 1916. To create the bust, Rousseau studied Ysaÿe playing his violin for hours. The bronze was cast in London that year where they had both taken refuge. The original marble bust was commissioned by Queen Elisabeth, purchased by the Belgium Government in exile in Le Havre, France, in 1918. After Rousseau exhibited the bust in Brussels at Galerie Giroux in 1920, where it was considered the most important work, it was placed in the Royal Museum of Fine Arts of Belgium in Brussels in December. A marble copy of the bust was also given to the Royal Conservatory of Liège in 1922. Rousseau captures Ysaÿe's lion-like mane of black hair, broad physique, and notoriously kind disposition.
A Gift to the CSO from the Belgian Government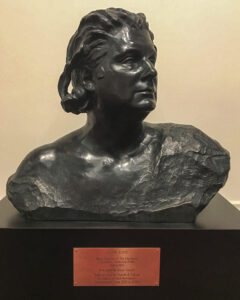 On October 14, 1972, a bronze copy of Rousseau's bust of Ysaÿe was presented, following the intermission of a CSO concert, to the chair of the CSO's board of trustees, Edgar J. Mack, Jr., by the Consul General of the Belgian Embassy in Chicago, Jacques Melsens. Appropriately, the guest soloist at the CSO concert was violinist Ruggiero Ricci, a winner of the Ysaÿe Gold Medal in the Queen Elisabeth Competition in 1971 for recording Ysaÿe's Six Sonatas.
Donald Gibson CSO Violinist Donates Pedestal in Memory of Heermann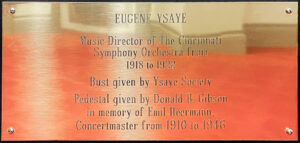 The pedestal that the bust of Ysaÿe stands on was donated by Donald Gibson, CSO violinist 1957 to 2011, in memory of Emil Heermann, CSO violinist 1910 to 1954. Emil Heermann was CSO concertmaster for 30 years under four conductors, including during Ysaÿe's four-year tenure, until 1946. Gabriel Ysaÿe was associate concertmaster under Emil Heermann 1919 to 1922. Emil Heermann's father, Hugo, was concertmaster the year before him. Emil's younger brother Walter Heermann was first cellist 1910 to 1948. Emil performed on a Stradivarius violin loaned by Mrs. (Anna Sinton) Charles P. Taft, president of the CSO board of directors (1913-1931), who hired Ysaÿe and endowed the Anna Sinton Taft Concertmaster Chair.
Thea Tjepkema is a member of the Friends of Music Hall Board of Directors as historic preservationist, historian, archivist, and curator.
THANK YOU:
Marie Cornaz, Curator of the Music Division of the Royal Library of Belgium, lecturer in musicology at Brussels University, and author of Ysaÿe's biography (see references); CSO Librarians; John Morris Russell for steadfast inspiration; and Rick Pender, Friends of Music Hall Board, editor.
NOTES:
*COLUMBIA RECORDINGS LIST
18 works were recorded with Ysaÿe conducting the CSO at Columbia Records, November 28-30, 1919; 14 were released on 8 disks in 1920 and 1921:
A6140 (49707-side a: Orpheus in Hades: Overture, Part I; 49708–side b: Orpheus in Hades: Overture, Part II)
A6159 (49697-side a: Navarraise; 49701-side b: Le dragons de Villars: Overture)
A6172 (49699-side a: Scheherazade: First movement; 49711-side b: Scheherazade: Third movement)
A6182 (49712-side a: Love in idleness; 49714-side b: Hearts and flowers)
A6190 (49703-side a: Mid-summer night's dream: scherzo; side b: 49704-Naila: Intermezzo)
A6197 (49715-side a: Marche Joyeuse 49702-side b: Festival overture)
A6193 (side a: 49698-Monastery bells; side b: 49824-Marinuzzi's Orchestra)
S5155 released for Spanish market (side a: 49700-La danseuse: Intermezzo; side b: 49701-Le dragons de Villars: overture or The Hermit's Bell)
[Four were never released: 49709-
Menuett
; 49710-
Thaïs: Meditation
; 49713-
Scene religieuse
, and 49716-
Barcarolle.
]
REFERENCES:
Cardyn-Oomen, Dorine. Victor Rousseau. Groves Art Online, 2003.
Cornaz, Marie. À la redécouverte d' Eugène Ysaÿe (Rediscovering Eugène Ysaÿe). Turnhout, Belgium: Brespols, 2019.
Cornaz, Marie. The Ysaÿe Concerts Before the War (1896-1914). Cahiers Bruxellois-Brusselse Cahiers 2021/1 (LII), p. 105-161.
Discography of American Historical Recordings-DAHR, University of California Santa Barbara Library. Eugène Ysaÿe. adp.library.uscb.edu.
Discogs.com. Ysaÿe and Cincinnati Symphony Orchestra.
Stockhem, Michel. Eugène (Auguste) Ysaÿe. Groves Music Online, Jan. 20, 2001.
Eugène Ysaÿe Collection, Royal Library of Belgium (KBR-Koninklijke Bibliotheek van België), KBR Digital Library: Belgica, search term "Eugène Ysaÿe."
NEWSPAPER ARTICLES:
"A Master is Ysaÿe, the Violinist: Grand Success at the Orpheus Club Concert," Cincinnati Enquirer, Nov. 23, 1894, p.5.
"Master of the Violin, Also Master of Men," Cincinnati Times-Star, April 2, 1918, p.14.
"This Week in Art Circles: Ysaÿe Bust Acquired by Belgian Government," Cincinnati Enquirer, Sept. 22, 1918, p.8.
"Stageland Gossip: Joint Concert by Ysaÿe and Rubinstein at Music Hall," Cincinnati Enquirer, March 21, 1919, p.11.
"Populace Throbs Affection for Royal Visitors," Cincinnati Enquirer, Oct. 23, 1919, p.5&8.
"May Festival: The Review (Paraphrase sur un thème de Mendelssohn and Ouverture sur des thèmes d'Atala)," Cincinnati Enquirer, May 7, 1920, p.16.
"Symphony Gift," Cincinnati Enquirer, Oct. 12, 1972, p.26.
"CSO to Receive Bust of Conductor," Cincinnati Enquirer, Oct. 13, 1972, p.50.