by Thea Tjepkema
Zipping about in your car in Cincinnati today, LED billboards quickly pop and catch your eyes, whereas in the nineteenth-century detailed lithography advertising posters drew the attention of people mostly walking around town. Early advertising in Cincinnati for events of all kinds – concerts, theatrical productions, lectures, and elocutionists, was mostly in black and white typeface in newspapers and posted bills. By the mid-nineteenth century, lithographic technology produced dynamic and colorful posters with elegant illustrations, which became a dramatic and effective way to advertise. These colorful lithographs placed in prominent locations throughout the city lured attendees by the thousands. When some of Cincinnati's largest events were held in Saengerhalle (Exposition Hall) in the 1870s and in Music Hall from 1878 to the turn of the century, lithograph posters were a crucial means of advertisement. Today, these posters serve as beautiful works of art and tell a story of the early marketing power of iconic images to inspire our city. One of the most glorious of these art posters, created by the local Krebs Lithographing Company in 1879, advertised the seventh industrial exposition, the first to be held in Music Hall, and shared a richly hued vision of Cincinnati's newest and most magnificent edifice dedicated to culture and industry in the Great Midwest.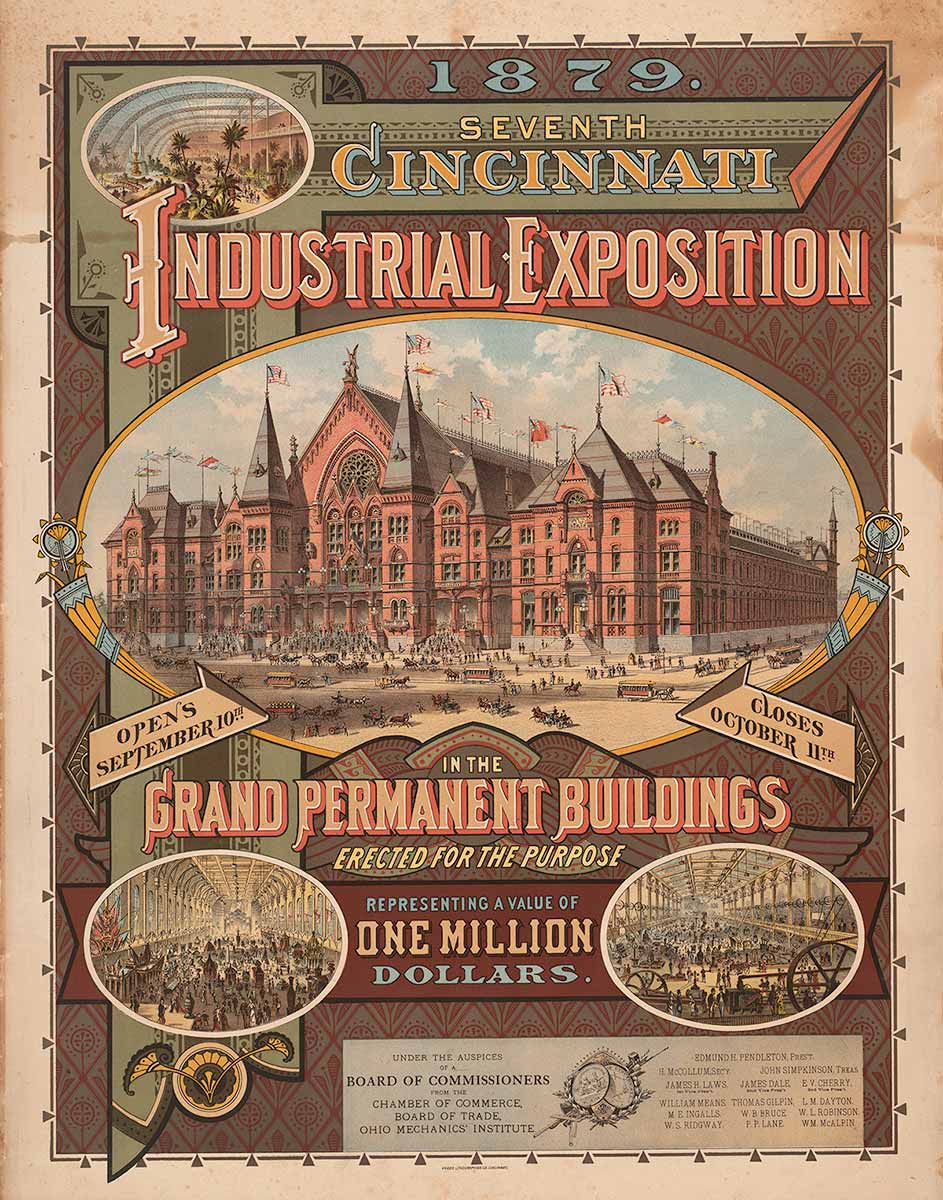 LITHOGRAPHY: ART FROM STONES
Cincinnati's lithographers were among the finest in the country throughout the second half of the nineteenth century. Dozens of printing businesses headquartered in Cincinnati made posters, broadsides, show cards, advertisements, maps, Bird's Eye Views, letterhead, sheet music covers, bank notes, and logos that were distributed around the country. In Kenny's Cincinnati Illustrated of 1879, Daniel J. Kenny describes lithography as the "art of drawing … upon stone (limestone) designs, from which impressions can be taken on paper," and continues, "to a great extent, (lithography) has superseded engraving on steel and copper, particularly for maps, plans, and commercial purposes… Stones being quarried in mass, are split or sawn into slabs three to four inches … (and) are ground to a perfectly uniform face and polished … if the drawing is to be in crayon … crayons are composed mainly of tallow, wax, hard soap and shellac colored with lampblack." Chromolithography, described by Kenny, is the art of producing several colors in a single image, with different colors printed separately, using individual stones, and one stone in the series for printing the drawing itself. In the exacting process, the chromolithographer or color specialist (known in the business as a "chromistes") must line up multiple color plates (stones), perfectly to create a finished product.

The technique of chromolithography with two or three colors was in common use in the 1850s. By 1870, hand presses in Cincinnati were replaced by steam-powered engines and allowed the use of up to eight or more colors combined with detailed drawings which brought a new, compelling look and manufacturing efficiency – cranking out hundreds of lithographs daily.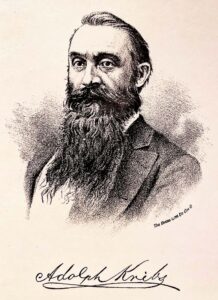 GERMAN ROOTS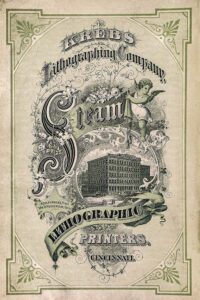 The tradition of lithography was highly developed in Germany, and took root in Cincinnati during the wave of immigration in the mid-nineteenth century, with German artisans and business leaders setting up shop in the burgeoning Queen City of the West. One of the most prominent of these was Adolph Krebs (1831-1884) who Kenny described as being "held in high esteem at home and abroad." It is no surprise the Commissioners of the 1879 Cincinnati Industrial Exposition, the first to be held in the recently constructed Music Hall, chose Krebs Lithography Company for the job, even after a competing company offered their work at 40 percent less. The Krebs name is associated with nine exposition lithograph posters (see list below), three held in Saengerhalle (Exposition Hall) and six held in Music Hall, all between 1871 and 1888.

ADOLPH K. KREBS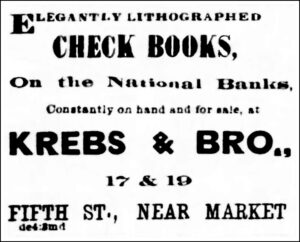 Adolph Krebs was born in Lower Saxony, south of Hanover in Bovenden, Germany, in 1831 and as a teenager emigrated to Cincinnati with his father in 1847. At 16, young Adolph became an apprentice at Rowse and Scherer Lithography, in the College Building on Walnut Street. After completing his training he became an assistant to Emil Klauprecht (1815-1896) and Adolph Menzel (1815-1905) at Klauprecht and Menzel Lithographers, one of Cincinnati's earliest lithography businesses (founded in the mid-1830s).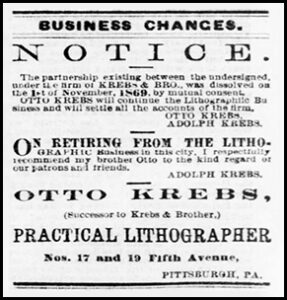 Adolph Krebs moved to Pittsburgh in 1852 to work for a branch of Klauprecht and Menzel, and three years later opened his own lithography business with his younger brother Otto – Krebs & Bro. In Pittsburgh, Adolph married Friedericke Ernestine Straub (1835-1894), daughter of John N. Straub, a lager beer brewer (J.N. Straub Brewery, est. 1831) and they had two sons and five daughters. During the Civil War, Adolph served in the Civil War army commissary for the Department of the Potomac and was imprisoned for eight months in Andersonville, returning to Pittsburgh at the end of the war.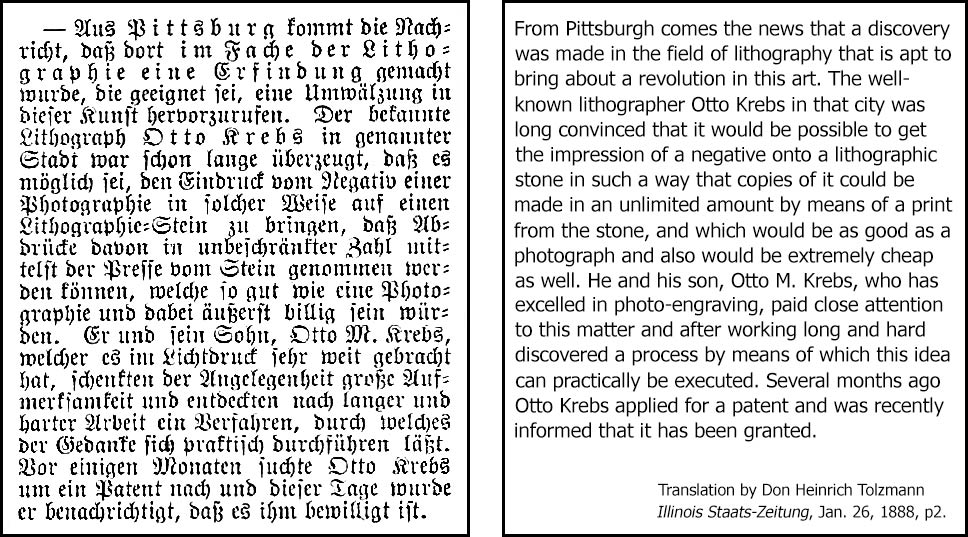 KREBS LITHOGRAPHING COMPANY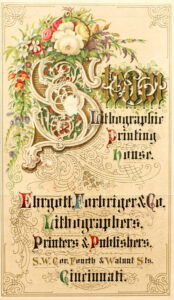 In 1869 Adolph moved back to Cincinnati, leaving the business to his brother in Pittsburgh and joined lithographers Peter Ehrgott (1828-1874) and Adolph Forbriger (1825-1869). Ehrgott, Forbriger & Co. (est. 1856; "& Co." in 1860) was located on the second floor of the Carlisle Building on the southwest corner of Fourth and Walnut streets and were the first lithographers to use a steam-powered press west of New York City in 1868.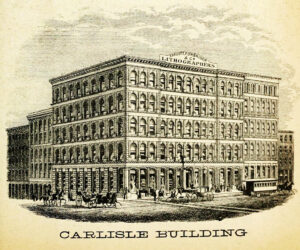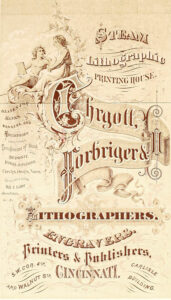 Ehrgott's obituary in the Cincinnati Daily Gazette stated he "was the first to introduce in this city the process of lithographing". When Adolph Forbriger died in 1869, the company became Erhrgott and Krebs Lithographers, and when Ehrgott left, then died in 1874, the business was solely in Adolph Krebs hands, renamed Krebs Lithographing Company. A biography of The Krebs Lithographing Co. in The Industries of Cincinnati published in 1883 states it was incorporated as a stock company in 1882; had a branch in Chicago; Aldolph Forbriger's son George Forbriger (1856-1893) became the Superintendent of the Art Department; and, there were 135 employees at Krebs in Cincinnati who were "some of the most talented artists and designers."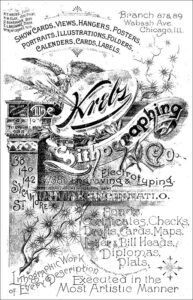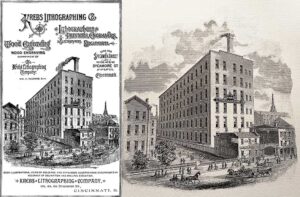 After just a decade of business as Krebs Lithographing Co., Adolph Krebs died at the age of 53. He is buried in Spring Grove Cemetery, along with his family. His son, Herman T. Krebs (1857-1889) took over the business and in 1885 moved the company to a much larger space, a six-story building at 138, 140, and 142 Sycamore Street between Fourth and Fifth streets. When he purchased the new building the company's assets were $225,000 and the Chicago Tribune stated "Krebs Lithographing Company is one of the largest concerns of the kind in the world." Unfortunately, Herman would not enjoy the future profits because he died at the age of 32 in 1889.
KREBS TO HENDERSON TO STROBRIDGE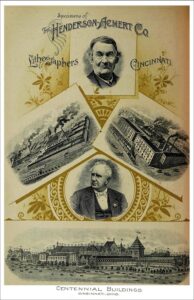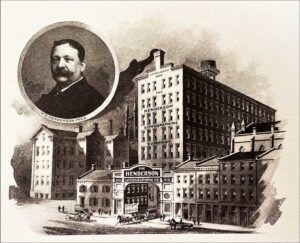 In 1886, one of Krebs' associates since 1874, William D. Henderson (1842-1920) left the company to join Frederick Achert (1846-1928) of Achert and Co., as president  of Henderson-Achert Co. In 1890 the Achert building at 117 W. Fifth Street burned down, and Henderson bought out The Krebs Lithographing Company and moved his business into the Krebs building on Sycamore, renaming it The Henderson-Achert-Krebs Lithographing Company. Five years later, it was renamed The Henderson Lithography Co. which remained in business until the family trust was terminated and the company was purchased for over a million dollars in 1925 by Strobridge and Company Lithographers.
THE STROBRIDGE LITHOGRAPHY COMPANY: MUSIC HALL FALL FESTIVAL POSTERS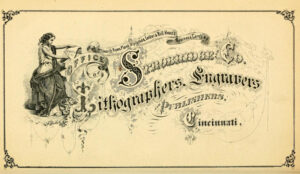 Strobridge and Company became famous as the largest lithographic printer of theater and circus posters in the U.S. from the 1870s until the start of World War I. Strobridge printed exemplary Art Nouveau posters for the Fall Festivals held in Music Hall between 1900 and 1923 (see list below), six of the seven which are known to exist in various collections. The Strobridge and Company building was constructed between 1880 and 1882 at the corner of Canal (Central Pkwy.) and Race at the south end of Washington Park at the present location of the School for Creative and Performing Arts, and was destroyed by fire on December 1, 1887. The building was rebuilt and reopened in July 1888. Many of the lithography stones destroyed by the fire were used as infill for Cincinnati Music Hall's 1895 renovation and discovered in the north wing during the 2016-17 renovation by Gray and Pape Heritage Management. Hines Strobridge (1823-1909) died and his son Nelson (1858-1945) became president of the company. In 1925 the firm expanded and purchased The Henderson Lithographing Co. in Norwood. In 1937 Nelson Strobridge was chairman of the board and John G. Strobridge (grandson of Hines) became vice president. The Strobridge Lithographing Co. was listed as a division of H.S. Crocker, Inc. from 1960 until 1970.

GRAND INDUSTRIAL EXPOSITIONS IN SAENGERHALLE AND MUSIC HALL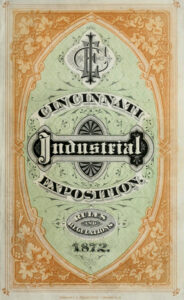 Expositions and festivals were a centerpiece of Cincinnati's civic life for much of its early history and were the catalyst for the development of many of the region's artistic and entrepreneurial achievements. Industrial expositions in Cincinnati were first hosted by the Ohio Mechanics Institute in 1838. Established in 1828 to educate young scientists, engineers, and inventors, the Ohio Mechanics Institute sponsored these events, nearly annually, through the golden age of industrial expositions, including those held at Saengerhalle or later called Exposition Hall on the site of the future Music Hall, between 1870 and 1875. Expositions paused for the razing of Saengerhalle and construction of Music Hall and resumed on the opening of the completed building with wings in 1879. The Grand Industrial Exposition of 1879 was the seventh, but first in Music Hall, and continued annually in Music Hall through 1884, as well as 1886 and 1888. Printing machines of all types were on display in Machinery Hall at every exposition.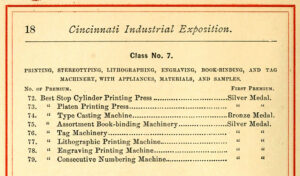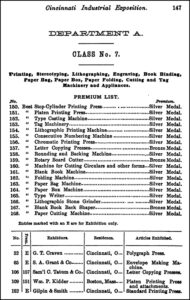 Adolph Krebs and his associates created some of their greatest masterpieces for the lithography posters advertising the Industrial Exhibitions held in Saengerhalle and Music Hall, celebrating art and industry in exquisite designs. Krebs was associated with the third and fourth expositions and Krebs Lithographing Company were the printers for the sixth through the twelfth expositions (1875-84). The poster for the thirteenth (1886) was printed by Henderson-Achert Company; the printer of the final exposition poster (1888) is unknown.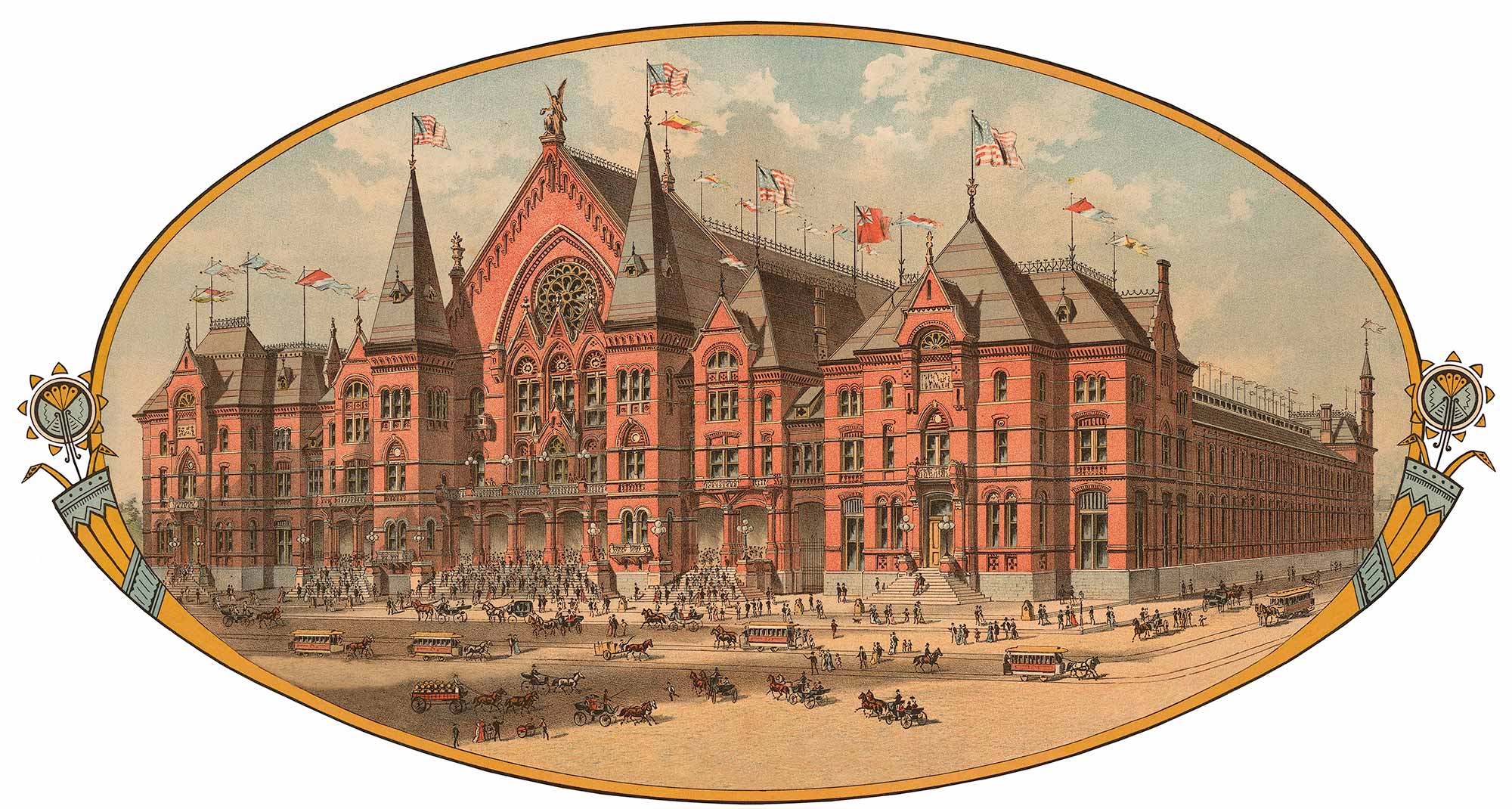 1879 POSTER: SEVENTH INDUSTRIAL EXPOSITION OPENS THE GRAND PERMANENT BUILDING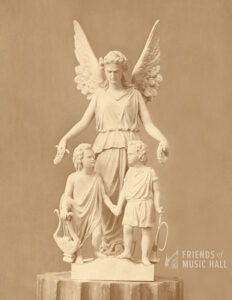 The poster for the 1879 Seventh Industrial Exposition, by Krebs Lithographing Co., represents workmanship and artistry of the highest order. It advertised Cincinnati Music Hall as the new "Grand Permanent Building" for expositions and illustrated the wealth of knowledge and culture that would be displayed within her walls. The artist's impression of the exterior and interiors celebrate the completion of the south wing, "Horticultural Hall," and the north wing, "Machinery Hall." The central image shows the High Victorian Gothic red-brick structure adorned with flags, pennants, and distinctive architectural details including the intricate rose window, striped slate roofs with metal ornamentation on ridges and peaks, and sandstone finials atop gables. Architect Samuel Hannaford seems to have proposed an "Angel of Music" statue, visible on the highest apex. Though a plaster modello was created of the statue, the full-sized "Angel" approximately 16 feet tall was never made or installed.

The poster's upper left oval image shows the original arched glass roof of Horticultural Hall with palm trees, a fountain, and a waterfall. The lower left oval reveals the main auditorium opened in 1878 with its massive Hook and Hastings Organ, used for May Festivals, concerts, and conventions; the image is filled with exhibition booths and visitors. The lower right oval depicts Steam Age inventions with leather straps on flywheels attached to rods running the entire length of Machinery Hall. The bottom rectangle lists the exposition's organizers, naming the officers and committee members. The center of the bottom rectangle features a crest with the entwined initials "CIE" (Cincinnati Industrial Expositions) resting in a laurel wreath symbolizing victory with tools of industry and art: hammer, drill bit, paint brushes, maulstick, violin bow, horn bell, reed flute, carpenter square, and tape measure. A pile of wheat emblematic of agriculture tops the crest. The finest exhibitors could win gold, silver, or bronze medals, shown front and back within the crest.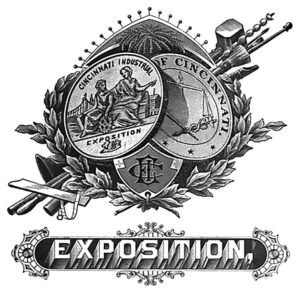 This elegant Victorian poster from 1879 proclaims Cincinnati as the epicenter of American industry, music, and horticulture, but also a place where the art of lithography flourishes. The brilliant blending of design, engineering, and marketing prowess by Adolph Krebs was a catalyst for a new era of lithography in Cincinnati, which can be seen in each of the outstanding artworks celebrating Music Hall's Industrial Exhibitions and Fall Festivals.
To purchase a fine art reproduction digital print of the 1879 Seventh Industrial Exposition poster visit Friends of Music Hall Gifts.
Thea Tjepkema is a member of the Friends of Music Hall Board of Directors as historic preservationist, content curator, and archivist.

Thank you John Morris Russell for your support and interest in proofreading Music Hall history blogs.
Notes

EXPOSITION POSTERS – PRINTERS LIST 1870-1888
1870 – 1st (Sept. 21-Oct. 22) unknown
1871 – 2nd (Sept. 6-Oct. 7) unknown OMI Collection-"ercial" "Print" (Cincinnati Commercial Tribune Print?)
1872 – 3rd (Sept. 4-Oct. 5) EHRGOTT & KREBS STEAM LITH. PRINTERS, CINCINNATI.
1873 – 4th (Sept. 3-Oct. 4) EHRGOTT & KREBS LITH. CINCINNATI.
1874 – 5th (Sept. 2-Oct. 3) DESIGNED & PRINTED IN COLORS BY WILSTACH, BALDWIN & CO. CINCINNATI.
1875 – 6th (Sept. 8-Oct. 9) KREBS LITHOGRAPHING COMPANY, CINCINNATI.
1879 – 7th (Sept. 10-Oct. 11) KREBS LITHOGRAPHING COMPANY, CINCINNATI.
1880 – 8th (Sept. 8-Oct. 9) KREBS LITHOGRAPHING COMPANY, CINCINNATI.
1881 – 9th (Sept. 7-Oct. 8) KREBS LITHOGRAPHING COMPANY, CINCINNATI.
1882 – 10th (Sept. 6-Oct. 7) KREBS LITHOGRAPHING COMPANY CINCINNATI.
1883 – 11th (Sept. 5-Oct. 6) KREBS LITHOGRAPHING COMPANY, CINCINNATI, O.
1884 – 12th (Sept. 3-Oct.4) THE KREBS LITHOGRAPHIC COMPANY, CINCINNATI, O.
1886 – 13th (Sept.1-Oct. 9) THE HENDERSON-ACHERT CO. / LITH. / CINCINNATI, O.
1888 – 14th (July 4-Nov. 8) unknown
The posters for all the expositions from 1870-1888, once in the collection of the Ohio Mechanics Institute, are now located in the University of Cincinnati Libraries, Digital Resource Commons, and can be viewed online in the exhibit Images of Progress: Cincinnati Industrial Exposition Posters.
FALL FESTIVAL POSTERS COLLECTION LIST
1900 – 1st (Sept. 19-29) Library of Congress, LC-USZC2-239
1901 – 2nd (Sept. 16-28) Cincinnati Art Museum, 1965.1171
1902 – 3rd (Sept. 14-27) Cincinnati Museum Center (CMC), Cincinnati History Library and Archives
1903 – 4th (Sept. 7-19) Library of Congress, LC-USZC4-9721
1906 – 5th (Aug. 28-Sept. 22) CMC, Cincinnati History Library and Archives
1910 – 6th Ohio Valley Exposition (Aug. 29-Sept. 24) CMC, Cincinnati History Library and Archives
1923 – 7th (Aug. 25-Sept. 8) unknown
References
Cincinnati Industrial Exposition of Manufactures, Products, and the Arts, Rules and Regulations and Premium List for the Third Exposition, 1872. Cincinnati, Robert Clarke & Co., 1872. Cover: Ehrgott & Krebs, Lith. Cincinnati, O.
Cincinnati Exposition Guide and Catalogue of the Fine Arts Department Containing the Name and Address of Every Exhibitor at the Fifth Cincinnati Industrial Exposition of 1874. Daniel J. Kenny, Cincinnati, Cincinnati Gazette Company, 1874.
Cincinnati Industrial Exposition Report of the Board of Commissioners: Chamber of Commerce, Board of Trade and Ohio Mechanics' Institute, Seventh Cincinnati Industrial Exposition. Cincinnati, Times Job Rooms Print, 1879.
Cincinnati Industrial Exposition Report of the Board of Commissioners: Chamber of Commerce, Board of Trade and Ohio Mechanics' Institute, Ninth Cincinnati Industrial Exposition. Cincinnati, Elm Street Printing Co., 1881.
Haverstock, Mary Sayre, ed. Artists in Ohio, 1787-1900: A Biographical Dictionary. Kent, OH, The Kent State University Press, 2000. p. 500.
Kenny, Daniel J. Cincinnati Illustrated: A Pictorial Guide to Cincinnati and the Suburbs by D.J. Kenny. Cincinnati, Robert Clarke & Co., 1879. Krebs Lithographing Company, p.122.
Klein, Benjamin F. Lithography in Cincinnati. Cincinnati, Young and Klein Inc., 1958.
Lane, Christopher W. Ehrgott, Forbriger & Co.'s Civil War Portraits, Cornell, Alice M., ed. Art as Image: Prints and Promotion in Cincinnati, Ohio. Athens, OH, Ohio University Press, 2001.
Marzio, Peter C. The Democratic Art: An Exhibition on the History of Chromolithography in America 1840-1900. Fort Worth, TX, Amon Carter Museum of Western Art, 1979.
Stevens, George E. The Queen City in 1869, The City of Cincinnati: A Summary of its Attractions, Advantages, Institutions, and Internal Improvements with a Statement of its Public Charities. Cincinnati, Geo. S. Blanchard & Co., 1869.
Teslow, Tracy. Representing the Art and Industry of Progress: Cincinnati's Grand Exposition Posters. Ohio Valley History: A Collaboration of The Filson Historical Society, Cincinnati Museum Center, and the University of Cincinnati, v. 5, no. 1, Spring 2005. pp. 47-54.
Marquis, A.N., ed. The Industries of Cincinnati. Cincinnati, A.N. Marquis & Co. Pub., 1883.
Woellert, Dann. Cincinnati Turner Societies: The Cradle of an American Movement. Charleston, SC, The History Press, 2012.