Friends of Music Hall Speakers Series
The Friends of Music Hall Speakers Bureau 
Arrange for a speaker and presentation featuring one of these topics described below for your civic group, club, gathering or family reunion. Knowledgeable program guides, provided by the Friends of Music Hall, will entertain and inform your group.  Most talks last about one hour with questions and answers.
Music Hall: Then and Now
Music Hall: Then and Now speaks to guests with a wide range of ages and interests! It features historic and present-day images of the recently revitalized Music Hall, along with stories on Music Hall's unique role in Cincinnati's history. Explore this stunning and majestic structure and how it reflects the spirit of both past and present. Discover why it was the envy of the Great Midwest in the 19th century and the cornerstone of the 21st century renaissance of Cincinnati's historic heart. If you have a particular interest in history, music, theater, architecture or Cincinnati culture, this will be a fascinating and memorable experience.
Under One Roof: The African American Experience in Music Hall
African Americans made their mark in Cincinnati Music Hall from its inception: builders, politicians, athletes, and performing artists of all kinds. Jazz greats, from Duke Ellington to Billie Holiday, as well as the earliest R&B and rock musicians immortalized on King Records, performed in the South Hall--one of the nation's premier ballrooms. In the North Hall, World Heavyweight Champion Ezzard Charles fought some of his most important bouts, while in Springer Auditorium 19th-century stage shows and 20th-century operatic divas helped break the color barrier on the main stage. Experience the history of African Americans whose determination and artistry helped forge the ethos of our city and laid the foundation of American music.
Muses: The Women of Music Hall:
Throughout the 140-year+ history of our "Grand Lady," Cincinnati Music Hall, the contributions and legacy of incredible women: philanthropists, suffragettes, artists, divas, prima ballerinas, and musicians, have stirred the souls of all within her walls, but have largely been uncelebrated. From Susan B. Anthony to Helen "Nellie" Taft; Isadora Duncan to Janis Joplin; Maria Callas to Mamie Smith, learn how trailblazing women placed the crown upon the Queen City with fortitude and brilliance.
Pulling Out All the Stops: Music Hall's Mighty Organs
This presentation takes you back to 19th century Cincinnati, a center of pipe organ building. Learn about Music Hall's six organs beginning with the gigantic Hook & Hastings organ to the famed Mighty Wurlitzer.
Arrange for a speaker and presentation by contacting the Friends of Music Hall office. Call 513.744.3293 or email musichalltour@friendsofmusichall.org.
A one-hour presentation is $150. Special pricing is always extended to school groups.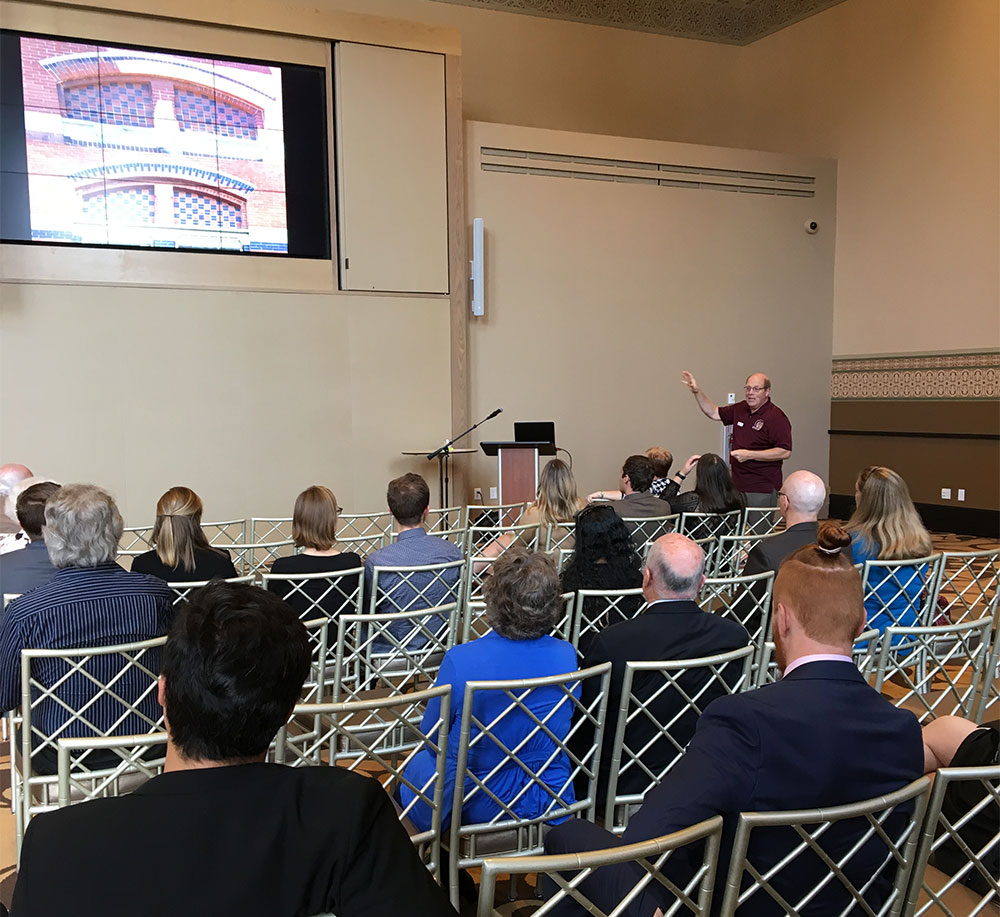 Schedule a presentation at your school, clubhouse, place of worship or community center.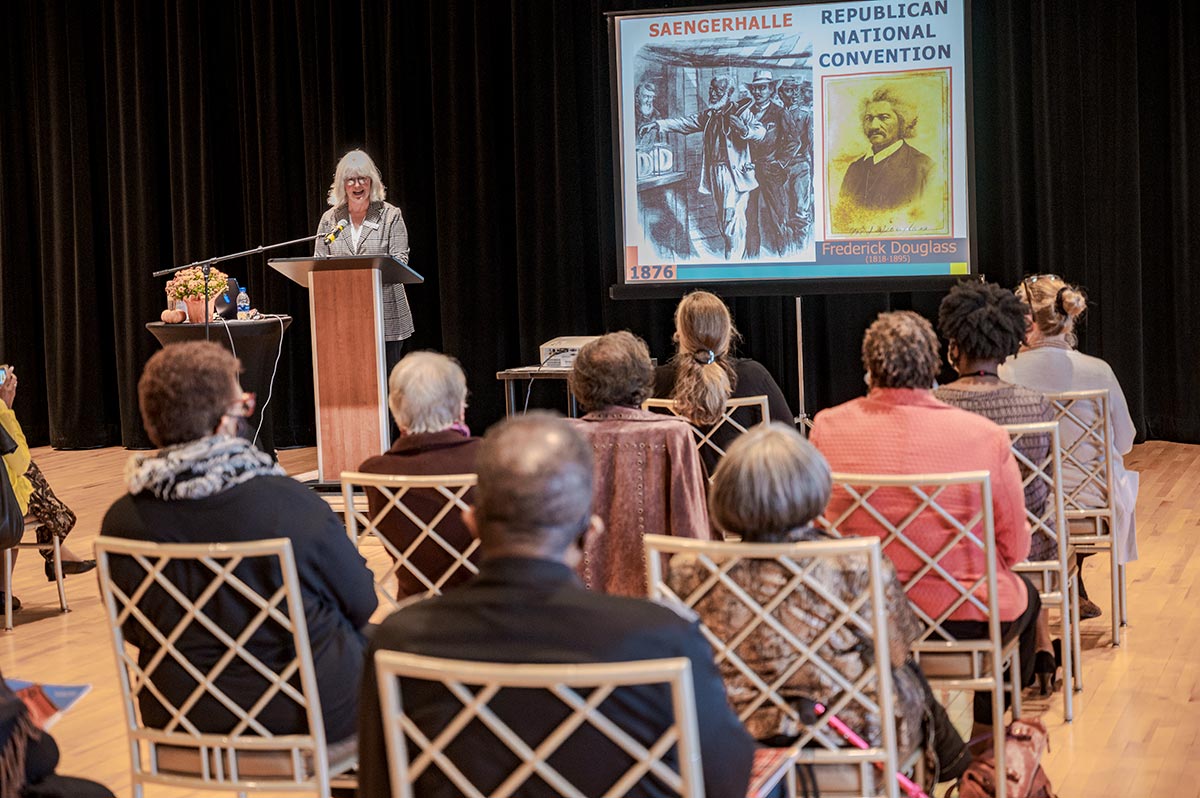 Thea Tjepkema, FMH Historian, presents "Under One Roof: The African American Experience in Music Hall" in the Wilks Studio at Music Hall.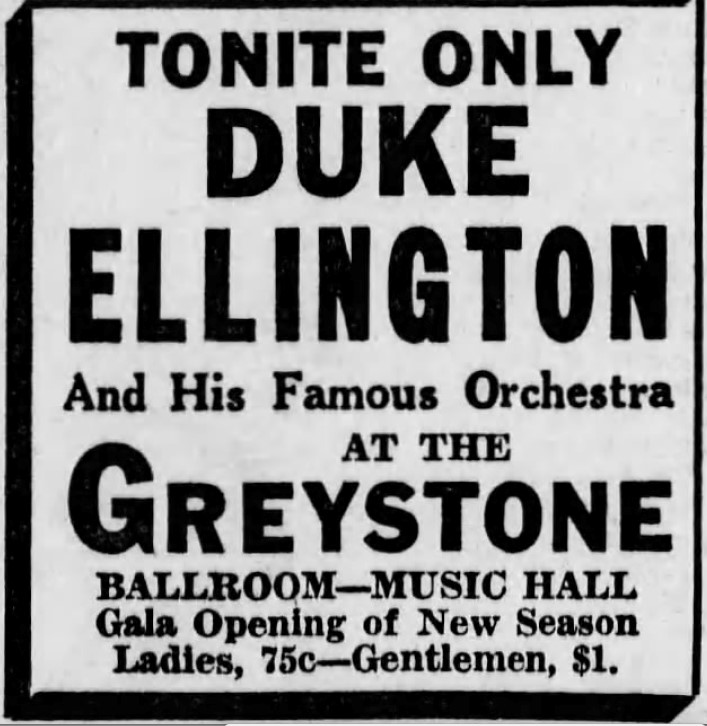 A newspaper ad featured in "Under One Roof: The African American Experience in Music Hall."