From 1925 to 1936, a house was built inside Cincinnati Music Hall's north wing every year for the Home Beautiful Exposition!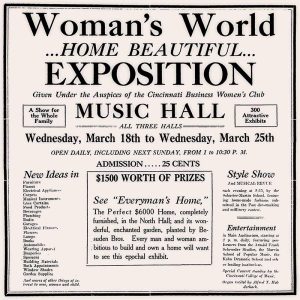 These were held in the spring, like home shows today.
One big difference in Home Shows between then and now: the exhibitions in the 20s and 30s included an actual home. Yes, it's true, a complete home was built inside Music Hall's north wing. Different designs were created each year—and the houses were for sale. Once the show ended, the house was built on a lot somewhere in Cincinnati.
These houses were complete—from basement to roof, fully furnished and landscaped too. Each was equipped with the latest modern conveniences.
Have we piqued your interest? We have historic photos of those model homes, along with pictures of how many of those houses look today. Check out the model homes of the Home Beautiful Exposition.
Home Show Goals in the 1920s
In the early 1920s, for a city the size of Cincinnati, we had a rather embarrassingly low percentage (28%) of home owners. In Dayton, for example, nearly 75% of people owned their homes. City fathers and business leaders wanted to make people aware that home ownership was within their means, a good investment and part of being a good citizen!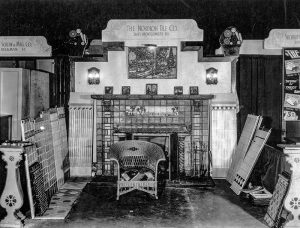 The Home Beautiful exposition was designed to be a "one-stop" home ownership education source. The show featured exhibits on financing either the construction or the purchase of a home, the materials needed to build or repair – exhibits addressed every aspect of home construction, purchase, and ownership.
In addition, these expositions were set up to give visitors ideas on furnishings, the latest in appliances, and resources on home repairs.
Taking it one step further, these shows also gave people a wide range of entertainment options. There were bands in both wings, and fashion shows, opera and a musical revue in the auditorium. It was all included in the price of admission.
By far, though, the biggest draw was the house sitting in the middle of Music Hall's north wing. 
Did These Home Shows Stimulate Home Ownership?
By 1929, a building boom had occurred in Cincinnati, perhaps spurred by the New Deal, perhaps hand-in-hand with civic rejuvenation.
The President of the Cincinnati Real Estate Board in 1929 referenced those two programs as inspiration for people to be confident in the future of Cincinnati and their place in this city. He felt the home shows, which were sponsored by the board, should have been credited with "furnishing much of the desire for home ownership."
Home Beautiful Expo Homes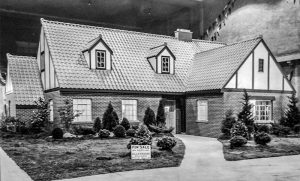 The home shows were presented annually from 1925 through 1936. Each show featured a model home built inside Music Hall.
Of the 12, research revealed the current location of ten of those houses. The very first show, and the last, are the elusive ones. We'll keep digging. If you have information or photos of those homes, please allow us to digitize them for the FMH archives and add them to this story.
Nine houses remain where they were built and are occupied. One was torn down as part of a transportation project. To request a driving tour of the remaining homes still standing, email musichalltour@FriendsofMusicHall.org
Photos of Home Beautiful exhibits are in the slider at the top of this page. To see the houses built inside Music Hall and discover more about the Home Beautiful shows, click here to visit the "There's No Place Like Home, Especially if it's Inside Music Hall" webpage.