by Carol Sampson and Thea Tjepkema
When philanthropist and businessman Reuben Springer funded most of the construction of Music Hall in 1878, he did so with the mindset that it would be built for all to enjoy. When the statue of Springer was dedicated in 1882, people from all walks of life gathered to honor the man whose financial generosity and strong convictions made Music Hall a reality. Today, his legacy of inclusion continues.
Since its inception, Cincinnati Music Hall has hosted artists and conductors from all over the world, mostly white and African American performers. The earliest and perhaps the first Latine* performer on the Music Hall stage was Teresa Carreño, Venezuelan-born pianist, who in 1897 performed with the newly formed Cincinnati Symphony Orchestra (CSO est. 1895). It would not be until the 20th century that multiple visits by significant Spanish artists and Latine performers occurred on Music Hall's stage. Their visits on the main stage, in Springer Auditorium, began primarily upon the invitation of the resident companies: Cincinnati May Festival, Cincinnati Symphony Orchestra, Cincinnati Pops Orchestra, and the Cincinnati Opera. In celebration of Hispanic Heritage Month (Sept. 15-Oct. 15), we pay homage to those with Spanish and Latin American ancestry who graced the stage of Music Hall.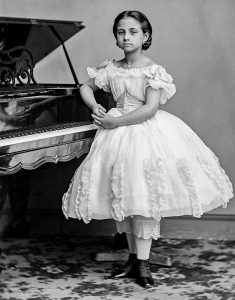 TERESA CARREÑO (1853-1917): Valkyrie of the Piano
Teresa Carreño, or as she was popularly known in the 19th century, the "Valkyrie of the Piano," was born in Caracas, Venezuela. Her musical talent may have been passed to her by her grandfather and father. Her grandfather, José Cayetano Carreño was an organist at the Caracas Cathedral and a composer who wrote the first patriotic song of the country "Caraqueños, otra època empieza" (Caracas' people, another time begins). Her father, an excellent pianist, started her music lessons at age six. Carreño was already prepared for the stage when she was eight years old, and the family emigrated to New York City. With Louis Moreau Gottschalk as her new teacher and promoter, she immediately debuted at Irving Hall. She started composing and one of her earliest works, of approximately 80, was "Gottschalk Waltz" which she wrote in 1863 in his honor. Following in her grandfather's footsteps, she also wrote a Venezuelan patriotic hymn, well-known today, "Himno a Bolívar" in honor of Simón Bolívar.
Gottschalk Waltz by Teresa Carreño
Her career as a concert pianist began in the mid-1860s touring Cuba, Spain, France, the United Kingdom, the Netherlands, and in the U.S., she played for Abraham Lincoln. In the mid-1870s to late 1880s she sang opera with Maurice Strakosch's troupe with Carlotta Patti and by the time Music Hall was constructed, she toured the U.S. as a solo pianist with the Theodore Thomas Orchestra and the Walter Damrosch Orchestra. She even tried her hand at conducting her own opera company three weeks in Caracas. By the late 1890s, she had six more tours of the U.S. and came to Cincinnati to perform with the CSO five times!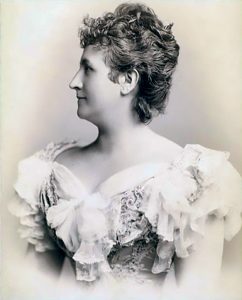 On March 1 and 2, 1897, under the first CSO Music Director, Frank Van der Stucken, she performed Beethoven's Concerto No. 5 in E-flat Major and Liszt's Hungarian Fantasy, both were subscription premieres. When she performed a work by her former teacher Anton Rubinstein, Concerto No. 4 in D Minor, January 13 and 14, 1899, she received a rave review in The Cincinnati Enquirer for her unique combination of warmth, impetuosity, grace, delicacy, and dynamic force … "tonal purity in her playing asserts itself supreme." She received a standing ovation and was called back onto the stage a dozen times and gave three encores: Chopin's Berceuse in D-flat Major and Etude in G-flat Major, as well as her composition a waltz "Mi Teresita." Her last performance with Van der Stucken conducting was on December 14 and 15, 1900, performing Grieg's Concerto in A Minor. She would return to perform with Music Director Leopold Stokowski and the CSO, April 1 and 2, 1910, and before she could sit to play Tchaikovsky's Concerto No. 1 in B-flat Minor, she was greeted with a lengthy standing ovation. Her last performance with the CSO was in the Emery Auditorium with Music Director Ernst Kunwald, again playing Grieg's Concerto in A Minor, March 27 and 28, 1914. On her last visit, she stayed at the Sinton Hotel, and the Everett Piano provided for her there was advertised for sale, with a plaque inscribed with her signature, immediately after her departure.
CLAUDIO ARRAU (1903-1991) Legendary 20th c. Pianist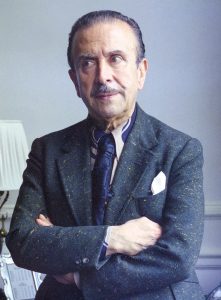 Claudio Arrau, the famous Chilean pianist performed in a record 18 concerts with the CSO, 12 of those were held in Music Hall. His first concert with the CSO was on April 2 and 3, 1943, under the direction of Eugene Goossens, and Arrau graced the Music Hall stage with the Brahms' Concerto No. 1 in D Minor. He would return to perform with Music Director Goossens two more times, March 31, and April 1, 1944, and performed the Brahms Concerto No. 2 in B-flat Major and on October 20 and 21, 1944, Beethoven's Concerto No. 4 in G Major. This performance was described in the Enquirer as, "polished, (with) varied coloring of his pearly luscious piano tone … (he) gave a richness to the broad canvas of the score … molded into a liquid flow of the continuity … (and) sumptuousness."
Claudio Arrau, Britannica Short Bio
Arrau returned six more times under the baton of Music Director Thor Johnson in Music Hall and performed: December 22 and 23, 1948, Beethoven's Concerto No. 3 in C Minor; February 3 and 4, 1950, to honor the 100th anniversary of Chopin's death, Chopin's Krakowiak, Variations in B-flat Major, "Là ci daren la mano," Adante spianato and Grand Polonaise No. 58; December 7 and 8, 1951, Brahms' Concerto No. 1 in D Minor; February 6 and 7, 1953, Tchaikovsky's Concerto No. 1 in B-flat Minor; December 10 and 11, 1954, Beethoven's Concerto No. 3 in C Minor, which he had also performed in 1948; and lastly, December 6 and 7, 1957, to perform Liszt's Concerto No. 2 in A Major. At the end of each season reviews begged for his return.
Arrau performed the most times, eight concerts, with Music Director Max Rudolf and the CSO, but only three of those performances were on the Music Hall stage. The other five were with the CSO on a tour of the east coast. In Music Hall, he performed December 4 and 5, 1959, the Brahms' Concerto No. 2 in B-flat Major; February 25 and 26, 1966, Beethoven's Fantasia in C Minor with the "Choral Fantasy"; and February 3 and 4, 1967, Weber's Konzertstück in F Minor and Schumann's Concerto in A Minor. Arrau's last concert in Music Hall was in 1970, with the CSO and Guest Conductor Sir Charles Mackerras, performing Chopin's Concerto No. 1 in E Minor, January 9 and 10.
ALICIA DE LARROCHA (1923-2009) Greatest Spanish Pianist in History!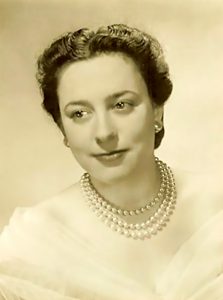 Considered one of the great piano legends of the 20th century, Barcelona-born Alicia de Larrocha made her Music Hall debut in the CSO's 75th season, December 19 and 20, 1969, in the newly rehabilitated Music Hall. De Larrocha performed Schumann's Concerto in A Minor with so much skill the Enquirer music critic conjured up a picture of Clara Schumann herself playing it for the first time in a salon at Dresden's Hotel de Saxe in 1845. The petite virtuosa performed at New York City's Carnegie Hall several times before coming to Cincinnati.
On October 6 and 7, 1972, with CSO conductor Thomas Schippers, de Larrocha performed Franck's Symphonic Variations and Bach's Chaconne in D Minor, and the Enquirer's reviewer was less enthusiastic this time, saying, "I felt, (she) brought a rather heavy touch to the Franck … I much preferred (her) performance … of Bach's Chaconne in D Minor, taken from the violin partita."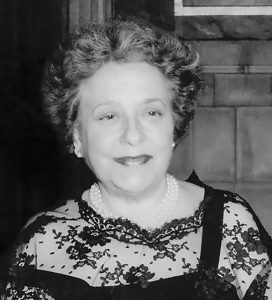 De Larrocha, received glowing reviews for her many returns with the CSO, a total of 17, mostly in Music Hall, and nine times under the baton of CSO Music Director Jesús López-Cobos. On March 7 and 8, 1997, de Larrocha performed Ravel's Concerto in G Major with López-Cobos conducting and it was recorded in Music Hall for the CSO's first national PBS broadcast in the fall. The Enquirer review mentioned the audience was brought to its feet two times for de Larrocha's virtuosic performance, describing her sparkling glissandos, singing lines, and electric finale with an energetic orchestra. After the Music Hall performance, the CSO immediately took off on their first West Coast Tour, March 10-19. This was her second tour with López-Cobos and the CSO, the first was March 18-26, 1990, starting in Carnegie Hall and other venues in New York and Florida. On the 1997 tour, de Larrocha performed not only Ravel's Concerto in G Major but also his Rapsodie espagnole and an encore of the "Spanish Dance" from Falla's La Vida Breve.  De Larrocha and López-Cobos commented in an Enquirer article on the day before they set out, that they were opposed to stereotyping Spanish music, however, de Larrocha hoped that people would come to love it through her concerts. During López-Cobos' 15-year tenure with the CSO, he programmed mostly European repertoire, but he pointed out his most popular recording with the CSO was Ravel's Bolero and Manuel de Falla's Three-Cornered Hat and La Vida Breve. He also recorded with the CSO an orchestrated version of Albeniz's Iberia, which he considered "a pinnacle of Spanish pianism."
Manuel de Falla: Part Two: The Neighbor's Dance, Dance of the Miller, The Corregidor's Dance, Final Dance (Jota)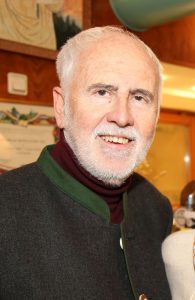 JESÚS LÓPEZ-COBOS (1940-2018) Music Director of the CSO 1986-2001
Maestro Jesús López-Cobos was born in Toro, Spain, and was appointed as the 11th Music Director of the CSO in 1986 and held the podium the longest of any conductor retiring in 2001. He brought the CSO international acclaim by leading them on a tour of the Far East in the fall of 1990 where they performed for sold-out audiences in Taiwan and throughout Japan. He took the CSO to the Pablo Casals Festival in Puerto Rico in June of 1998. In the year 2000, he celebrated conducting 500 concerts with the CSO, and by retirement approximately 420 in Music Hall, and recorded 26 CSO CDs. Today his son, François López-Ferrer, who grew up in Mariemont in Cincinnati, is the current Associate Conductor of the CSO, and recently won a LA Philharmonic Dudamel Conducting Fellowship!
Jesús López Cobos on CSO website "Our History"
François López-Ferrer on CSO website "Artistic Leadership"
CARLOS MONTOYA (1903-1993) Guitarist, Founder of Modern-Day Popular Flamenco Style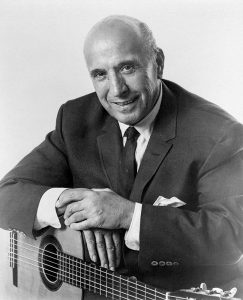 Carlos Montoya born in Madrid, Spain, was a famous flamenco guitarist, who performed with the CSO 10 times in Music Hall, seven of which were with Erich Kunzel conducting. His first performance with the CSO at Music Hall was January 8 and 9, 1943, under the direction of Music Director Eugene Goosens, and with Spanish dancers, sisters, Pilar and Encarnación López Júlvez, who was known as La Argentinita, and José Greco, Italian American dancer.
"Carlos Montoya Brought Controversial Changes to Flamenco," by Jason Webster, Classical Guitar, Winter 2017.
Encarnación López "La Argentinita" and Pilar López Dancing Flamenco
Montoya's next Music Hall performance was on his solo tour, November 3, 1962. This concert had a political twist because local Cuban exiles were celebrating for two reasons: the U.S. victory over the Soviet's missile might in their homeland and the decision of the conductor to donate the proceeds to the Pan-American Society of Cincinnati's Latin American Aid Committee.
Back again on February 19, 1966, under the direction of Erich Kunzel and the CSO's Eight O'Clock Pops Series, Montoya played to a sold-out crowd, his piece "Suite Flamenca" for guitar and orchestra, which he would perform each time he returned with the CSO. He also appeared again on the Eight O'Clock Pops Series on December 17 of that year and played various solo selections.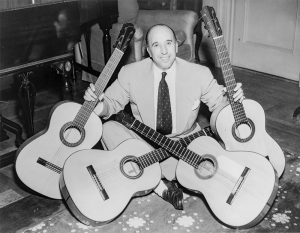 Two years later, on his concert tour, on October 20, 1968, Montoya returned to perform works such as "Garrotin"– "Ugly Gabriela's," "Galta Gallega," and "Saeta." The Enquirer reviewer adored all his pieces, calling them, "swift, stately, sonorous, or sinuous." Xavier University's Young Friends of the Arts had a reception in his honor in the afternoon before his concert.
Before Erich Kunzel became the first conductor of the officially named Cincinnati Pops in 1977, Montoya performed with the CSO on January 9, 1971, to a standing room only crowd playing his pieces "Alegrias," "Huelva," "Guajiras," "Zambra," and "Granaina," with an encore of "Maleguena." And again, October 7 and 14, 1973, Sundays, with Erich Kunzel and the CSO.
For Montoya's last performance in Music Hall, with the Cincinnati Pops, April 27, and May 4, 1980, he performed his concerto with the orchestra "Suite Flamenca" on the first half of the program and then several flamenco dance rhythms and pieces: "Zapteao," "Farruca," and "Malaga."  The reviewer in the Enquirer described his playing as, "an eruption of energy, with intricate personal style, a great love of tradition and genuine, songful, soul produced, memorable, artful guitar playing."
ANDRÉS SEGOVIA (1893-1987) Prominent Classical Guitarist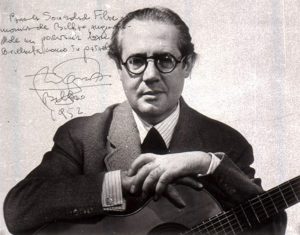 Born in Linares, Spain, in Andalusia – the cradle of flamenco, classical guitarist Andrés Segovia performed six times in Music Hall, three with the CSO. His first performance in Music Hall was on April 6 and 7, 1956. Before the April 7 performance, Cincinnati Mayor Charles Phelps Taft II presented Segovia with the "Medal of Cincinnati," provided by the Cincinnati Society of the Classical Guitar. That evening, he went on to play Castelnuovo-Tedesco's Concerto No. 1 in D Major, a CSO subscription concert premiere. Segovia returned to perform for a packed house, some fans came from miles away, for another CSO subscription premiere of Boccherini's Concerto, on January 11 and 12, 1963.
Maestros of the Guitar: The Biography of Andrés Segovia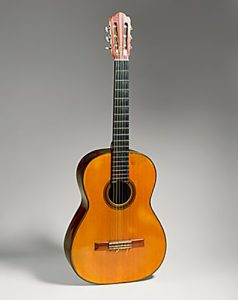 Andrés Segovia, the "World's Greatest Guitarist," was back again to play to a full-house in Music Hall, on February 12 and 13, 1965, playing the Castelnuovo-Tedesco Concerto No. 1 in D Major with the CSO, conducted by Max Rudolf. In an interview with the Enquirer music critic, Segovia took out his guitar, constructed by Ignacio Fleta in 1963 and when asked about its price, Segovia smiled. "Priceless, that is all; priceless!" He also talked about digging into old stacks of music to revive compositions of guitar masters such as Fernando Sor. He also transcribed Bach, Beethoven, Chopin, and Schumann's repertory for guitar.
With a dedicated fan base in Cincinnati, Segovia, on a concert tour, appeared alone on the stage in Music Hall for an audience of 3,600 on March 11, 1975, playing pieces by Spanish composer Fernando Sor; Frederico M. Torroba's "Castillian Pieces"; Castelnuovo-Tedesco's "Melancholia and Primavera"; Handel's "Folias" and "Allegretto"; and five dance pieces by J.S. Bach. Perhaps the best performance of the evening, described in the Enquirer, was his rendition of Heitor Villa-Lobos's "Preludes and Studies" – the Cinq Préludes which Villa-Lobos dedicated to Segovia. The program ended with Enrique Granados' "La Maja de Goya" inspired by Francisco de Goya's paintings of a nude and a clothed Spanish woman: La maja desnuda and La maja vestida. He also performed on the piano as well as the guitar, the "Mallorca" and "Torre Bermeja."
Julian Bream plays Grandos La Maja de Goya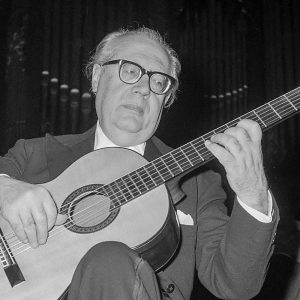 On February 23, 1978, 85-year-old Segovia returned to Music Hall in a recital tour celebrating the 50th anniversary of his first U.S. performance in New York City's Town Hall in 1928. The Enquirer reported with the first notes of Silvius Leopoldo Weiss' "Lento and "Allegretto," Segovia, "pulled the audience into a world of dynamics and color softer than that of most instruments," and, "his playing was not note-perfect," but, "poetic, sensitive … (with) a rigorous melody." The program included Hispanic composers M. Ponce, F. Sor, V. Acensio, E. Granados, F.M. Torroba, and I. Albeniz, as well as Mendelssohn and Schumann. After his performance, Segovia was awarded the University of Cincinnati President's Award of Excellence as a tribute to his support of musical training, resulting in classical guitar study programs such as those at UC's College-Conservatory of Music.
Almost 90 years old, Segovia set off on an 18-concert tour of Europe and tour across the U.S. from Portland to New York. He was to appear in Music Hall on March 30, 1982, but it was postponed due to illness to April 6, 1982. Twenty-six years-to-the-day, April 6, 1956, when he first appeared with the CSO, he performed for the last time in a solo recital concert in Music Hall.
LOS ROMEROS, The Royal Family of the Guitar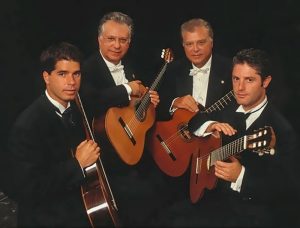 Los Romeros, a Spanish quartet of family guitarists, father Celedonio (b. Cienfuegos, Cuba, 1913-1996) with his sons born in Málaga, Spain: Celin (b. 1936), Pepe (b. 1944), and Angel (b. 1946), immigrated to the U.S. in 1957. They performed together in Music Hall three times: for the 8'OClock Pops on March 8, 1969; with the Cincinnati Pops on June 3 and 4, 1983; and, with Jesús López-Cobos conducting the CSO in the Torroba Concierto Iberico and Rodrigo's Concierto Andaluz on April 25 and 27, 2003. The Enquirer review of their first performance in Music Hall praised their artistry, wizardry, versatility, and sensitivity in their thrilling performance of the Rodrigo Concerto Andaluz written just for them and a "pleasant surprise" was the Vivaldi Concerto for four violins.
Angel Romero returned to perform Rodrigo's Concierto de Aranjuez under the baton of Lopéz-Cobos on an all-Spanish program, May 8 and 9, 1992, which included the debut of Spanish-born violinist Agustin Léon Ara. The Enquirer review described the performance of Romero as, "profound with evocative phrases with a relaxed sparkle, and fiery flamenco rhythms performed with natural ease." Angel Romero performed the Rodrigo Concerto again with the CSO in 1997, January 30 and 31, and, Pepe Romero, performed it as well between his brother's visits, in 1995, November 30, and December 2, also with López-Cobos conducting the CSO. Angel Romero performed the World Premiere of Balada's Concierto Magico and his own Concierto Malaga, a subscription premiere on March 13 and 14, 1998, with the CSO and Jesús López Cobos. Pepe Romero returned in 2000, September 15 and 16, to perform with López-Cobos and the CSO, Paloma's Nocturnos de Adalucia, a subscription premiere. In 2013, November 1 and 2, with Spanish Guest Conductor, Rafael Frühbeck de Burgos, Pepe Romero performed the Rodrigo Concierto de Aranjuez for his last performance in Music Hall.
MARTINA ARROYO (b. 1937) Leading Operatic Soprano and Agent of Change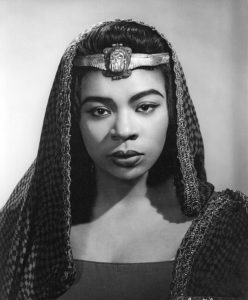 Martina Arroyo, American operatic soprano, was born in New York City. Her father Demetrio Arroyo was born in Puerto Rico and an engineer at the Brooklyn Navy Yard and her mother was African American from Charleston, South Carolina. Arroyo performed with the CSO 12 times, nine times on the Music Hall stage. She made her Music Hall debut as a concert soloist, singing Beethoven's Ninth Symphony, March 29 and 31, 1962, with the CSO under the direction of Max Rudolf and the May Festival Chorus. She would perform as a soloist in the May Festival four times: 1972, 1981, 1982, and 1984, singing works by Verdi, save the last concert which was Mendelssohn's Elijah. She also sang Verdi's Requiem with the CSO in concert on Thomas Schippers's debut weekend as Music Director, October 3 and 4, 1970. "Martina Arroyo, soprano, was truly exquisite – full-voiced, with controlled precision, and musical taste. Her "Libera Me," supported by … choral sound was particularly rewarding," read one review in the Enquirer.
She would perform with the Cincinnati Opera in six productions (1964, 1965, 1966, 1973, 1974, 1987), three of those operas were at the Opera's (est. 1920) founding performance venue, the Cincinnati Zoo, and three on the Music Hall stage when the company moved into their new home in 1972. In 1964, June 24 and 27, as Aida at the Zoo, Arroyo became the first African American, and perhaps Latine, to sing a major role with the Cincinnati Opera. Arroyo recalled, in an interview in the Enquirer, when she sang, a hyena laughed at the end of her Aria! On July 11 and 14, 1973, the Opera's second season in Music Hall, Arroyo starred in the new production of Aida, funded by a gift from the Corbett Foundation. Not to forget the tradition at the Zoo, an elephant was delivered to Music Hall's loading dock and marched across the stage during the animal parade. Arroyo also performed leading roles as Amelia in Verdi's A Masked Ball on July 27 and 31, 1974, and as Princess Turandot in Puccini's Turandot, with Rubén Dominguez, Venezuelan tenor, as Prince Calif, November 18 and 20, 1987.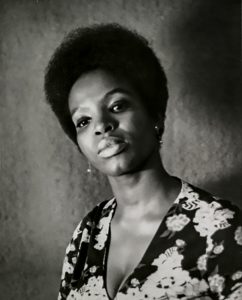 Arroyo performed in the second season. However, in the first season the Cincinnati Opera performed on the Music Hall stage, Esther Hinds sang the soprano role of Liu in Turnadot. Hinds (b. 1943) was born in Barbados in the Caribbean and moved to the U.S. with her family in 1952, and grew up in Brooklyn, New York. Although she only performed once with the Cincinnati Opera, Hinds was the first Latine to perform with the company in Music Hall on July 12 and 15, 1972. The Enquirer reported she was a new talent who, "really bears watching (and listening)," and that she, "has an emotional power that goes straight to the heart and sings with unfailing accuracy."
The first Latine and Hispanic performers in Music Hall were most likely the earliest pugilists in the North Hall Sports Arena boxing ring and dancers in floor shows in the South Hall second-floor ballroom. Eventually, famous traveling stars and guest artists with heritage from Spain and Latin America made their way onto the main Springer Auditorium stage and into the hearts and minds of our community through the universal language, music.
Other Famous Latine and Hispanic Artists of Note in Music Hall:
Carmen Amaya (1913-1963) Spanish Romani Flamenco dancer performed dances with her group with the CSO, Eugene Goossens conducting, November 5 and 6, 1943.
Luis Bonfá (1922-2001) Brazilian guitarist performed on October 25, 1958, with the CSO and Guest Conductor John Lesko.
José Limón (1908-1972) modern dancer, born in Culiacán, Mexico, and at age seven moved to LA. He and his dance troupe performed his famous piece "The Moor's Pavane" and three other works with the CSO, Max Rudolf conducting, November 21 and 22, 1958.
Sergio Mendez and Brasil '66 Mendez (b. 1941) born in Brazil, played piano and was a vocalist in his group of six, performed with the CSO on the 8'OClock Pops, Erich Kunzel conducting, on November 25, 1967, and on an independent tour April 21, 1968.
Justino Díaz (b. 1940) Puerto Rican operatic bass-baritone, sang between 1970 and 1990 in five Cincinnati Operas in Music Hall and eight times with the May Festival.
José Feliciano (b. 1945) was born blind in Puerto Rico and grew up in Spanish Harlem in New York City. He is an acoustic guitarist and singer best known for his Christmas single "Feliz Navidad" and he released over 50 albums. He performed in Music Hall with the Cincinnati Pops with Erich Kunzel conducting, April 4, 1976, and at Riverbend Music Center on June 19, 1987.
Rubén Dominguez (b. 1935) Venezuelan operatic tenor sang in three Cincinnati Operas in Music Hall, 1986 as Manrico in Verdi's Il Tavatore, 1987 as Prince Calif with Arroyo as Princess Turandot, and in 1990 as Radames in Verdi's Aida.
José Carreras (b. 1946) Barcelona-born, operatic tenor, who with Placido Domingo and Luciano Pavarotti, formed the "Three Tenors," made his only appearance in Music Hall on May 10, 1996, in an intimate recital with pianist Lorenzo Bavaj as part of a 10-city tour.
Arturo Sandoval (b.1949) Cuban American jazz trumpeter with Erich Kunzel and the Cincinnati Pops performed with his band on May 31 and June 2, 2002.
Ingrid Fliter (b. 1973) Argentinian pianist performed with the CSO four times on the Music Hall stage (2007, 2009, 2013, 2015).
Gil Gutierrez (b. 1962) guitar, Pedro Cartas, violin, Miguel Favero, percussion, and Gilberto Gonzalez, bass, artists from Mexico, performed with Doc Severinsen and the Cincinnati Pops March 29 and April 5, 2009.
Gabriela Montero (b. 1970) Venezuelan pianist with the CSO performed on April 9 and 10, 2010.
Christian Colberg (b. 1968) Principal Viola of the CSO, born in Puerto Rico, performed as a soloist on 15 concert programs with the CSO from 2011 to 2020. He performed many of his compositions on the Music Hall stage.
Tiempo Libre Cuban music group [Jorge Gomez, Joaquin (El Kid) Diaz, Tebelio (Tony) Fonte, Luis Beltran Castillo, Leandro González, Raul Rodriguez, Amando (Pututi) Arce] performed with the Cincinnati Pops, John Morris Russell conducting, January 20 and 21, 2012.
Pablo Sáinz-Villegas (b. 1977) Spanish classical guitarist performed with the CSO, Juanjo Mena, conducting, April 8 and 9, 2016 and February 4 and 6, 2021, with François López-Ferrer conducting.
Juanjo Mena Principal Conductor of the Cincinnati May Festival.
ALSO IN THE EMERY AUDITORIUM:
Pablo Casals (1876-1973) Cellist, Spanish born, grew up in Puerto Rico. He performed with the CSO, once in Music Hall – on January 5, 1928 – and in six concerts in the Emery Auditorium, in 1915, 1917, 1920, 1922, 1923, and 1928.
Note
* Latine: Gender-neutral e replaces the gendered endings a and o.
Thank you
Rick Pender and Chris Pinelo for generously taking the time to edit and review this volume of information.
Authors
Carol Sampson and Thea Tjepkema are members of Friends of Music Hall's board of directors. Tjepkema, an historic preservationist and archivist, is also the organization's Historian. Sampson, a Certified Tourism Ambassador, is the author of the Black Cincinnati Travels blog and tour guide at Findlay Market.
Feature Photo ID
L to R: Top: Pablo Sáinz-Villegas; Carmen Amaya; Carlos Montoya; Teresa Carreño; Los Romeros;
Middle: Esther Hinds; José Feliciano; José Limón; Andrés Segovia; Martina Arroyo;
Bottom: Sergio Mendez & Brasil 66; Alicia de Larrocha; Claudio Arrau; Tiempo Libre
Sources
Carreño:
Pita, Laura. "(María) Teresa Carreño." Grove-Oxford Music Online, 28 May 2015.
"Mme. Teresa Carreno, Famous Pianist, Dies: Artist, Who Also Had a Career in Opera." The New York Times, 13 Jun 1917.
"Ovation, To Mme. Carreno at the Symphony Concert-Review of Programme." The Cincinnati Enquirer, 14 Jan 1899.
"Advertisement, The Everett Piano Used by Teresa Carreno: FOR SALE THIS WEEK." The Church-Beinkamp Co., The Cincinnati Enquirer, 29 Mar 1914.
Arrau:
Leighton, Mary. "Symphony Concert." The Cincinnati Enquirer, 1 Apr 1944.
Rhodes, John P. "Arrau Plays Unusual Works by Chopin; Books Helpful." The Cincinnati Enquirer, 29 Jan 1950.
"Great Brahms Work To Be Played by Arrau." The Cincinnati Enquirer, 2 Dec 1951.
Humphreys, Henry S. "Claudio Arrau's Beethoven Is Like Rich, Burnished, Gold." The Cincinnati Enquirer, 26 Feb 1966.
Darack, Arthur. "Pianistic Royalty." The Cincinnati Enquirer, 4 Dec 1959.
Humphreys, Henry S. "Arrau, Rudolf Share Plaudits in Fine CSO Concert." The Cincinnati Enquirer, 4 Feb 1967.
"Arrau, Makerras With CSO." The Cincinnati Enquirer, 4 Jan 1970.
De Larrocha:
Humphreys, Henry S. "De Larrocha's Schumann Enthralling." The Cincinnati Enquirer, 20 Dec 1969.
"The CSO's Jubilee Year." The Cincinnati Enquirer, 8 Jun 1969.
Humphreys, Henry S. "Petite Virtuoso from Barcelona." The Cincinnati Enquirer, 19 Dec 1969.
Malitz, Nancy. "De Larrocha Delights, Despite Chailly." The Cincinnati Enquirer, 3 May 1980.
Gelfand, Janelle. "CSO Shines with Sparkler at the Piano." The Cincinnati Enquirer, 8 Mar 1997.
Gelfand, Janelle. "CSO Guest Pianist Cautions Against Stereotyping." The Cincinnati Enquirer, 9 Mar 1997.
Montoya:
Leighton, Mary. "Symphony Concert." The Cincinnati Enquirer, 9 Jan 1943.
"Local Cuban Exiles Cheer U.S. Victory." The Cincinnati Enquirer, 30 Oct 1962.
Humphreys, Henry S. "Flamenco at Best." The Cincinnati Enquirer, 20 Feb 1966.
Humphreys, Henry S. "Carlos Castles in Spain." The Cincinnati Enquirer, 21 Oct 1968.
Bailey, Charlie. "Montoya, Kunzel and CSO Provide a Fun Night." The Cincinnati Enquirer, 11 Jan 1971.
Malitz, Nancy. "Spanish Night at The Pops." The Cincinnati Enquirer, 28 Apr 1980.
Segovia:
Darack, Arthur. "Passing Along Guitarist Medal." The Cincinnati Enquirer, 7 Apr 1956.
Humphreys, Henry S. "Segovia Explains Flamenco." The Cincinnati Enquirer, 12 Feb 1965.
Malitz, Nancy. "Segovia: A Poet of the Guitar." The Cincinnati Enquirer, 24 Feb 1978.
Stockholm, Gail. "Segovia: Quiet Art on the Big Stage." The Cincinnati Enquirer, 13 Mar 1975.
Los Romeros:
Vonderbrink, Susan. "Romeros Performance at Music Hall 'Thrilling'." The Cincinnati Enquirer, 10 Mar 1969.
Angel Romero:
Gelfand, Janelle. "Spain Reigns at Music Hall." The Cincinnati Enquirer, 9 May 1992.
Arroyo:
Humphreys, Henry S. "Symphony." The Cincinnati Enquirer, 27 Mar 1962.
Krebs, Betty. "Two Views of Thomas Schippers' Symphony Debut." The Cincinnati Enquirer, 5 Oct 1970.
"Arroyo Emphasizes Natural Beauty." The Cincinnati Enquirer, 18 May 1972.
Gelfand, Janelle. "Opera Star Arroyo Recalls Cincinnati." The Cincinnati Enquirer, 16 Apr 2006.
Hinds:
Hinds, Esther. Forever Changing Landscapes, autobiography, Christian Faith Publishing, 2018.
Stockholm, Gail. "Sumptuous 'Turandot' at Music Hall–Young Talent Shines," The Cincinnati Enquirer, 13 Jul 1972.