Cincinnati Music Hall is really three buildings in one - three separate structures under one roof. When constructed, the project was done in two phases.
Cincinnati Music Hall
The center building, containing Springer Auditorium, was opened in 1878. It was built primarily to accommodate music events, such as the May Festival, housing chorus, orchestra, the Hook & Hastings organ, and audience.
Right after Music Hall opened, the two wings were built. The north wing was known as the Mechanics Hall, and sometimes called ''Power'' Hall. A large, powerful engine provided the ''juice'' for all the mechanical items displayed in that wing. Four tubular boilers, each six feet long, furnished the steam to run the engine.
Another permanent object was a large water tank which was sunk in the floor for exhibits that needed it. Gas pipes were run throughout the building to fuel lighting.
The wing to the south was named the Horticulture or Arts hall. The roof of the south wing was made of panels of glass. These panels were supported by great arches.
Each of these names indicated the types of expositions and events that were held in those wings.
The Center Building
Even though there were two buildings specifically designated for expositions, during Expositions there was no Music Hall. Yes, the auditorium was also used for expositions and was referred to as ''the main Exposition building.''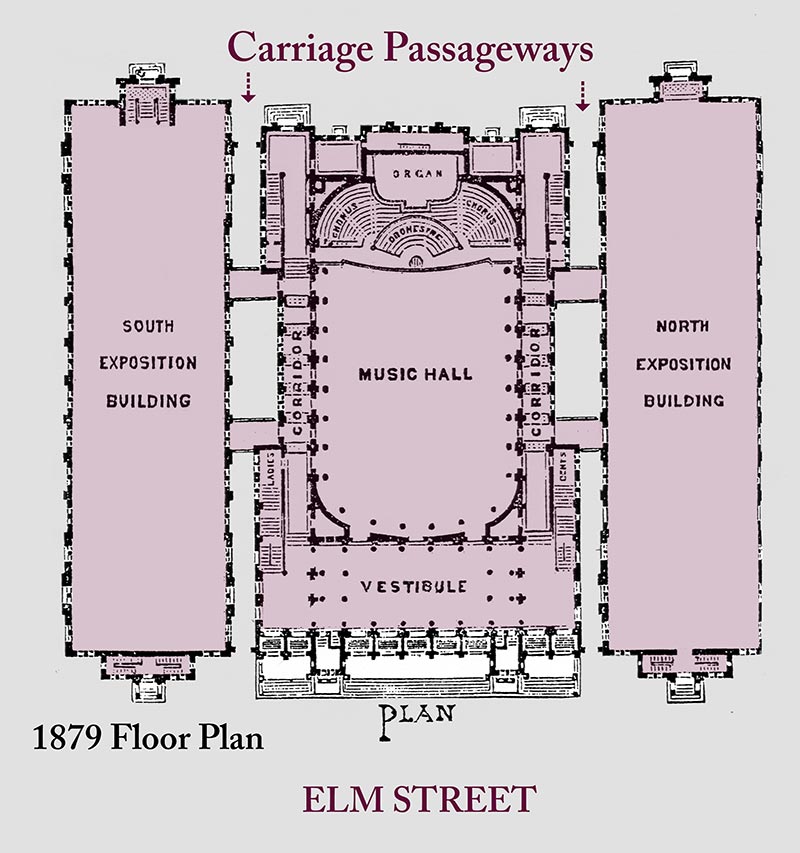 Music Hall Floor Plan 1879
Between the main building and each wing, there were carriageways connecting Elm Street with the area that ran along the Miami and Erie Canal. Patrons in carriages would enter and exit Music Hall, somewhat protected from the weather, via each building's side doors.
The north carriageway was paved with concrete and provided additional exhibiting space. Attendees could also use that area as a promenade - getting a breath of fresh air without stepping outside the gate.
Until recently, you could stand near the iron gates blocking the passageways on the Elm Street side, and see the sky through one of the gates.
Today, only part of the these carriageways remain. The 2016-2017 renovation made good use of the space to create offices, restrooms, event space and storage.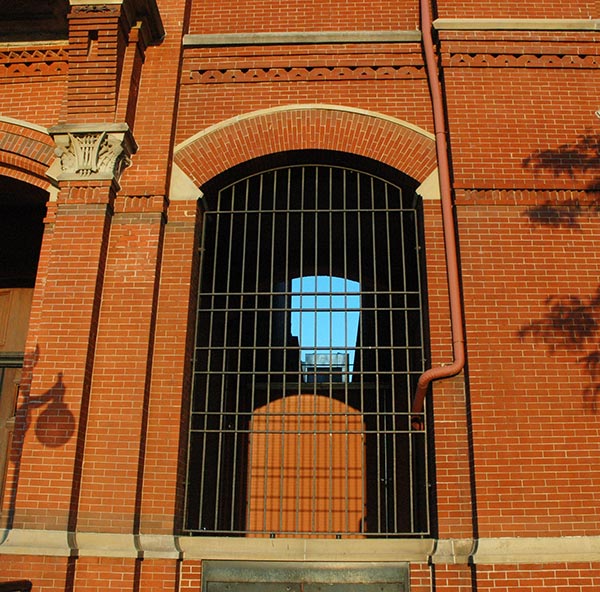 Carriageway, north wing, pre-2016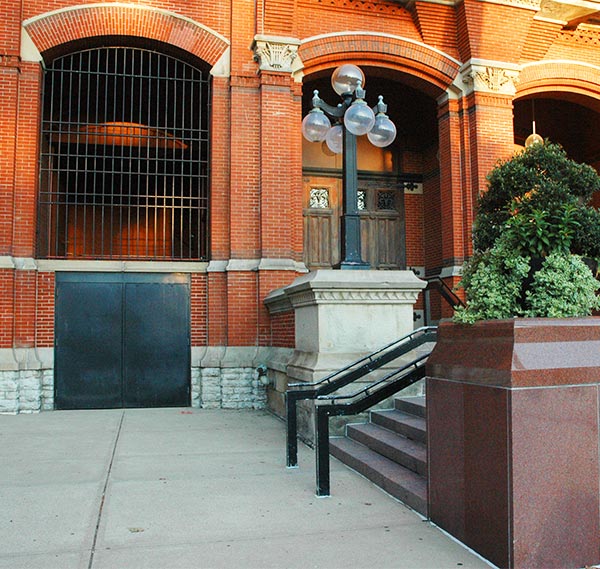 Carriageway, south wing, pre-2016
The Cost
Not including the Great Hook & Hastings organ, the cost to build Cincinnati Music Hall came to $200,893.16. The construction cost for the north and south wings, which were completed in 1879, came to $296,050.62.