Music Hall's Grand Ballroom amplifies the sound of chairs scuffling into place and duct tape ripping to secure dancers' flooring as the stage readies for the Mighty Wurlitzer Organ concert
tomorrow
.
Nancy James
hums a few chords as
Walt Strony
marks his music accordingly. Rehearsal has started later than planned and the room is only in beginning phases of readiness after the clean up concluded on a late night party rental in the hall.
A Very Special Rehearsal
Reaching atop the organ, arched beautifully with red and yellow keys, the pages of sheet music flip back and forth while Strony deftly hits the keys. Mrs. James' lovely voice clearly resonates throughout the chamber and concert producer Don Siekmann sings along, arms wide in a reverie, telling me this is one of his favorites that he has asked her to perform.
It's a special moment, I feel privileged to witness. Twenty-six successful organ concerts and our Master of Ceremonies, ready to deploy and soon enjoy this – the final show he will organize. It's up to the rest of us on the
SPMH Board
now to carry the torch for this beautiful window into a time many can't know and just as many cling to remember. This organ speaks a language that we can't allow to be lost.
Happy Holidays with the Mighty Wurlitzer
In anticipation of the concert, I read the
history of the organ
on the SPMH website and share it with my Mother and dear friend who happily are my dates for the evening. We dine at Symphony Hotel next door to Music Hall, a timeless place with a special history all its own to kick off the Holiday Season in style.
We've allowed our enjoyment to make us late as we hurriedly pay and walk in the chill over and into the Grand
Ballroom
. I can hardly believe it's the same room rehearsals took place the prior midday. Festive color and light emit from the stage in front of 600 concert-goers dressed for the holiday.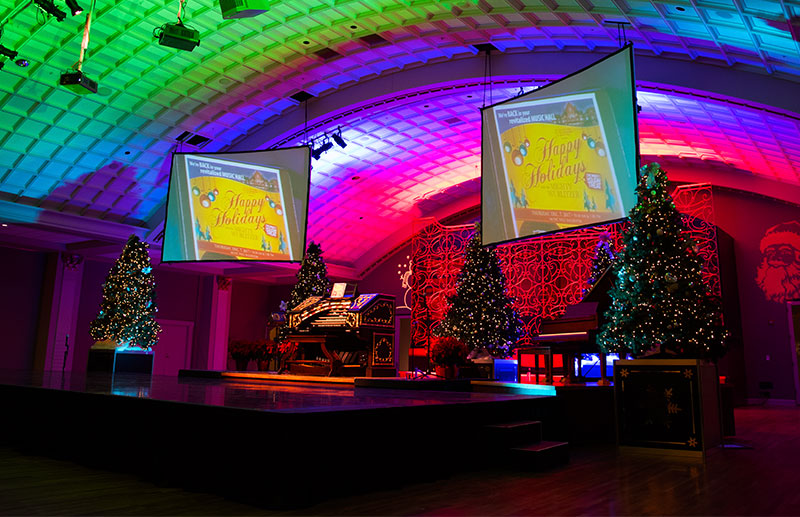 Reindeer ties and Christmas scarves adorn the guests and beyond, prominently lit center stage, the bride of the ball, sits our
Mighty Wurlitzer Organ
flanked by beautifully decorated Christmas trees. It's a splendid scene and if you weren't moved to the holiday spirit, then as Don Siekmann said, "there's more than something wrong with you!"
Nancy's voice oozes cheer and reverence for the season, wonderfully accompanying Walt's skillful playing of such a complicated instrument capable of producing such expression of sound.
Cincinnati Ballet Academy Dancers
perform pieces from the "Nutcracker," another iconic gift of Christmastime, and then Santa appears to great applause spreading cheer to the crowd.
Organ panels open offering bass notes and bells magically sounding through the room. A medley of traditional carols is promised and Mr. Strony even encourages us to sing along as he takes the seat again and perfectly weaves "The First Noel" into "Silent Night" bringing "Joy to the World."
In the end, as it was Pearl Harbor Day, we complete the evening with "God Bless America," all standing to sing along with a warmth and conviction of time honored traditions. It's a bygone time, again I feel privileged to witness and yet now these things that once were, are a part of our present and somehow that's as it should be.
Merry Christmas to all and to all a Good Night!
Holly Brians Ragusa
Member, SPMH Board of Directors