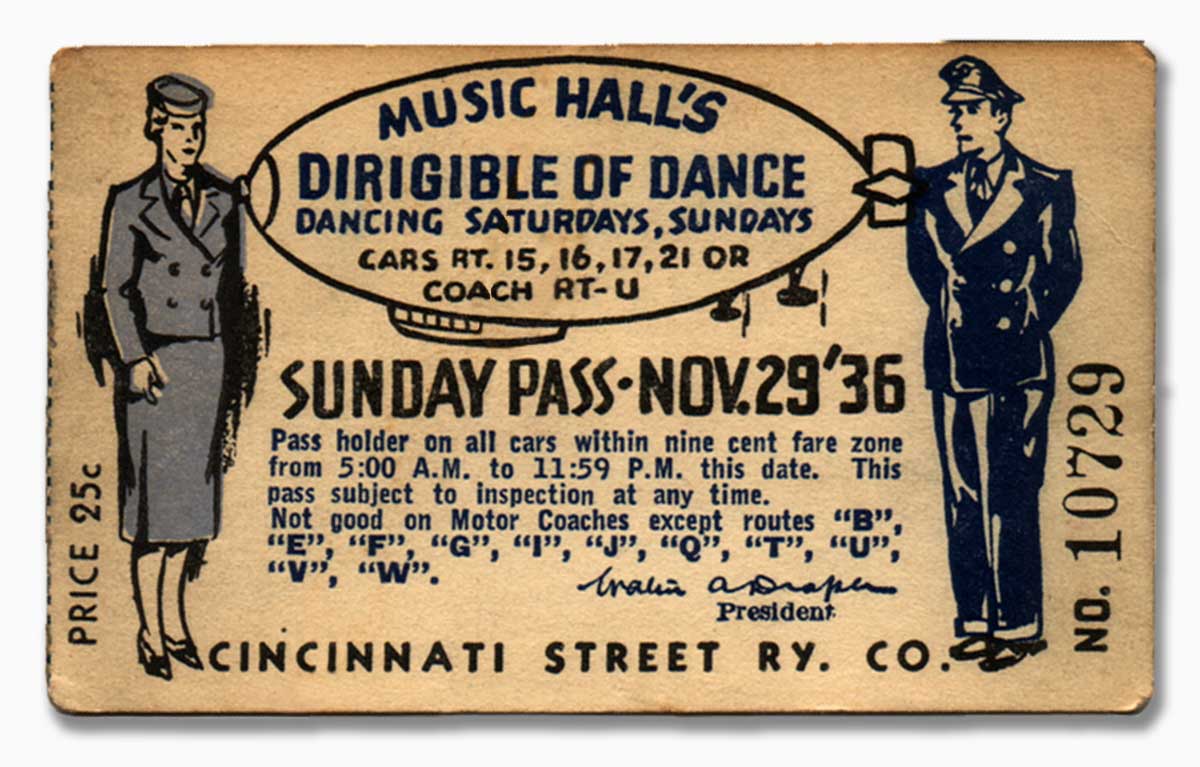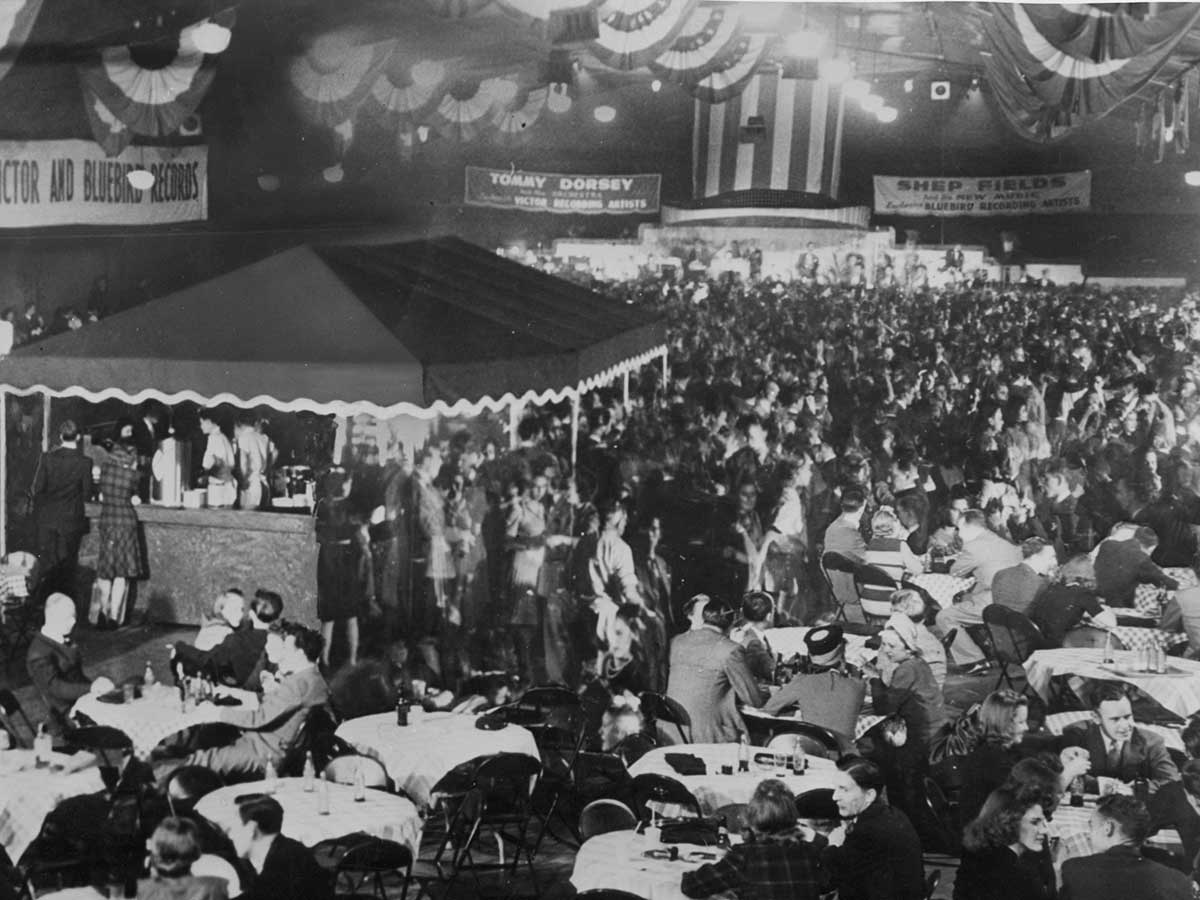 Ballroom 1941 RCA Dance Contest, with Tommy Dorsey and Frank Sinatra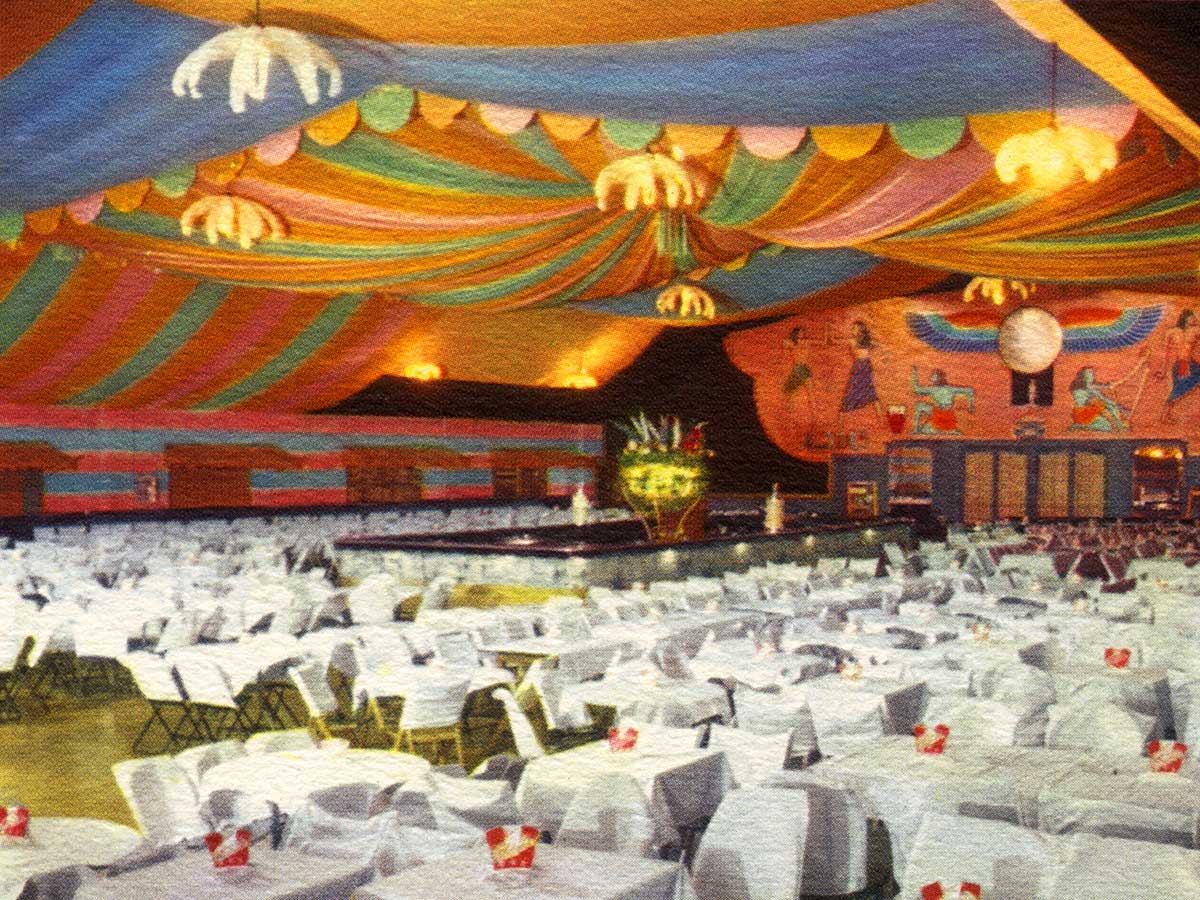 Sphinx - part of Egyptian decor in the Topper Ballroom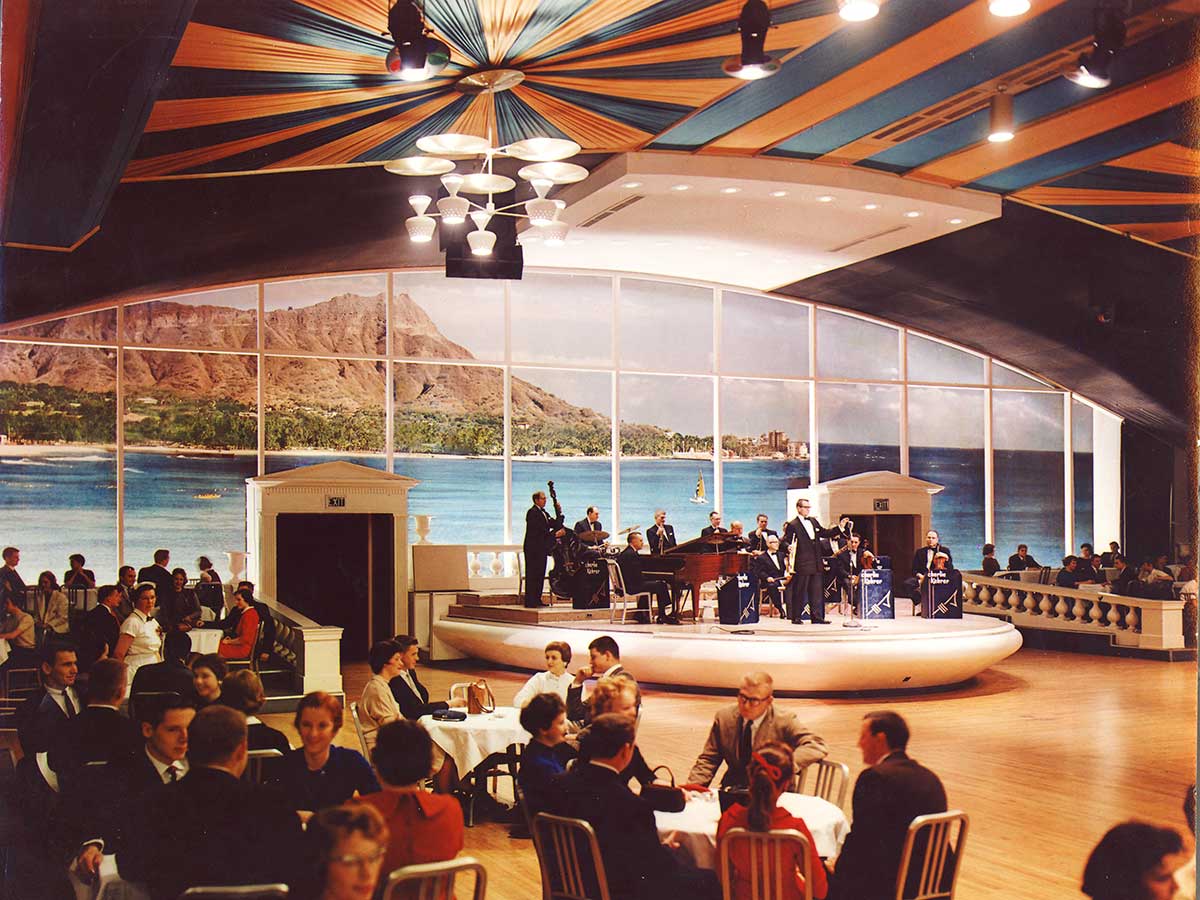 Hawaiian theme in the Ballroom
Ballroom History
When it opened in January of 1928 on the second floor of the south wing of Music Hall, the Ballroom was called "Greystone." It quickly became the place to socialize and celebrate events. It was quite an elegant venue with its polished maple floor, perfect for everything from the jitterbug to ballroom dancing.
When Greystone's lease expired in 1935, the Music Hall Association remodeled and redecorated, and in October, opened "The Trianon Ballroom." Less than a year later, Trianon closed.
In October 1936, the "Dirigible of Dance" opened at Music Hall—so named because the decor featured a giant airship. Ads claimed that dancing there is like "floating on air." This theme, too, was short-lived, holding the final dance in early September of '37.
A month later, a newly organized company, Topper Amusement, announced it would be leasing the space and would re-open in October as Topper Ballroom.
The Topper name was associated with the Ballroom until 1974.
From 1937 until 1956, the managers changed the name of the ballroom to Greystone when African American performers were booked.
An ad in the paper in 1937 for Cab Calloway and his Cotton Club Band quoted the promoter as saying "Dancing will be chiefly for members of Calloway's own race, but while (sic) enthusiasts for his music will be welcome."
Popular Decor
The Dirigible of Dance seems to have been the start of a line of motifs for the ballroom. Next, came a new bandstand resembling a large top hat, which is when the name Topper was adopted.
For a while in 1940 the Topper Cafe held moonlight dances.
Then, in early September 1947, a 12-and-a-half ton Sphinx Bandstand was unveiled in the Topper Ballroom, along with special props, lighting effects and jewels in its head dress.
In April 1959, in the ballroom formerly known as the Topper Club, the decor changed from Egyptian to the Hawaiian theme that most people remember and included the world's largest color photomural - showing Diamond Head above Waikiki.
Stars of the Shows
In addition to Cab Calloway, a number of big names played Music Hall's ballroom over the years. Talent ranged from the big bands and orchestras of the era, including Glenn Miller, Tommy Dorsey and Charlie Kehrer, to a teen party with Dick Clark and the cast of the TV show "Hawaiian Eye" to Frank Sinatra, Ray Charles, Sarah Vaughan, Lionel Hampton and Billie Holiday.
The Ballroom Today
During the 2016-2017 renovation, the ballroom was relatively untouched, except for the Elm Street side. Steps were added to allow for entry from the half-floor above, and the service elevator was removed from that side of the building.
The Ballroom is the permanent home of the Albee Mighty Wurlitzer organ, which was restored in 2009. Organ concerts are held at least three times a year, for a springtime concert usually featuring a silent film, for Halloween and a hugely-popular concert following Thanksgiving.

Music Hall Ballroom, ready for a Halloween concert and party