by Thea Tjepkema
Maestro Theodore Thomas helped build audiences for great orchestral and choral music in Cincinnati in the nineteenth century and created a musical spirit that defines our city. His traveling orchestra performed in venues throughout the city, from beer halls to opera houses, and his popularity inspired Maria Longworth and George Ward Nichols to hire him as the first Music Director of the Cincinnati May Festival, which led to the construction of Music Hall. His influence and leadership helped nurture many of our most beloved arts institutions today including the CSO, the Pops, CCM and The May Festival–the longest running choral festival in the Northern Hemisphere.
A Prodigy is Born

Thomas began playing violin, sight-reading music, and performing at a young age. He was ten years old when his family immigrated to New York City in 1845. Soon after arriving, he and his father supported their large family with violin performances in small theater orchestras.
Thomas never formally studied music, but by observing musicians and conductors he developed his brilliance in performing, conducting, and programming.
An Eminent Force in America's Orchestral History
Theodore Thomas, a violin virtuoso and America's first renowned conductor, was born near Esens, Germany, on October 11, 1835. He grew up to lead multiple orchestras with inspiring programming.
Indeed, Thomas' name became synonymous with American orchestral music history, especially with his touring Theodore Thomas Orchestra.
Thomas brought his orchestra to both major cities and small towns. He spread musical awareness across North America, inspired audiences and spawned the birth of many of America's first professional orchestras.
Sowing the Seeds for the CSO
A dizzying travel schedule brought him to Cincinnati repeatedly and encouraged a local appetite for orchestral concerts.
His renown made him a household name and an outstanding choice to serve as the first music director of the Cincinnati May Festival. He conducted sixteen May Festivals, totaling 107 concerts. His programming led to sold-out concerts and encouraged the construction of Cincinnati Music Hall.
As the founding director of the College of Music of Cincinnati, he enticed prominent faculty here, who trained musicians for the region and beyond.

Thomas founded the College orchestra of professional musicians, laying the foundation for audiences and for the Cincinnati Symphony Orchestra. He was beloved by musicians and concertgoers for his conducting style and his programming, which ranged from traditional to daring.
America's Most Accomplished Violinist
In 1848, German classical musicians arriving in New York City brought a new cultural awareness. Thomas joined a German theater orchestra, often giving solo performances. Italian opera companies with orchestras and famous vocalists toured the U.S. Thomas claimed his mastery of a pure violin sound evolved from hearing singers Jenny Lind and Henriette Sontag on their tours.
Maestro Karl Eckert came to the U.S. to lead Sontag's touring orchestra in 1852, and Thomas, at age 16, ascended to the first chair of the second violins; a year later he was concertmaster.
By 1853, he was a first violinist in a section of twenty-one players with Jullien's famous touring orchestra, playing more than 200 concerts. In 1854, Thomas became a first violinist with the Philharmonic Society of New York. A year later, he formed the Thomas-Mason Quartet with pianist William Mason and played matinee chamber concerts in New York City until 1868.
Opera productions gave Thomas his first conducting opportunities with a full orchestra. As concertmaster of the Ullman & Strakosch Opera Company, he performed at New York's Academy of Music and toured with famous soloists.
His playing received rave reviews; a Chicago writer called him "America's most accomplished violinist." In 1859, he stepped in for conductor Karl Anschütz at the Academy of Music in New York. He was invited to conduct again in 1860, and in 1861 at the American Academy of Music in Philadelphia. He began to lay down his bow for the baton.
His Move Into Conducting
Thomas's extraordinary conducting career began May 13, 1862, with his first orchestral concert, including the American premieres of the overtures Wagner's The Flying Dutchman and Meyerbeer's Struensee.
Thomas stated,
What this country needs most of all to make it musical is a good orchestra and plenty of concerts within reach of the people.
He began organizing his own Theodore Thomas Orchestra to perform European music and cultivate American taste for orchestral music. In New York City, Thomas's sixty-musician ensemble had its first evening "soiree" concert on December 3, 1864, which continued in the winter months for the next 14 years!
However, it was his summer, open-air park concerts of symphonic movements and lighter programs that established the popularity of the Thomas Orchestra. He kept busy conducting year-round, and for the 1866-67 season, he acquired the full-time conducting position with the Philharmonic Society of Brooklyn, which he held until 1891.
By 1868, a new concert hall was built in Central Park Garden, a home for his summer night concerts until 1875. It had a roof, potted plants, a fountain, and tables for refreshments. Concerts had three short parts with two long intermissions. Thomas used this concept in Cincinnati, believing tired men needed "elevating mental recreation" to relax after work.
Cincinnati Debut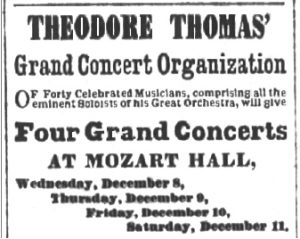 Starting in 1869, Thomas toured his orchestra across the U.S. along what became known as the "Thomas Highway." He left summers open for festivals, traveling to major cities including Boston, Philadelphia, Chicago, Cincinnati, and small towns in between. He returned regularly to New York for summer concerts and concerts with the New York and Brooklyn Philharmonic Societies.
Thomas's Orchestra debuted in Cincinnati with four concerts at Mozart Hall, Dec. 8-11, 1869. The ensemble visited Cincinnati eleven times between 1869 and 1878, sometimes offering nearly two dozen concerts per visit.
Reviews called these the "finest orchestral music ever heard in this city." Thomas must have felt at home in Over-the-Rhine and recognized the German contribution to the choral arts with several Saengerfests. He called the burgeoning local orchestra "superior to that of any city west of New York."
The Genesis of the May Festival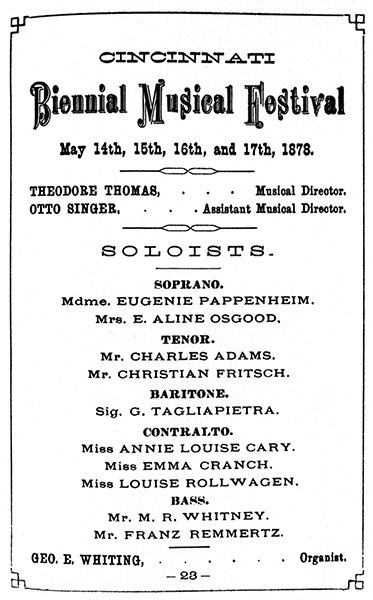 His regular visits spurred Cincinnati's desire to hear masterworks. When Thomas returned in 1871, Maria Longworth Nichols and her husband, George Ward Nichols, invited him to direct the first May Festival in 1873. The Nichols wanted to create a choral-symphonic event featuring singers from local and regional choral societies as a mass choir to perform large works with famous guest soloists.
Thomas brought his own orchestra and added the best local musicians, totaling nearly 100. The successful 1873 and 1875 Festivals in Saengerhalle, with audiences exceeding 4,000, prompted the construction of Cincinnati Music Hall. The third May Festival opened on May 14, 1878. An estimated audience of 6,000 attended the opening with 10,000 more standing outside.
Thomas led what became a biennial event until 1904, giving famous European works their first adaptations for orchestra and chorus. His American premieres included Handel's Dettingen Te Deum, Brahms' Triumphal Hymn, and Bach's Magnificat. He performed the complete works of Bach's St. Matthew Passion and Mass in B Minor, Mendelssohn's Elijah, Berlioz's The Damnation of Faust, Rubinstein's Paradise Lost, Saint-Saëns' Samson and Dalilah, and Handel's Messiah for full orchestra.
A Serious Taskmaster
Thomas enforced strict European rules for rehearsals and concert audiences. He disliked tardiness and ordered the doors closed promptly at the start of concerts. He publicly chastised choir members who arrived late to rehearsals. He was a strict perfectionist, but kind and unselfish.
Audiences, choir, and orchestra members adored him.
The College of Music of Cincinnati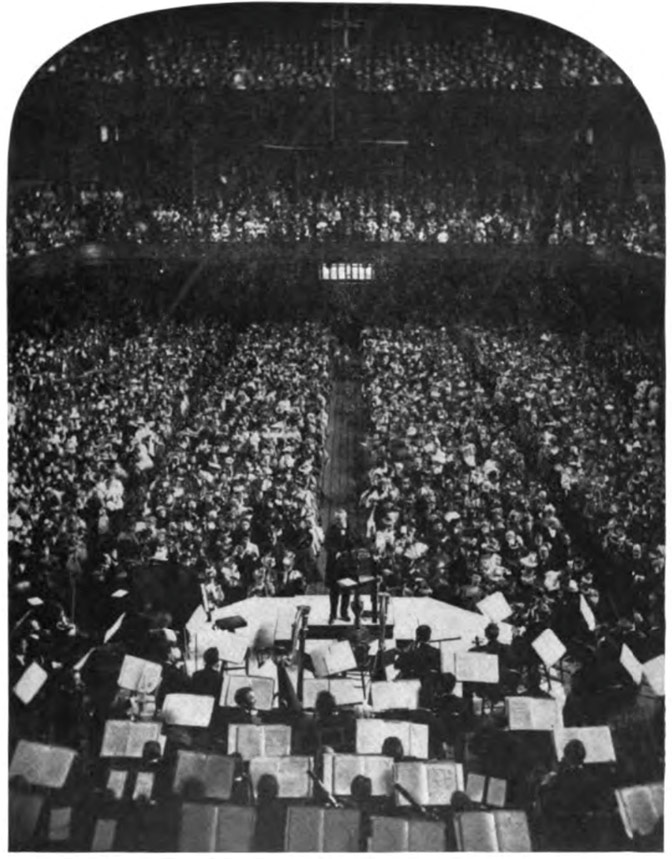 To make ends meet, Thomas ended his Central Park Garden summer concerts in 1875 to travel, but his orchestra eventually disbanded in 1888.
Facing bankruptcy, he sought the security of a regular salary when he became the music director of the College of Music of Cincinnati. Thomas hoped the College would be on par with European conservatories. He felt Cincinnati was the ideal home for a permanent orchestra formed at the College with principal players as teachers.
Thomas founded and directed the College's sixty-member orchestra, a 300-member choir, and a string quartet. He conducted more than twenty symphony concerts, twelve chamber concerts, annual Christmas season concerts featuring Handel's The Messiah, and Pops summer concerts at Mt. Adams' Highland House.
Once a month he returned to New York to rehearse and conduct the Brooklyn Philharmonic. In 1878, he left his New York Philharmonic conducting position to make Cincinnati his permanent home. 
Artistic Differences at the College
During his tenure at the College of Music, Thomas laid the groundwork for professional musicianship in Cincinnati.
Sadly, his role as the College's director was brief, just twenty months (1878-1880). His artistic mission diverged from the College board's vision of a commercial enterprise.
Thomas had a falling out with Board President George Ward Nichols, a businessman who might have interfered with the artistic side, causing both men to step down. Thomas resigned after the 1880 May Festival and returned to conduct the New York Philharmonic until 1891. He led summer concerts in Chicago (1877-1890) while returning biennially to conduct May Festivals in Cincinnati. For his final concert in Cincinnati, at the sixteenth May Festival, May 14, 1904, he conducted Beethoven's Mass in D Major and Symphony No. 9.
Thomas in Chicago
As the founding Music Director of the Chicago Orchestra in 1891, he continued to introduce new works to audiences. He dedicated Chicago's Orchestra Hall on December 14, 1904.
He died on January 4, 1905.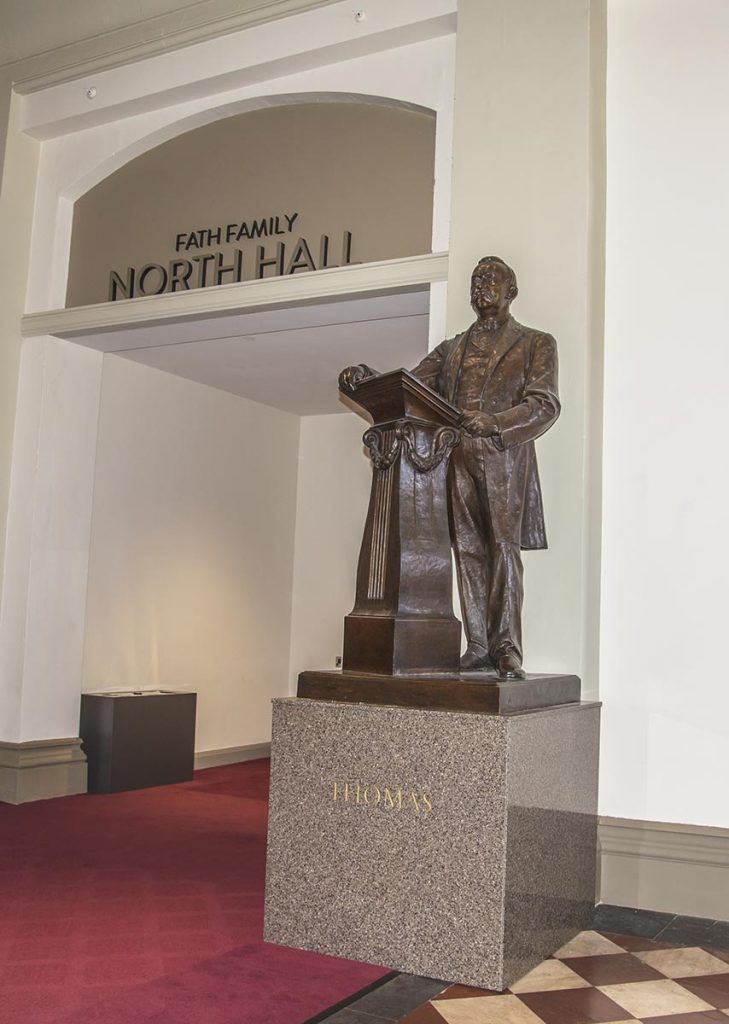 Statue of Theodore Thomas in Cincinnati Music Hall
The orchestra was named The Theodore Thomas Orchestra in his honor until 1912. In 1913, it was renamed the Chicago Symphony Orchestra, founded by Theodore Thomas.
Praise was lavished on him in Cincinnati by the leaders of the May Festival: "What he accomplished for the education of the public and for the cause of music in this city," their minutes stated, "is a part of the history of Cincinnati and of the lives of her citizens, which he enriched and made better, purer and happier by inspiring them with an appreciation of the highest and best forms of music."
The Thomas Statue

At the opening night of the nineteenth May Festival, May 3, 1910, Clement Barnhorn's statue of Theodore Thomas was unveiled. President and Mrs. William Howard Taft attended the presentation.
President Taft spoke and acknowledge the importance of Thomas' leadership and skill.
We are deeply indebted to those who promote education of the aesthetic side of our people and the lovers of this country, and Thomas was the foremost of these… and it is fitting to dedicate a monument to the founder of these musical festivals and to the greatest musical leader the country has known.
Author Thea Tjepkema is an historian and preservationist. She is also a member of the Friends of Music Hall Board of Directors.
Featured Image credit:
Theodore Thomas, conductor on stage for "The Grand Opening Concert in the New Music Hall: The Cincinnati Musical Festival." The Daily Graphic, New York, May 17, 1878