Do you have a bucket list? Are there things you look forward to, things you really want to do while on this earth?
The things we wish for come from the heart. They are tied to joyful experiences, an opportunity to relive good times and adventures that moved us emotionally.
There can also be a "reverse" bucket list – moments or accomplishments that made us happy and for which we are grateful.
Sharing Love
Patricia and James Mack have loved theater organ music for many years. Pat in particular enjoyed hearing the organ music played during intermission at the movies when she lived in Chicago.
This was a love she shared with her husband James. They spent their married life in southwest Ohio and would go to the Music Palace in Springdale to hear organ music played on the Mighty Wurlitzer.
When the Music Palace closed in 2006, they purchased a CD made by Trent Sims, a local theatre organist who played the Wurlitzer years ago at the Music Palace, and who has also played the Albee Mighty Wurlitzer in Music Hall's Ballroom.
CDs are great, but…
It's been many years since the Macks hear the Wurlitzer in performance at the Music Palace. Much has happened in their lives. James Mack is now with Hospice Care of Middletown.
When many people hear "hospice" they think only of "end of life." Where people go when they are dying.
Hospice is so much more! This is something you discover when you or a loved one is in a similar situation. Hospice care focuses on the quality of life rather than its length.
Hospice Care (HC) of Middletown exemplifies that premise. They help their patients and families live each moment that they have been given with as much joy, peace and love that they can.
That goal led HC of Middletown to create and offer patients a "Wish for a Day."
James Mack's wish: to hear the Mighty Wurlitzer organ, live, in Music Hall.
The Albee Mighty Wurlitzer at Music Hall
When the call came to the Friends of Music Hall office, Ramona Toussaint – Tour Director and only employee – picked up the phone. A creative individual, Ramona started to envision what we could do to help Mr. Mack's wish come true. After all, she said, "this is a perfect example of what Music Hall has stood for a century and a half: memories, community, a connection to our roots and where we come from."
Working with Judy Vincent, Volunteer Coordinator, and Jeaneen Rausch, Social Worker at HC of Middletown, Ramona crafted a day of memories and music.
Mr. and Mrs. Mack were so excited, they couldn't sleep the night before.
The Macks at Music Hall
As they had not seen the revitalized Music Hall, Ramona arranged for a tour for Mr. & Mrs. Mack, and for their caregivers and volunteers at HC Middletown.
Volunteer Program Guides Sue Monteith and Becky Moeggenberg conducted the tour and shared entertaining stories about Music Hall's history.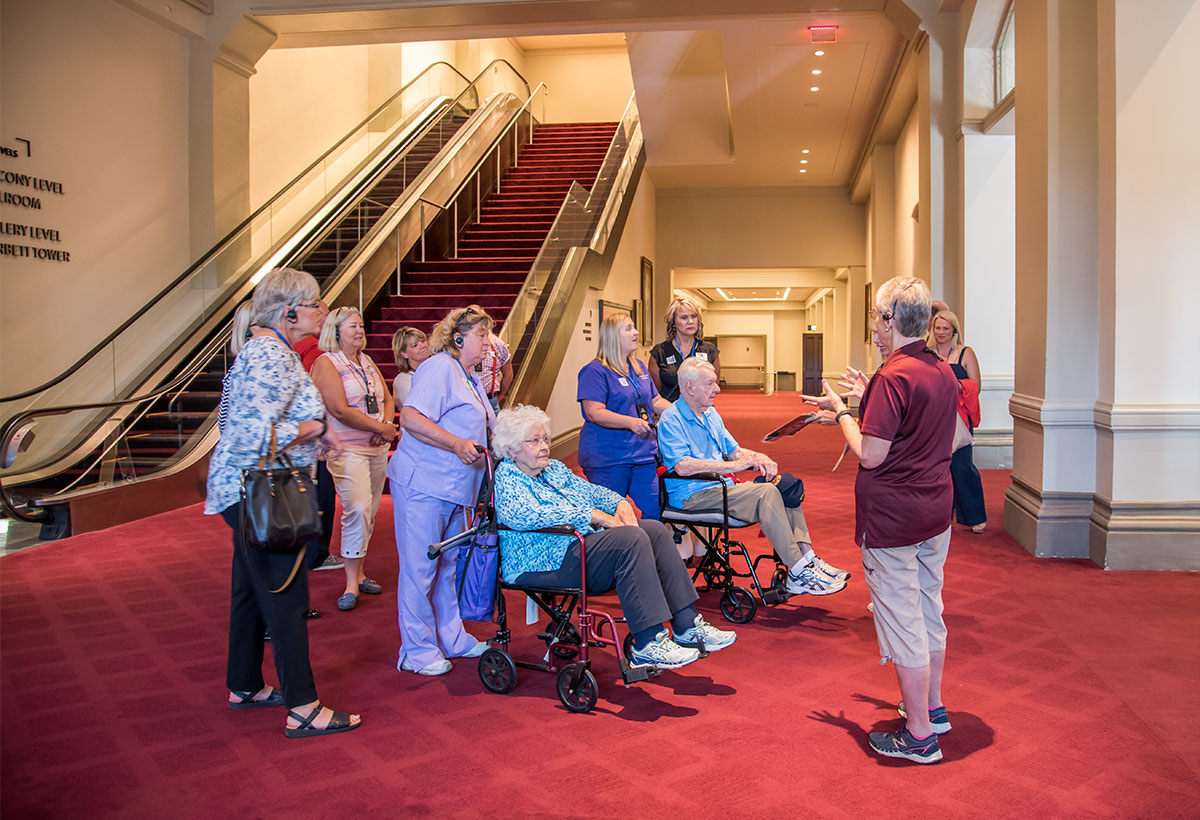 While they were excited about the Wurlitzer, both especially loved visiting the Taft Suite, seeing the hand-carved wooden panels that once adorned the huge Hook & Hastings organ, and hearing the stories behind the beautiful wood carvings and designs.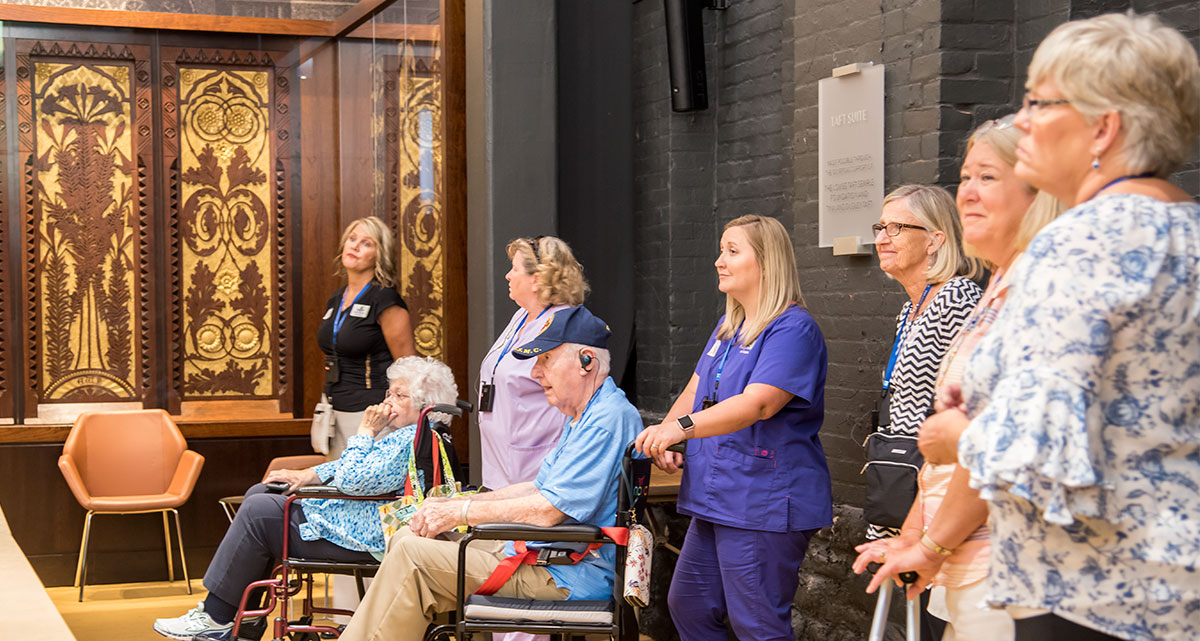 SPMH too was excited to help fulfill the "Wish for a Day." Member donations help SPMH fund tours and educational opportunities for nonprofits.
The Board of Directors was delighted to be able to help. Board members Holly Brians Ragusa and Ken Kreider joined the tour.
A Wondrous Moment
Our hearts were filled with joy for the Macks as they listened to "Somewhere Over the Rainbow" on the Albee Mighty Wurlitzer. We were deeply touched when James reached over and took Pat's hand into his.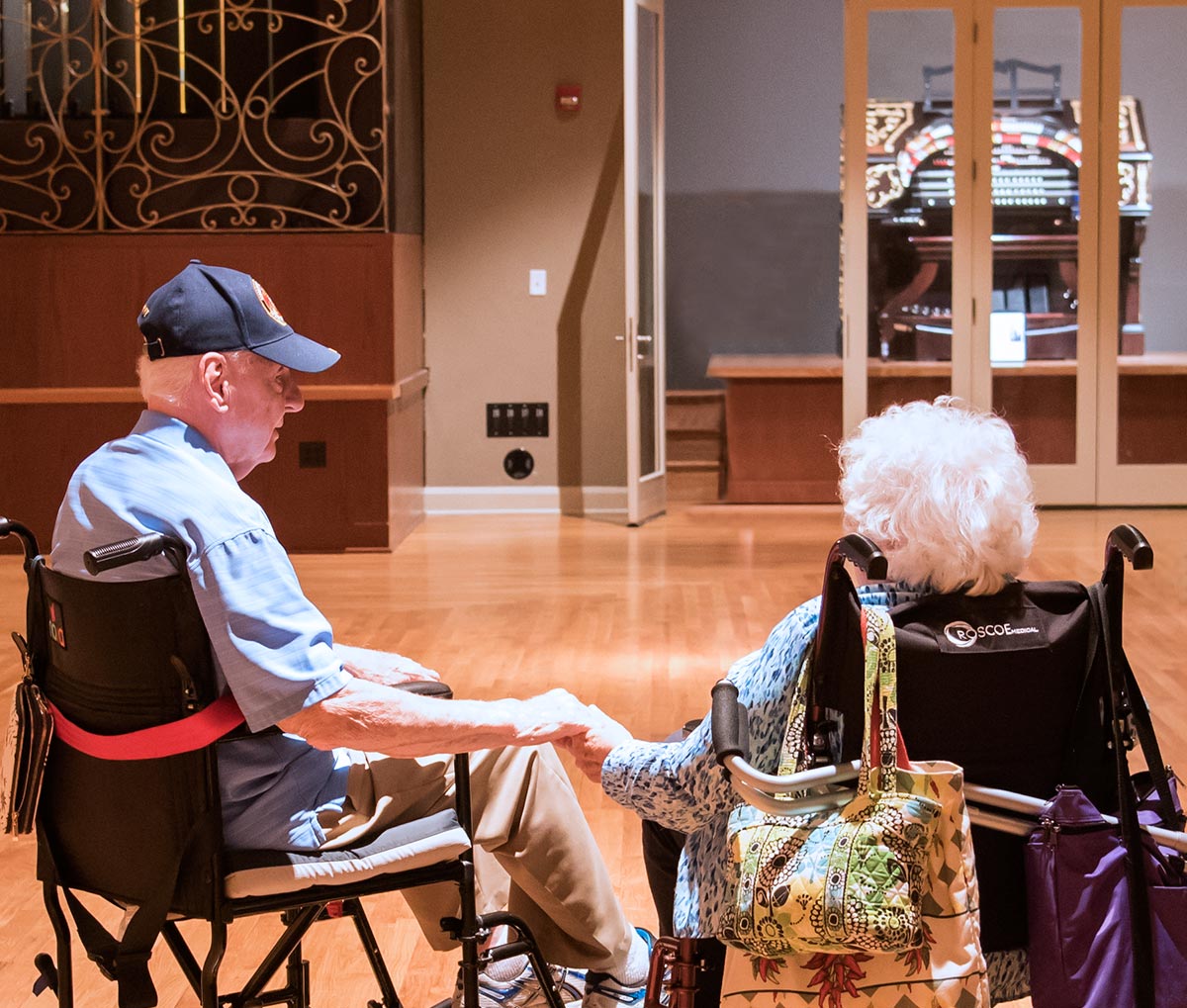 As it turned out, it was also Mr. Mack's 91st birthday, and the couple was celebrating their 65th anniversary. They enjoyed music from the Wurlitzer while the HC Middletown staff and volunteers set tables for lunch and a birthday celebration.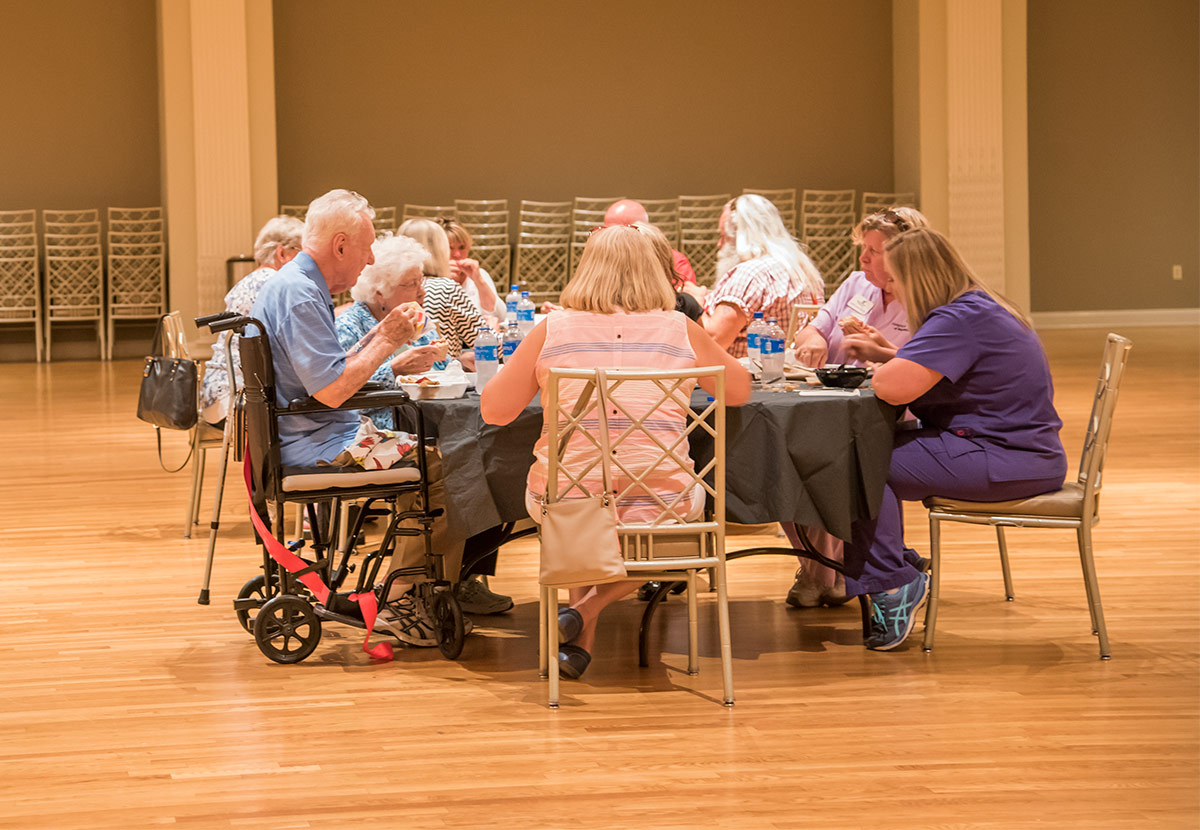 Watch the video Hospice Care of Middletown created of Mr. Mack's visit to Music Hall.
The Power of a Wish: Giving Joy
The mission of SPMH is to preserve Music Hall for future generations. With that in mind, Ramona Toussaint imagined that, not only is SPMH the steward for Music Hall's future, but "Music Hall is the steward and keeper and appreciator of this moment, and everyone's graduations, weddings, proms, ceremonies, performances and special moments that occur in the future. It really made concrete why SPMH exists… there is no organization like it. I was so proud."
Everyone at SPMH (now Friends of Music Hall) feels there is truly no better feeling than to make someone's wish come true.