"In Mr. Springer the citizens of Cincinnati recognize one to whom they are indebted, not so much for the money he has given for their city, as for the great good the Music Hall has done in making it one of the leading musical cities of the present day. He has erected an imposing pile which will ever stand sacred to the memory of a loved citizen."
The Cincinnati Enquirer, November 17, 1880
Take a moment today – the 220th anniversary of Reuben Springer's birth — to reflect on his generosity and foresight in providing funding for the construction of Cincinnati Music Hall and its wings. This is but a brief story, recounting highlights of Springer's life and work.
From a Humble Beginning
Reuben Runyan Springer knew firsthand the value of hard work. He was born in Frankfurt, Kentucky and left school when he was 13 to clerk for his father at the Post Office. When Reuben's father died in an accident, he succeeded him as Postmaster.
However, it just wasn't the perfect fit for him. After two years behind a desk, he headed toward the mighty Ohio to become a clerk on a river steamer, a job which involved physical labor.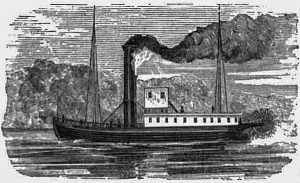 It was his decision to transfer to another, larger boat that sealed his fate. This steamer ran between New Orleans and Cincinnati, and was owned by the firm Taylor, Kilgour and Company.
When he was 29, he met and then married Jane Kilgour, the daughter of one of the owners.
How Reuben Springer Made His Fortune
Springer's father-in-law was part owner of Taylor, Kilgour and Company — a wholesale grocery firm. Due to a solid safety record and fleet of fast boats, Taylor-Kilgour had a near monopoly transporting goods throughout the Ohio Valley and into the South.
After marrying Jane, Reuben joined the firm. Some reports say he replaced his father-in-law; others indicate that he used his savings to buy into the line that owned the boat on which he had worked.
Whichever report is true, he worked so hard that, after 10 years in the position, his health suffered. In 1840 Springer retired from the firm. That same year, the firm was dissolved, leaving the partners – including Springer – very wealthy men.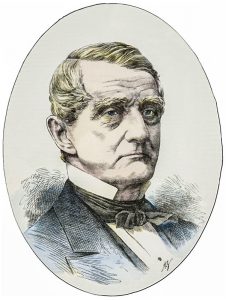 Recovery and Refinement
Jane Kilgour Springer is believed to have been an influence on her husband in many ways. During his convalescence, Reuben converted to Catholicism, and he remained devoted to his faith for the remainder of his life.
In those years, he and Jane often traveled to Europe. These trips possibly became the instruction he never received; during this time Springer developed extensive knowledge about — and a deep appreciation for — art, music and literature.
A Man of Character
When Jane was paralyzed, Mr. Springer stopped attending parties and concerts and spent every evening with her, until her death in 1868.
Those who knew Reuben Springer the businessman described him as deliberate and exacting. Tall, dignified and impeccably dressed, he exhibited a rare modesty for a man of his position and wealth. Moreover, Springer deliberately refused public acknowledgement and publicity of any kind.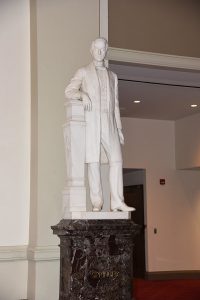 In 1882, two short years before his passing, a statue of Reuben R. Springer was erected in his honor — constructed and raised, even though he protested the effort. He also refused to attend the unveiling in Cincinnati Music Hall.
He didn't like to flaunt his wealth. And actually his net worth didn't match that of many other citizens, such as the Longworths.
It is what he did with his wealth that we remember today.
Quiet Generosity



As a citizen of the city where he made his fortune, Mr. Springer felt compelled to give back — and he did so in many ways.
He supported individuals and families who had fallen on hard times. His largesse extended to hospitals and orphanages.
One of his first major contributions was to St. Peter in Chains Cathedral. And he paid in full the cost of the Cathedral School. Springer donated the funds to build Springer School, to serve children with special needs.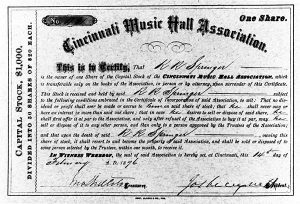 For the arts alone, Mr. Springer contributed — that we know of — $370,500, quite a substantial amount in the late 1800s. That's not only for Cincinnati Music Hall and the Exposition wings, but also for the construction of buildings for the College of Music and the Cincinnati Art Museum.
The inflation calculator equates that amount to over $8 million in 2017 dollars.
Further, in his will, the Art Museum received Springer's entire, inestimable fine art collection, treasures he acquired during those many European trips.
It is testament to his life and work that, upon his death, the entire city mourned. At his funeral service, the Cathedral was packed. The overflow — a huge crowd of rich and poor, black and white — stood for hours in the cold December rain, dispersing only after the funeral procession had passed.
In Springer's Honor
Reuben Springer's influence lives on today. The precedence he set in contributions and bequests continues to support Music Hall. Thousands of citizens have donated to keep Music Hall healthy and vibrant, most recently for the revitalization of Music Hall.
There could be no greater honor to Springer and to us.
When visiting Music Hall, and seeing the statue of Reuben Springer, keen-eyed individuals have noticed part of his clothing isn't quite right. Read the story about the one button left undone on Reuben Springer's vest.