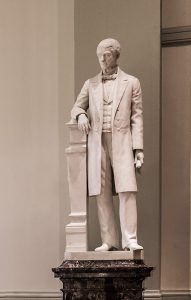 Considered the founder of Cincinnati's historic Music Hall, Reuben Springer was a businessman and philanthropist whose contribution insured the construction of Music Hall.
by Frederick Warren
Writer and Friends of Music Hall Volunteer
The Gentleman Springer
Those who knew Springer described him as deliberate and exacting.
Tall, dignified and impeccably dressed, he exhibited a rare modesty for a man of his position and wealth.
Springer deliberately refused public acknowledgement and publicity of any kind. In 1882, two short years before his passing, a statue of Springer was erected in his honor in Music Hall lobby,  though he protested the effort and refused to attend the unveiling.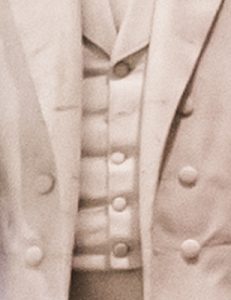 A Closer Look

Looking at the statue, those with eagle eyes may notice that the second button from the top of Springer's waistcoat (or vest) at first glance seems to be missing; closer examination reveals that it's merely unbuttoned and peeking out from underneath. How does this fit in with his reputation for impeccable dress?
Upon Further Study…
For the answer we turn to the famous portrait of "Napoleon in His Study," painted by Jacques-Louis David in 1812, in which Napoleon's hand is thrust into his coat.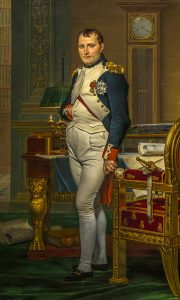 The pose was commonly used in portraits of the famous and powerful long before he was even born. In 1738, Francois Nivelon wrote in "A Book of Genteel Behavior" that the hand-inside-coat pose signified "manly boldness tempered with modesty." It was used so often, it became a cliché, and fell out of style well before the end of the 18th Century.
David revived a passe English artistic technique to boost France's Emperor.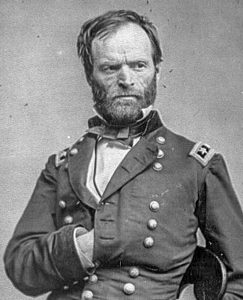 This breathed new life into the practice just as photographic portraiture was coming into its own. Many of the subjects who sat before Mathew Brady's camera used the Napoleonic posture, as in this one of General Sherman.
Sculptor Prevails over Subject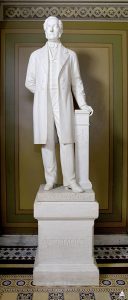 It is unlikely that our modest Reuben Springer would have wanted to be portrayed this way.  But we can speculate that the sculptor Preston Powers wanted to hint at the conventional pose by leaving the button undone. In fact Powers used the same pose for his statue of Senator Jacob Collamer of Vermont, installed in the United States Capitol in Washington D.C.