Meet Friends of Music Hall's Executive Director
by Annette Januzzi Wick,
Author, writer, Friends of Music Hall board member.
Mindy Rosen claims she doesn't have one big idea in her new role as the Executive Director of the Friends of Music Hall. She has a lot of small ones.
The former executive, who once worked in the non-profit and community sectors in Los Angeles and Denver and recently was executive vice president and interim director of Cincinnati's DCI, came prepared with talking points about her tenure, begun in December, 2019. Before we launched into a conversation about her work and vision, I asked Mindy a few informal questions.
What aspect of Cincinnati do you most identify with?

Mindy was raised in Los Angeles and went to college at Miami University.
"In L.A.," she said, "I developed a deep appreciation for the arts, for how serious they are about their offerings. In Cincinnati, I see that in our MusicNow festival—similar to L.A.'s Redcat avant-garde music festival (Redcat is an acronym for the Roy and Edna Disney CalArts Theatre). But Cincinnati has a world of arts offerings that keep me excited about the city."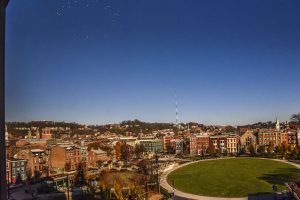 "And I love the beauty of Cincinnati. It's stunning." When I mention our fifty-two neighborhoods, Mindy replies, "I love the fact we have 52 neighborhoods. I once lived in Clifton and when I moved to Denver, I had difficulty finding neighborhoods that resembled those here. They were less obvious, less defined."
Now, each day she walks or takes the streetcar from the downtown apartment she shares with her husband, Steve, to Over-the-Rhine and takes up residence in the Friends of Music Hall's upper floor office.
Mindy leans across the table. "Do you know I have a window?" she asks. Her eyes sparkle as she discusses the structure of her day, arriving by eight a.m. and departing at five. "That's my style." She often finds herself at meetings for coffee or lunch to solicit ideas and spend time in the community.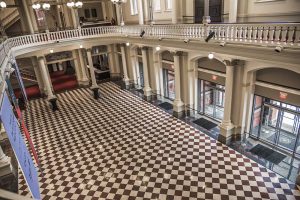 When you walk in or through Music Hall, what element strikes you in the heart?

"Some would say the chandelier. But for me, looking down from the second-floor balcony onto the grand foyer, I love the patterns of the historic red slate and white marble floor coupled with the white columns. I used to sew a lot. I'm drawn to the patterns that one can perceive from that viewpoint."
What are your first priorities as Executive Director? 
Mindy will apply her sewing background as she begins to meet with
board members
and the
volunteer program
guides who offer
Friends of Music Hall's popular historic walking tours and presentations
. The
group of guides
is comprised mostly of retired teachers and historians who want to share their knowledge and passion with anyone who will listen.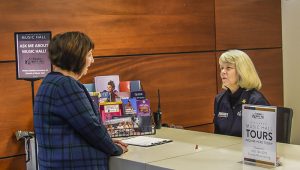 "They were the first ones I wanted to meet with. To understand how their work comes together and the challenges they face. One of my priorities is to streamline the process of booking tours. We have to juggle calendar dates with other the tenants of Music Hall (CSO, Cincinnati Pops, Cincinnati Opera, Cincinnati Ballet, and the CAA). We receive lots of emails a day asking for information about our tours. So that's my first priority, how to manage, communicate and book effectively.
"I have another goal to further our membership engagement. I want to look at what events are intriguing to our members and how can we grow our membership."
I asked Mindy what would she say to our server in the café to convince him to join the Friends of Music Hall.
"I would talk to him about supporting the mission (to preserve, improve, promote and provide education about Cincinnati Music Hall, the premier cultural center of the region and a National Historic Landmark of international significance). But I would focus on ownership.
"We have to make people care more about the building and our efforts to preserve it. If we focus on the feeling of ownership, that will deepen our relationships, increase our member numbers, and keep them feeling engaged in the mission."
What are other entities, similar to the Friends of Music Hall, doing that can be replicated?
"I visited Carnegie Hall not too long ago. Inside, they have an exhibit with the history of the building and performances. We used to have something like that in the rear entry prior to Music Hall's revitalization." The timeline was set aside, as it was not entirely correct. Mindy would like to someday resurrect it or replace it with something interactive. "I joined the membership for Carnegie Hall, but (to date) still haven't received a welcome email. Here, if you join the Friends of Music Hall, we generate a letter from the board right away."
What are the Friends of Music Hall doing well? Where can the non-profit improve?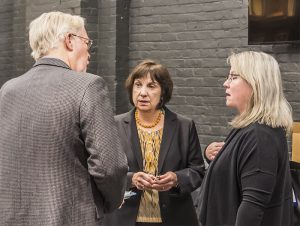 "With the Friends of Music Hall, I was very impressed with the level of board engagement. I was blown away by marketing plans,
architectural and historical knowledge and research
, our dedication to the Wurlitzer organ and, of course, our support functions.
"But I also want to emphasize with the board and volunteers to always be thinking about inclusivity in everything we do. We have a few programs in our speaker series coming up—Under One Roof and Muses of Music Hall—that lift up some lesser-known contributions to history of Music Hall. But we need to work harder. We need to educate people."
What's your big idea that you could implement given more resources?
"I have lots of little ideas," Mindy first responded. Then, again leaning over the table as if sharing a secret in the mostly empty café, she said, "San Francisco has a silent movie festival. Here, the Friends of Music Hall hosts
silent movies
with our
Wurlitzer organ
. We could do a silent movie festival here."
Mindy Rosen's ideas of streamlining processes, ensuring inclusivity and thinking beyond regular programming to a silent film festival aren't such little ideas after all.
Do you have a big idea (or small one) related to the Friends of Music Hall membership, tours and programs, or something else? Email Mindy Rosen at mrosen@friendsofmusichall.org.