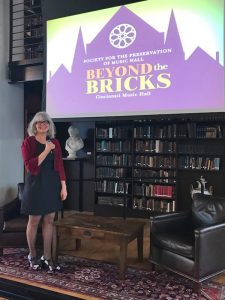 SPMH hosted a wonderful presentation event at the Mercantile Library last night made possible by one of our board member's support and generosity. Phillip Long sits on the Board of Directors for SPMH and is also a member and supporter of the Mercantile Library. When he heard about the event being planned between these two organizations, he graciously offered to underwrite the evening. We are all thankful for the dedication and vision Phillip brings to SPMH.
Over 120 people attended the event to hear SPMH Board member and preservationist Thea Tjepkema, present the many accomplishments made by SPMH during the renovation. Thea also detailed future projects in the works that SPMH hopes to complete. Thea's beautiful PowerPoint photos recalled the grand past of this iconic structure, from its inception as the Peoples' Hall in the late 1870s through to modern day Cincinnati Music Hall and 3D-digitized modeling for restorations of the future.
The Mercantile Library
For those of you unfamiliar with the Mercantile Library, it was founded in 1835 by 45 men looking to make educating oneself possible through a network of resources. The Mercantile is one of about two dozen membership libraries that still exist today.
Off the elevator, you'll walk through glass doors, and feel you've stepped back in time. Warm wood and leather bindings. Stacks of books reach skyward. Large windows fall from the high ceilings bringing light into the room at beautiful angles. You find yourself wanting to settle into a chair with a book and without time constraint.
The Mercantile Library is steeped in rich history, much like Cincinnati Music Hall. It's no wonder we overlap our passions here.
The overlap of Mercantile Library members and SPMH members and friends seem to make perfect sense. Both organizations truly understand that in order to value and protect history, you must invest some time and resources in doing so.
Thea Tjepkema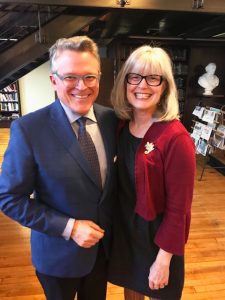 Thea's talk demonstrated this need as she revealed not only her intricate research and our attempts to preserve and acquire our treasured past, but also shared detailed plans to restore the finials and cresting original to the building. Her infectious passion and dedication to preserving and restoring Music Hall were evident throughout the talk.
Thea's husband, John Morris Russell, conductor of the Cincinnati Pops Orchestra, introduced his wife. He spoke of her expertise and his pride in seeing what she has been able to bring to SPMH and to the renovation of the Hall.
We couldn't agree more and are thankful to have such commitment on the board guiding our mission to preserve.
We at SPMH are excited about the new successful partnership with The Mercantile Library and hope for more opportunities to bring engaging events for our like-minded members in the future!
by Holly Brians Ragusa
Member, SPMH Board of Directors