In mid-January, 1991, Gayley Hautzenroeder took her orchestra from Northwest High School to Music Hall to observe a rehearsal of the Cincinnati Symphony Orchestra and Jesús López-Cobos, who was the CSO Music Director and Conductor at the time. Prior to the visit, she worked with Mack Richardson of CSO rehearsals to develop an "open rehearsal" style of observation for high school students interested in following in a musical career.
The CSO program was successful for high school orchestras and directors for several years. Included in our visit with the Symphony was the opportunity to ask questions of Maestro López-Cobos and answer 'guided questions' from a worksheet each student completed. Through asking questions, students were given the opportunity to see a little of the professional musician's life as well as observing a professional rehearsal.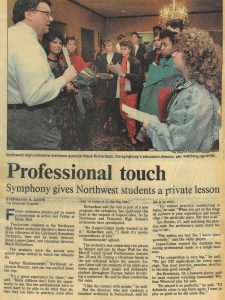 This educational outreach by the CSO was exciting news and "The Cincinnati Enquirer" and the "Suburban Press" were there to capture moments of the visit.
As pictured in the color photo by the "Enquirer," Nicole Cooley and Gayley Hautzenroeder are on either side of Mack Richardson as the students were asking questions. This was at the conclusion of our rehearsal observation and tour of Music Hall.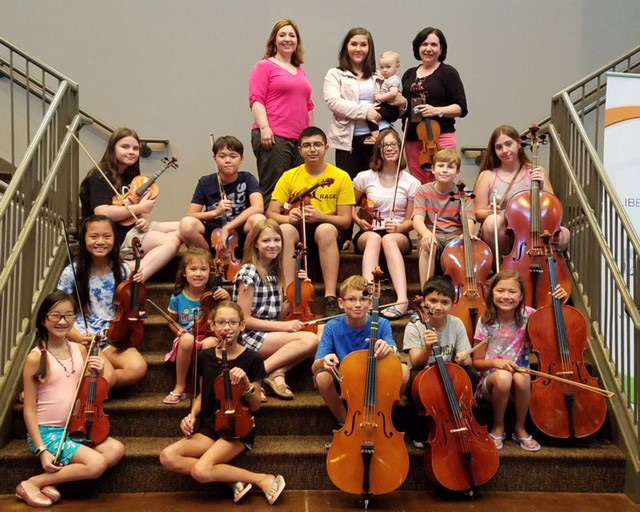 Fast forward to 2018
On June 14, Nicole Cooley-Fink, a music teacher in Lakota Schools and director of the West Chester Silver Strings, brought some of her orchestra students to visit Music Hall. They were guided by her former orchestra director Gayley Hautzenroeder, and fellow SPMH tour guide, Becky Moeggenberg.
The group of 28 students and parent chaperones were able to learn a lot about the history of Music Hall, the Cincinnati Symphony, and the Over-the-Rhine area of Cincinnati with its rich musical history.
Preserving Music Hall for Future Generations
This visit by the Silver Strings and their director brings Music Hall tours around full circle from teacher to student, one generation to the next.
We are so lucky to have such a beautiful building and National Landmark to share with the young people of Cincinnati via the SPMH Tours and Symphony Programs. It is a joy to share these timeless treasures with youth and the community.
SPMH Beyond the Bricks Education Program and Tours
Educators throughout the region have the opportunity for their students to learn the rich history of Music Hall.
Get information on the Education Outreach Program.
Get information on how to bring your students to Music Hall for a tour.
by Gayley Hautzenroeder
SPMH Volunteer/Program Guide