SPMH is always excited to shine a light on our awesome and amazing Volunteers and celebrate their service to our organization, Music Hall, and the Greater Cincinnati Community.
This week, National Volunteer Week offers an opportunity to honor our Volunteers and recognize their important roles in preserving, improving, promoting, and educating our community about Cincinnati Music Hall.
SPMH Volunteers are Essential

First and foremost: our Volunteers are SPMH. While the SPMH mission is mighty, this organization is small and volunteer-driven. Volunteers help with administrative work in the office, research and write the tours, give tours and go out into the community to make presentations about Music Hall through the SPMH Speakers Series. They also go into the classroom and support educators with curriculum-based, customized lessons.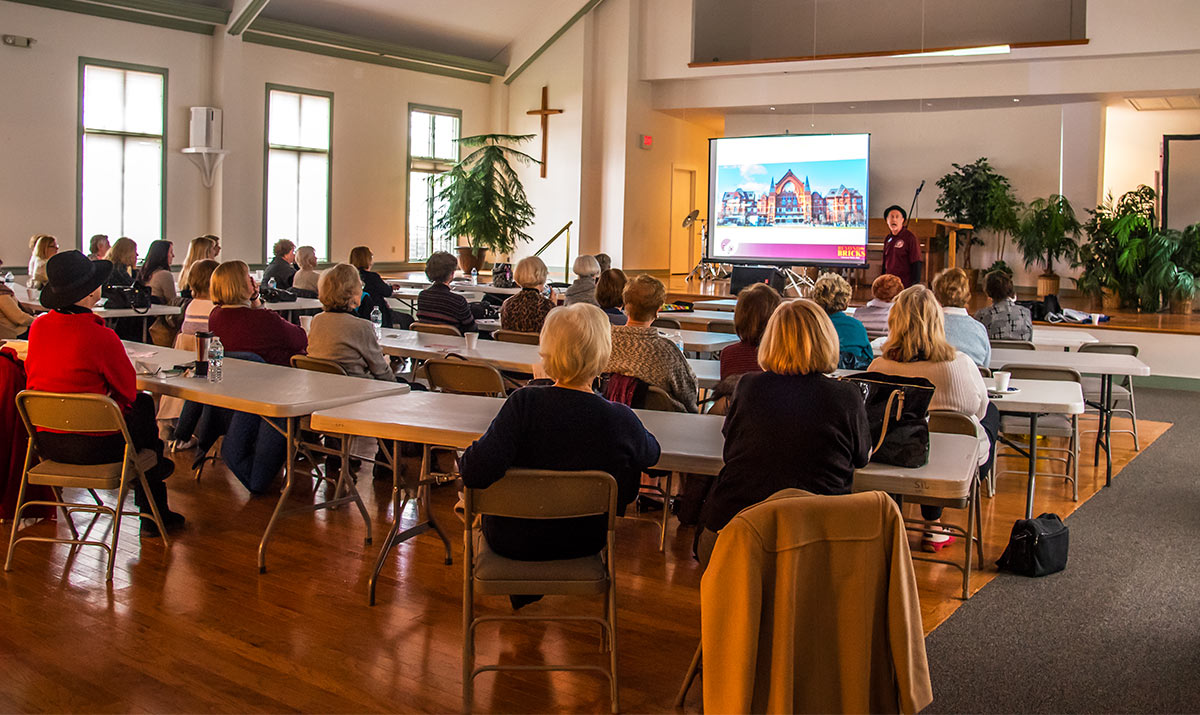 SPMH Director of Tours and Education Ramona Toussaint – our only paid full-time employee – manages everything "volunteers."  Ramona and volunteer educators wrote and, in partnership with the Cincinnati Arts Association, present an interdisciplinary and interactive presentation to students in grades 3-6.
You'll even see SPMH volunteers at events in Music Hall, such as Cincinnati Symphony Orchestra and Cincinnati Ballet performances. As a "Concert Concierge" each volunteer is available to answer questions about the history of Music Hall and help guide new visitors through the facility.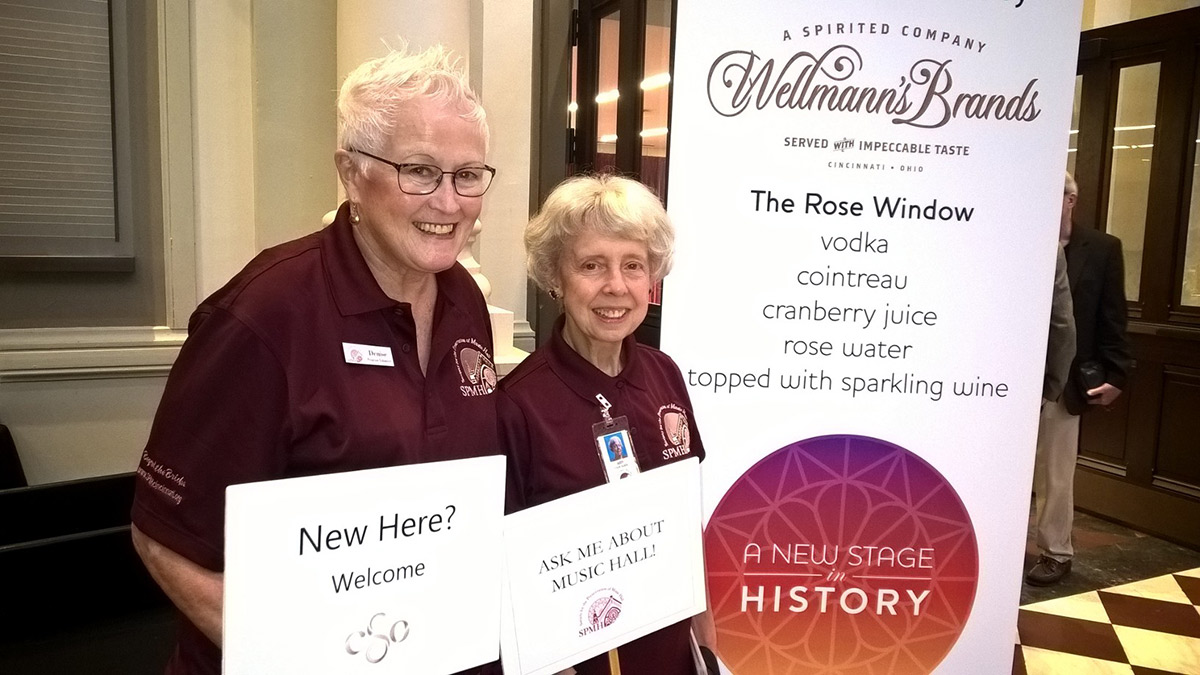 Our newest endeavor is the Information Desk in the Music Hall Ticket Office. Open daily from 10am until 2pm, volunteers greet visitors and answer questions about Music Hall. When it's not in use, visitors can see the elegant, newly-remodeled Springer Auditorium.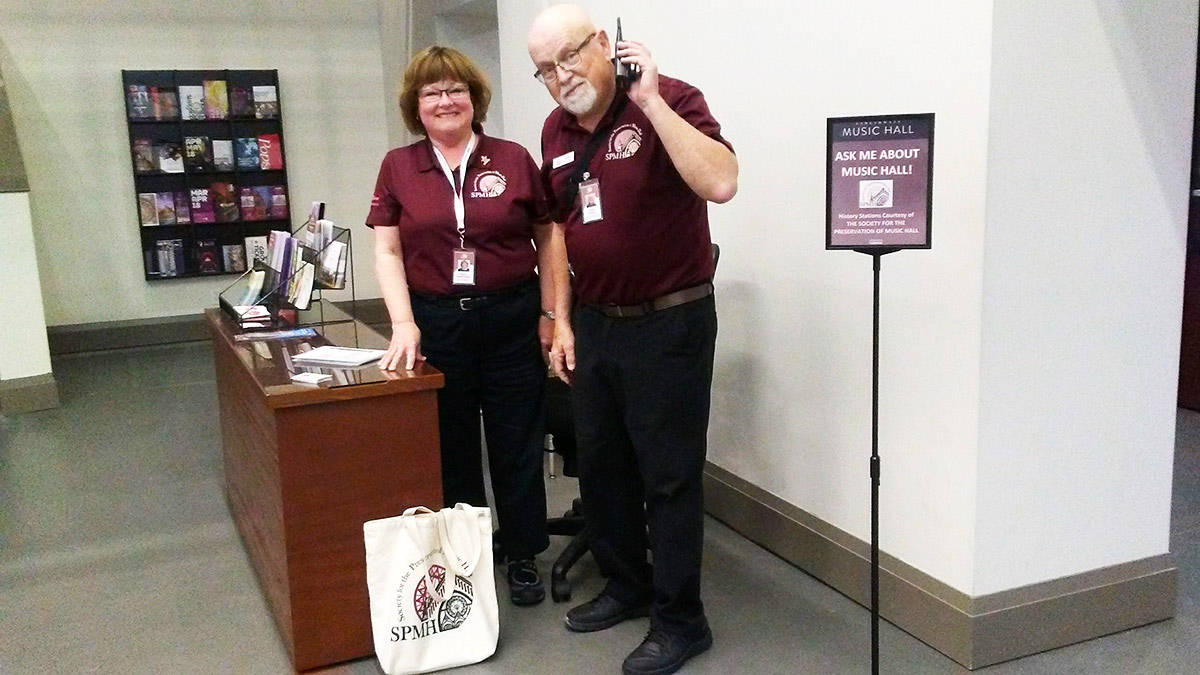 From a tour attendee:
A city is often judged by the outside world by its performing arts scene & Cincinnati Music Hall is world class facility. It deserves a tour on that same level. What this tour does best is contextualize the history of the Music Hall & its gradual evolution into what we know it as today.
SPMH Volunteers are Skilled
Our volunteers are highly trained. Each is a Certified Tourism Ambassador, having attended a national customer service certification program through Cincinnati USA.
Volunteers are required to attend – and pass – orientation, rigorous training including classes and independent study regarding the history and architecture of Cincinnati Music Hall, and emergency and safety. Before they can give tours themselves, they must shadow experienced Program Guides and demonstrate presentation and customer service skills. In total, 24 hours of training.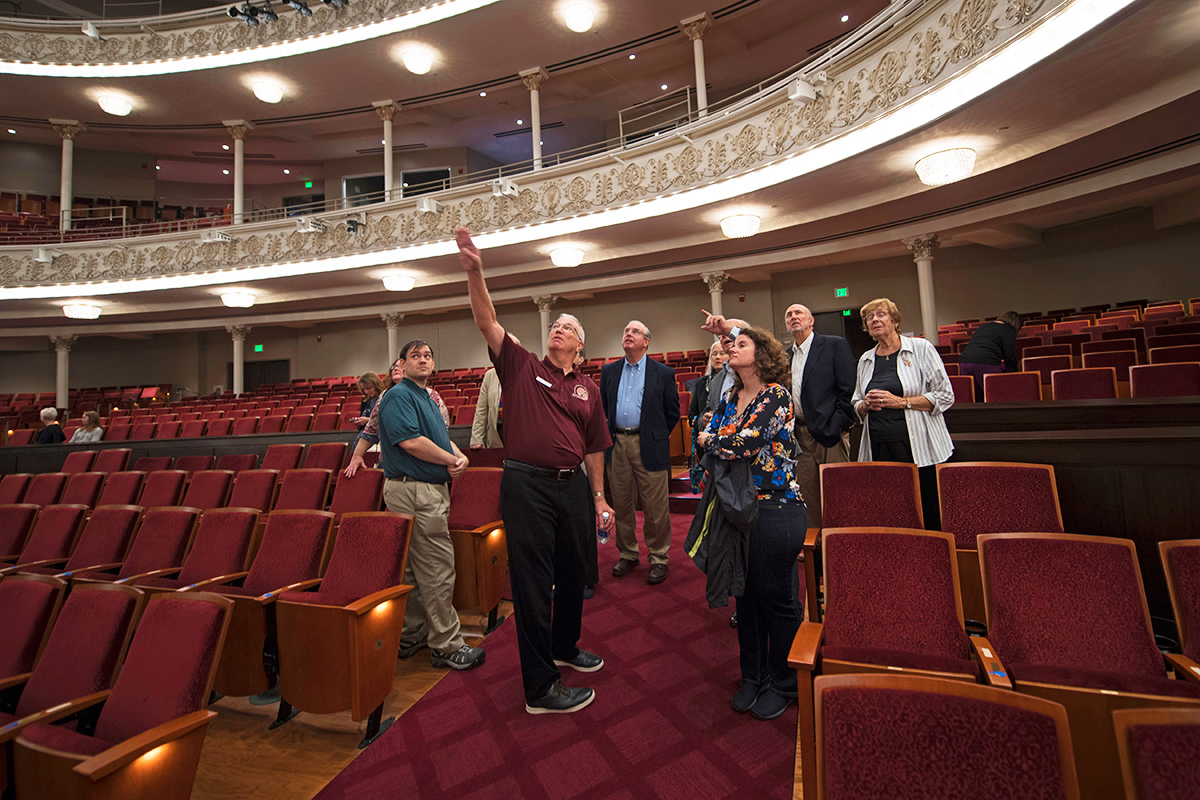 To gain acceptance into the program, they also need to commit to attending a minimum number of monthly meetings and enrichment opportunities, and to work a minimum number of hours a month.
From a teacher:
(We) wanted to take a small moment to thank you very much for your support. The speakers and donations received overwhelmed our students with pride that their community supports their learning. We can't thank you enough for your effort in making a difference, and we hope to continue this partnership.
SPMH Volunteers are Passionate
Each volunteer has his or her own reason for dedicating precious time and effort towards SPMH and Music Hall. You can read their stories in the Volunteer section of this website.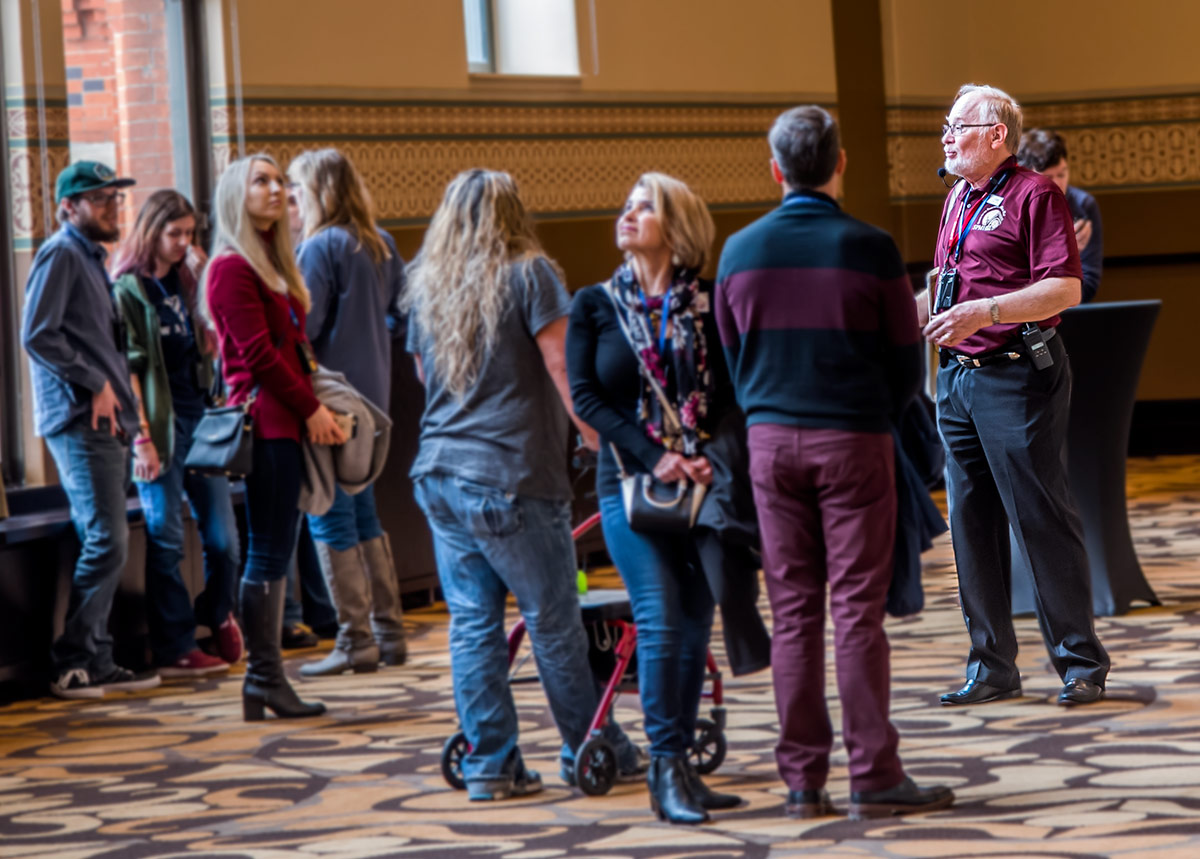 Many of our volunteers also give generously of their time to other organizations, such as the CSO and May Festival, Children's Hospital Medical Center, Music Hall Renovation Company, Harriet Beecher Stowe House, Cincinnati Nature Center, the Public Library, and the Corporation for Findlay Market, to name but a few.
From the manager of an independent living community:
That presentation was AWESOME!!!
SPMH Volunteers Make a Difference
It's been said "the value of volunteers is not just a dollar figure." This is so true! It is impact. It is measured in lives uplifted – both those of the person served and of the volunteer.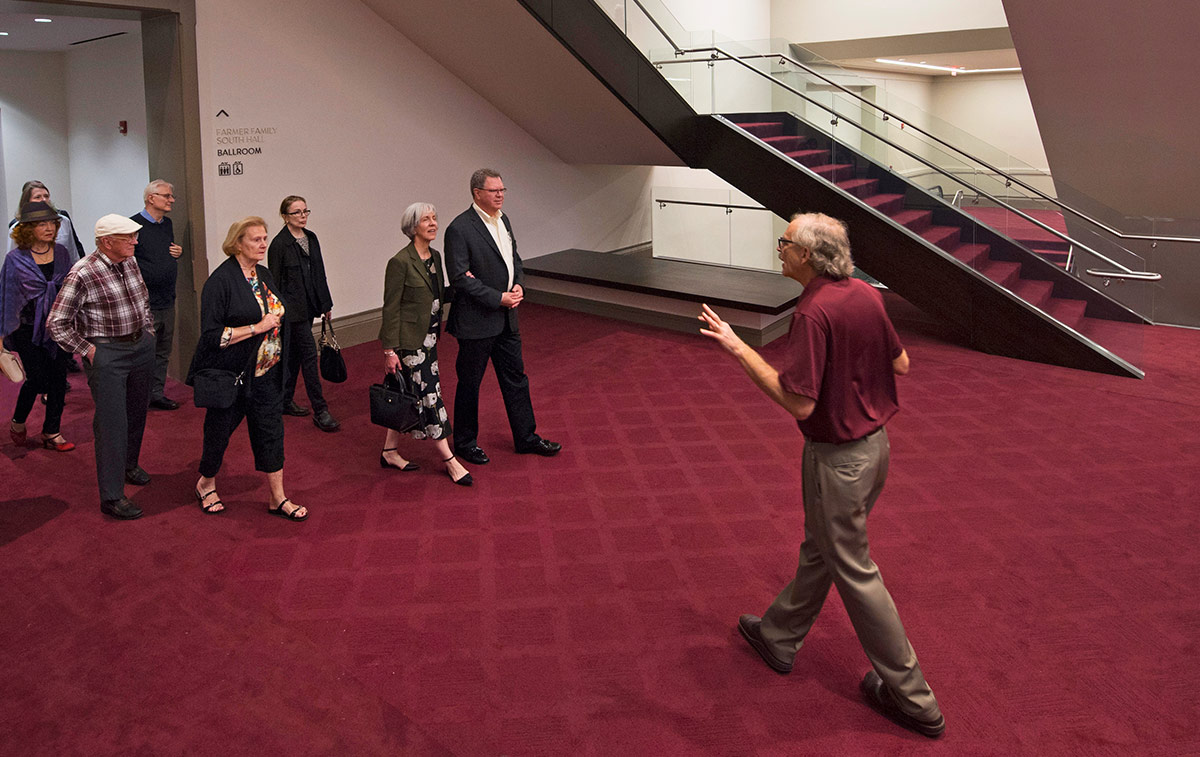 SPMH receives letters and emails from people who have attended tours at Music Hall or been in the audience or classroom when a volunteer makes a presentation about Music Hall. A small sampling of those comments has been presented at each section of this post. One comment in particular emphasizes how our volunteers have had an impact on individuals in our community.
From a student:
…you probably don't remember me, but I was the average height kid with messy brown hair. I was part of the school that toured the music hall several weeks ago. I loved touring the music hall so much! It was interesting to see how much you knew about the building and how you were able to answer any questions we had about it. Your respect and appreciation for the building was obvious. You kept me engaged as well as making me want to come back.
The photos you see here show just a few of SPMH's amazing volunteers. We invite you to come to Music Hall to take a tour, attend an event, or just to say hello to these fantastic individuals. Be sure to read their stories on the Volunteer pages of our website.
And feel free to sign up as an SPMH volunteer!