At the February Board meeting, the board of directors received several special gifts.
Otto M. Budig, Jr., chairman and leader of the Music Hall Revitalization Company (MHRC), presented the congratulatory proclamation from the Ohio House of Representatives.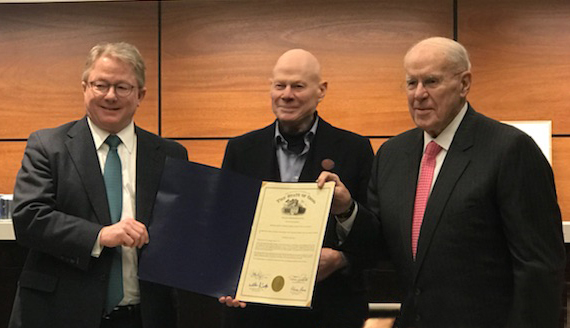 This document was read at the ceremonial ribbon cutting for the reopening of Music Hall. The proclamation makes note of the fact that Music Hall "has enhanced the quality of life" within the neighborhood and made "generous contributions to Cincinnati's cultural heritage."
Jim Tarbell, former SPMH board member and long-time Over-the-Rhine resident and supporter of Music Hall, spoke next. He related stories about his upbringing in the West End, in the shadow of Music Hall. He shared that he's loved Music Hall all his life, and that his first date with his future wife occurred in Music Hall.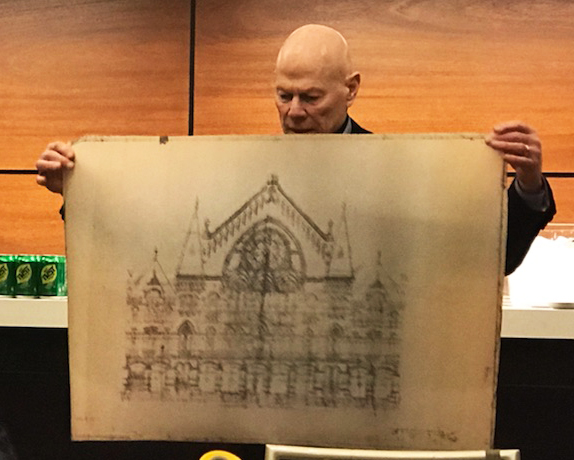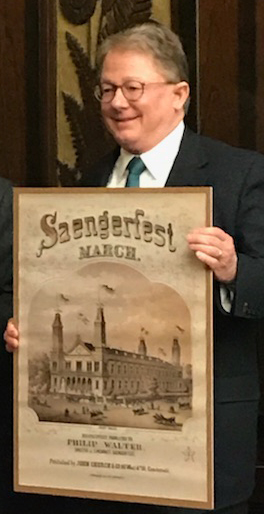 Mr. Tarbell reached into his personal collection to donate to Friends of Music Hall a poster featuring Saengerfest Halle – the predecessor of Music Hall – and several historic documents: an architectural rendering of Music Hall and an 1875 May Festival program .
It was during that 1875 May Festival that a serious storm occurred. The conductor, Theodore Thomas, halted the performance. The sound of the raindrops hitting the tin roof was loud enough to drown out the orchestra and he just couldn't hear the musicians.
It is said that, during this lull, businessman and arts supporter Reuben R. Springer determined that he would push for the construction of a permanent structure for musical performances.
Our Music Hall Archives
Friends of Music Hall has a Music Hall archive and will continue to collect related assets. We are not the owner of Music Hall – that's the city of Cincinnati. Our organization is not the lease holder; MHRC is. And – Friends of Music Hall is not Music Hall manager – that's the Cincinnati Arts Association.
Our organization is comprised of "Friends of Music Hall" and, as such, strives to fulfill our mission, which is to preserve, improve, promote and educate everyone about Music Hall.
If you have anything related to the history of Music Hall, such as documents, photos featuring Music Hall or key events in Music Hall, Greystone ballroom or College of Music history, or even ephemera such as artist or arts organization posters, please contact us at the email address or phone number listed at the bottom of every page of this website. We'd love to see your treasure and hear your story! And, if you prefer to keep it, we will make a digital copy of your keepsake.