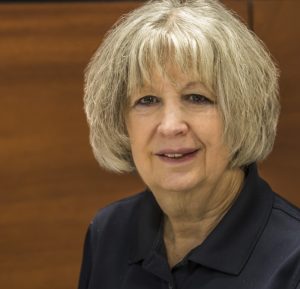 by Patti Cruse
Friends of Music Hall Volunteer and Tour Guide
This is the reaction I usually get when out and about in my world and "just happen" to mention that I am a volunteer Friends of Music Hall Program Guide at Cincinnati Music Hall. More and more, I look for ways to slip it into the conversation — surreptitiously or not.
But what I find fascinating is this immediate response. I have volunteered for several years in other areas, including children's and adult literacy and children in foster care. When I would start to talk about these activities, I would see my listeners' interest fade after a few minutes.
But give this volunteer gig just a brief mention and most people perk right up and begin asking questions. Wow. How did you get involved? How do I book a tour? Do you get to go backstage?
A Passion for The Work
Perhaps their enthusiasm is a reflection of my own.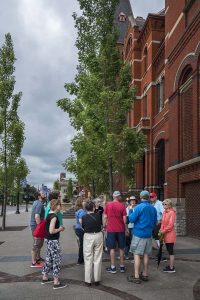 While I was dedicated to teaching others to read and to helping protect the rights of vulnerable children, I find a unique connection to sharing information about this historic landmark — likely a result of my lifelong interest in historic architecture coming to life.
I am also discovering a special camaraderie among my fellow guides — 34 others working as a team and supporting each other through our work. We also celebrate each other's successes and life milestones, provide comfort in times of sorrow, and have fun enjoying group activities.
In addition, I am taking advantage of additional benefits connected to being a tour guide, such as becoming a Cincinnati Convention and Visitors Bureau's Certified Tourism Ambassador™ and taking part in other community events. Recently, I served as an Ohio History Day judge for middle-school essay writers.
Want to Join Us?
To answer the questions mentioned above:
I responded to a recruitment ad in a Cincinnati Symphony Orchestra program and spent many months in training until "graduating" to the status of tour guide.

Patti Cruse leads a tour backstage at Cincinnati Music Hall

After this period of social distancing, see friendsofmusichall.org for tour dates and times. To purchase tickets online; call 513-621-2787 to contact the ticket office, or call 513-744-3293 or e-mail musichalltour@friendsofmusichall.org to arrange a private tour or tours for groups of more than 30. .

Yes, indoor tours go backstage, pending availability due to scheduled events.
And until the next time our paths cross,
Patti Cruse