In late January, 1938, Music Hall's North and South wings resembled the Great Outdoors. The Sportsmen's Show had been popular in many cities and, after sponsors and financing had been lined up, the show was finally held in the Queen City. Advertising in advance of the event promised an exciting array of activities, most of which were within the confines of Music Hall.
If You Build It…
Back in 1879, the north and south wings were added to the main building to help accommodate expositions, exhibitions and shows of all types.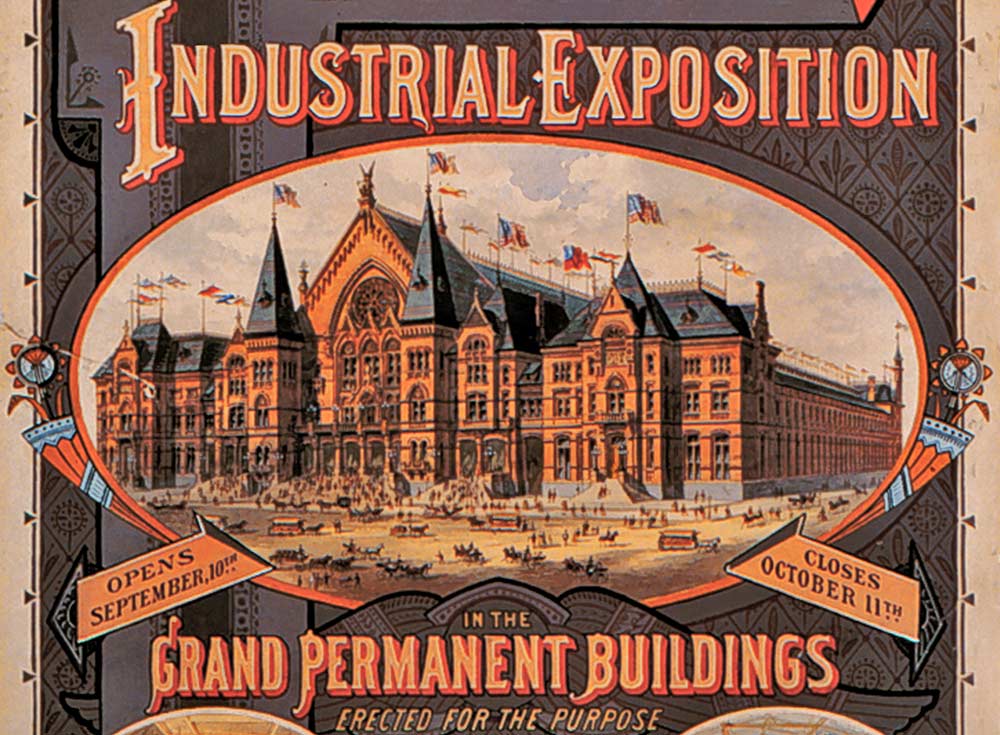 The 1938 Sportsmen's Show was a wildlife enthusiast's dream come true.
In a complete renovation of both halls in 1929, the north wing had been designated as Music Hall Sports Arena, home to boxing, wrestling, basketball, and a host of other sports. (Future blogs will address those topics.) The south wing mostly hosted bands for dancing. But both wings could be rented for shows and exhibitions.
Outdoor Man – Indoors
In the South Hall, manufacturer's reps and sales booths featured everything near and dear to a sportsman's heart. Attendees could check out the latest in guns and ammunition, fishing rods, reels, tackle, outdoor clothing and shoes, boats, skis snowshoes, and tents and camping equipment.
Exhibits also held special interest, including one by a Boy Scout Troop. It showed a home-made trailer-type camping outfit, which was decorated with tanned buffalo, deer, bear and goat skins
From Alive to Lifelike… and Scary

Exhibits of live animals featured raccoons and opossums. A display by the U.S. Biological Survey spanned 125 feet and showed various types of wildlife in their natural habitat. Part of the exhibit showed a mountain lion killing a mule deer. It was in a setting was so realistic people were startled as they approached it.
Tracking Tumbling Timber, then Landing Lenore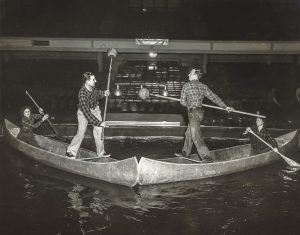 For the Sportsmen's show, demonstrations and competitions were held in the North Hall, where a 60-foot long pool/tank was built. However, swimming was not on the agenda.
Favored activities in that tank included Canadian log-rolling and canoe tilting contests. Nearby one could find the best in bait and fly-casting artists.
While there are no reports of the tank containing anything but fresh water, that didn't stop Marvin Hedges, the international champion fly and bait caster. He had a unique way of demonstrating his casting technique.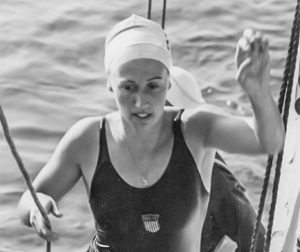 He "landed" Lenore Knight Wingard, twice U.S. Olympic swimming champion! To make the demonstration work, she wore special head gear – rather than a swim cap – to which Hedges hooked his 18-pound test line. (Wingard had recently moved to Cincinnati with her husband, and lived here until her death in 2000.)
Pigeons from Abundant to Extinct
In the huge North Hall, there was also room for archery contests, rifle and pistol shooting, wood-chopping speedsters, moose calling, sawing, and pigeon racing.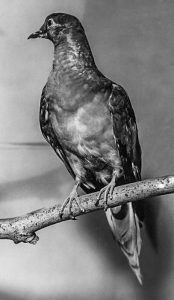 Prior to the exhibition, coordinators announced they were petitioning the Smithsonian to provide Martha, the last known passenger pigeon*. (Martha was a guest at the Cincinnati Zoological and Horticultural Garden until her death at the ripe old age of 27.) Unfortunately, there are no reports of the Smithsonian having granted that request.
However, a local woman offered up a net, made by her grandfather. It was the type of net used to trap pigeons by the hundreds. It was planned that an exhibit including the net would display it as an example of "improper game practices."
Heading Outdoors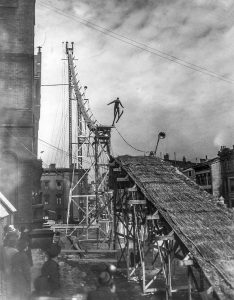 A couple of exhibits just wouldn't fit in Music Hall.
A mock coon chase was held, where a veteran raccoon named Amos was led on a trail down several streets, ending in Washington Park. Six hounds weren't deterred by city traffic and smells. They tracked the raccoon and treed him. His handler remained close by to ensure Amos would not be injured.
In what was perhaps the most sensational and memorable of the exhibits, a 110-foot high jumping tower was constructed outside Music Hall, along Elm Street, so star ski jumpers could show off their stuff. No snow was needed – just bales of hay for the athletes to land in. Two youthful daredevils made their ski jumps four times a day. Unfortunately, a few days in, one of the ski-jumping stars broke two fingers after completing successful jumps.
Adjusting the Accommodations
As the Sportsmen's Show filled both halls, a few changes had to be made. CSO Management had been unable to schedule around this date. Apparently it was the only time the special guest artist was available to perform the Brahms Cycle program the symphony had scheduled. Patrons were asked to avoid the foyer and the north or south wings. They were directed to use only the Central Parkway entrance.
Additionally, the Sportsmen's Show also pushed out a sport. Wrestling was a big draw in the Music Hall Sports Arena, located in the north wing. So Friday night's all-light-heavyweight-wrestling program featuring four matmen – all unbeaten in local competition – was moved to Springer Auditorium.
Yes, on stage at Music Hall, where, earlier that day, Eugene Goossens conducted the Cincinnati Symphony Orchestra in the opening programs of the Brahms Cycle, a wrestling match was held.
Alas, Cincinnati's first Sportsmen's Show was also the last for many years to come. A lawsuit filed on the final day showed that the corporation was in danger of insolvency.
* Passenger Pigeons appeared in huge numbers in the mid 1800s. By their nature, Passenger Pigeons needed large flocks for breeding. AT the time, people believed there were so many that they couldn't possibly be hunted out of existence. According to Audubon, researchers have agreed it was this belief that is responsible for their extinction.
1879 image of Music Hall and the Exposition wings: OMI, Ohio Mechanics Institute.
Image of Martha, the last Passenger Pigeon: in Public Domain at the Smithsonian, photographer unknown.