Happy Holidays with the Mighty Wurlitzer Organ
,
a favorite family tradition, entertained young and old on Tuesday, December 3, 2019, in the Music Hall Ballroom. Singer/actress
Michele Ragusa
made a special appearance at the concert! Michele's career includes roles in
Titanic
,
Ragtime
and
Young Frankenstein
. She's also performed at major venues including the Kennedy Center. Her rendition of "Santa Baby" brought smiles and laughter to everyone - and even made Santa blush! World-renowned organist
Jelani Eddington
was back by popular demand, and he again brought the theatre organ's keyboard to life. He brought holiday tunes alive when he blended in the chimes and special effects only a Wurlitzer can make. At age 13, Jelani won the American Theatre Organ Society's (ATOS) Young Theatre Organist Competition. In 2001, Jelani was honored by ATOS as Theatre Organist of the year. In both categories, he was the youngest organist ever to achieve those titles! Student dancers from the
Cincinnati Ballet's Otto M. Budig Academy
charmed and amazed everyone with their talent. And Santa Claus this year brought his favorite elf, who made notes on a "Naughty or Nice" clipboard. Find out more about the
Mighty Wurlitzer Organ
and see a list of
upcoming Wurlitzer concerts
.
Happy Holidays with the Mighty Wurlitzer 2019 was sponsored by Mrs. Donald C. Siekmann.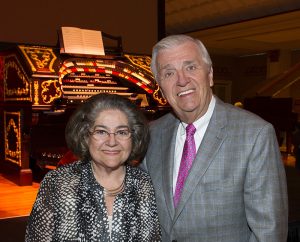 Linda Siekmann is one of the original members of Friends of Music Hall and after three decades of generous support, she now sits on the advisory council for Friends of Music Hall, sharing institutional knowledge with this organization. True friends to Music Hall, Linda, along with her late husband Don Siekmann, former president of Friends of Music Hall and long-time champion and Chair of the Mighty Wurlitzer concerts, never missed an opportunity to extend their support and enthusiasm for the arts.
Don Siekmann won audiences over with his remarkably warm showmanship and nostalgic reverence for the era of silent film and the wondrous instruments that accompanied them. Today, Linda continues to share Don's love of the Wurtlitzer theatre organ by sponsoring what was his brainchild and favorite concert, Happy Holidays, with new and returning audiences. .
We are grateful to Linda for keeping Don's memory and the Wurlitzer alive.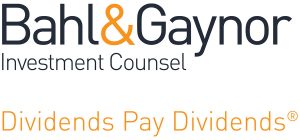 Bahl & Gaynor is proud to be a Season Sponsor
of the Mighty Wurlitzer Concert Series
presented by the Friends of Music Hall.