This past fall, the Friends of Music Hall presented our popular virtual program of Nosferatu featuring acclaimed organist Trent Sims at the keyboard of the Mighty Wurlitzer From October 21st to November 7th, 2021.    
Nosferatu: A Symphony of Horror is a 1922 silent German Expressionist horror film directed by F.W. Murnau and starring Max Schreck as Count Orlok, a vampire with an interest in both a new residence and the wife of his real estate agent. The film is an unofficial adaptation of Bram Stoker's 1897 novel "Dracula."  
This past spring, the Friends of Music Hall presented Girl Shy (1924), starring Harold Lloyd as a shy, stuttering bachelor who works in a tailor shop - yet he's writing a guide book for bashful young men! He meets and falls in love with a rich young woman who is engaged and about to wed an already-married man! He has to become her hero and prevent the wedding - but how? Master organist Clark Wilson took us back to a time when the bells and whistles of the Mighty Wurlitzer Theatre organ provided the soundtrack to film entertainment.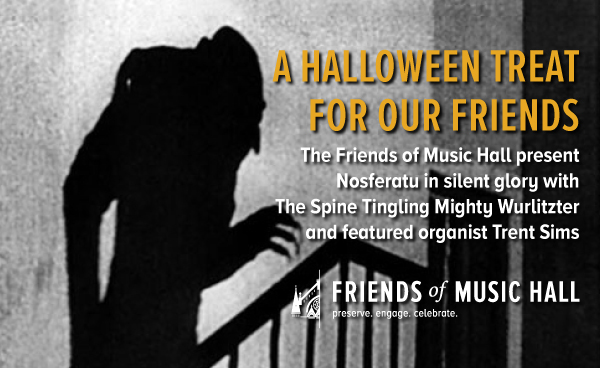 Bahl & Gaynor is proud to be a Season Sponsor of the Mighty Wurlitzer Concert Series, presented by the Friends of Music Hall.